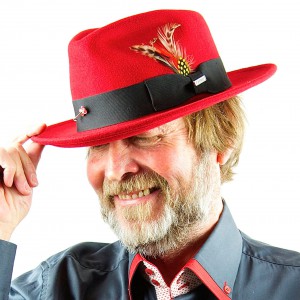 Free and easy 
Ah, January. The month of obligatory change and self-improvement.
If you're toying with the idea of changing more than your hair colour, maybe 2015 ought to be the year you finally give up the nine-to-five and go freelance.
Before you rush off to hand in your notice, check out this freelancing story from Tony Robinson OBE (not that Tony Robinson).
Tony has over 28 year's experience being his own boss, so he should be able to share a tip or two. When he's not working on his next book, Tony is co-founder of small business organisation Enterprise Rockers.
He joined our panel of experts last Wednesday for our starting up business surgery, and dished out some excellent advice to puzzled freelancers.
Get your cup of tea at the ready…
What made you decide to take the plunge and go freelance?
It was a long time ago – 28 years  – but the reason is the same now as it was then. It's also the title of my latest book and satire. I wanted "Freedom from Bosses Forever".
What was the biggest challenge you faced when going freelance, and how did you overcome it?
With a young family and a mortgage to pay, the uncertainty of future income prospects can lead to some pretty daft decision-making.  My business partner and I made some costly mistakes – trusting the wrong people to collaborate with, under-pricing our services, taking on clients without knowing when we'd get paid, and spending too much on 'gloss and status'.
We overcame it by being quick learners and not entering into long term arrangements like leases or contracts.  We knew that cash was important in the early years so made no big upfront purchases preferring monthly payment deals.
We also recognised that it would take at least 18 months before we'd be earning even 50% of the salaries we'd been used to, and so borrowed from friends and family so that we could have a good go at earning our own living in our own business.
Were there any good or bad surprises you weren't expecting when you went freelance?  
My business partner wasn't surprised but I was mightily surprised that everything I'd learned and put into practice in marketing as Managing Director of a medium sized UK subsidiary of an American multinational was useless in my own business.
Clare, my business partner, was pleasantly surprised at how much she enjoyed looking after the accounts and chasing payments since she'd hated anything to do with 'numbers' when an employee.
What's your top tip for winning clients and standing out from the crowd?
You must zag whilst others zig.  You have to stand out from the crowd not by a corporate brand and logo device but by your personality being the brand.
A very young Victoria Beckham said 'I want to be as famous as Persil Automatic' – all her hard work and learning new skills ultimately led to being famous – standing out from the crowd – her own name and personality is a £multi-million brand.
Trust is important too – very few people are – you earn trust and referrals by brilliant relationship building with prospective and existing clients.  You win most clients through 'word of mouth' but that means a continual activity cycle of networking, establishing new contacts, building relationships, contracting and delivering excellent work. That continual activity cycle must be done week in and week out.
Are there any business resources you recommend to other freelancers?
There are many great on-line sales platforms for freelancers and I don't want to select one because it depends on your skills and service.  However, I would recommend that everyone learns to use Linked In and Twitter to positively help their 'engaging with prospective clients' activities.
Thanks for the tips, Tony!
We'll be publishing more posts like this throughout January, so keep checking the blog for more freelancing stories.