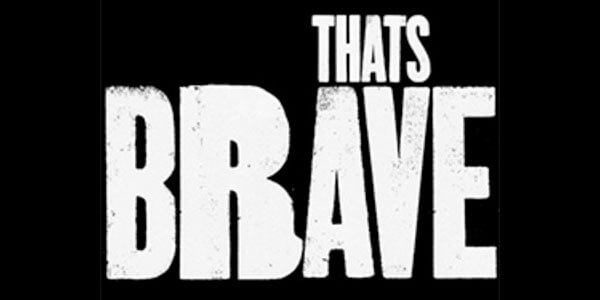 Brave or foolhardy?
That's Brave is a creative design and marketing agency in Suffolk.
It likes to keep things sparky and unexpected, of course, but it also has usefully sensible side. Here's Vaughan, creative partner, dishing out some solid advice for those toying with the idea of going it alone:
So you're ready to jump in and launch your self-employed career.
Firstly, congratulations! Now, let's forget about full-time work and embrace all-time work!
You'll find yourself having extremely busy periods and, most likely, times when you feel you don't have enough work to survive. You need to trust yourself and find a good working balance through these inconsistent times. When you're not working, you're not earning, so make sure you look after yourself.
If you're used to the security of a full-time position, you may feel a little anxious of what the future brings; don't be. Buff up your best shoes, get out there and hopefully these few steps will help you on your way to build your own successful business.
Create a daily schedule and prioritise your tasks – Write a list, scribble on a whiteboard or etch it in stone, whatever best suits you. Just make sure that you know what work you have coming in and going out so nothing gets forgotten. You're a business person now so you can't rely on others to look after you.
Workspace – If you work from home, don't roll out of bed in your PJs and start work; make sure you get up, get dressed and create a designated working space. Make sure you're strict with your start time; imagine you had a boss breathing down your neck at 9.01am. You may be able to work into the night to get a job done but remember that, depending on the client, they may be off the clock and unable to answer any questions, give feedback or send across needed information. Sometimes it's easier for you to be working when they're working.
Keep inspired – You want to be self-employed for a reason. Maybe it's because you like to work at your own pace, maybe its home life situations, or maybe you just don't like the rigidity of working for a company. Whatever the reason, if it is creative work you are producing, make sure you keep energised and inspired, read journals go to exhibitions; don't let your craft and style get boring, as you may start to resent it. Push your boundaries and always look for ways to develop, evolve and connect with like-minded people who can encourage you and inspire your craft.
Get connected – Working on your own can sometimes be lonely if you aren't careful, so sign up to networking sessions, attend some lectures and find forum groups online for self-employed people. Having a community to belong to can work wonders. Make sure you leave time in your schedule to share, be it writing a blog for your social media following or doing a talk to some college students. Creating opportunities to interact with people, be it digitally or at an event, can open doors and possibilities for growth.
Keep your finances on track – Being self-employed means having to do a bit of everything. From day one make sure you have your finances in order. Have separate personal and business accounts, keep every receipt for things bought for the business. There is a wealth of advice and help online to get you started and courses you can attend to understand tax, VAT and National Insurance. Be smart! Make sure you are clued up on the ins and outs before you start.
design and illustration
guest posts and interviews
marketing and advertising
next generation of freelancers
running a business