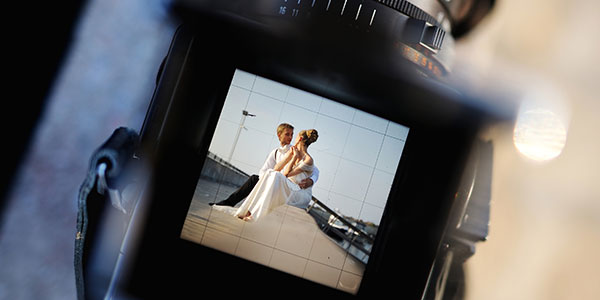 We asked over a hundred pros their reasons for becoming a wedding photographer and for their insight into what it's like working in the industry. We also asked what advice they'd give anyone thinking about following in their footsteps.
Here's what they told us.
Steep learning curve
Perhaps aware of the risks involved – as getting it wrong can hurt both your wallet and your reputation – wedding photographers consider themselves to be a lot more experienced than general professional photographers.
That said, only 44% thought they'd had enough practice before they started out. In fact, a quarter of professional photographers say they fell into the industry by accident, rather than it being a specific move away from other careers.
How becoming a wedding photographer pays dividends
Weddings and photography seem to be a marriage made in heaven. That's because an impressive 73% of the wedding photographers we surveyed said they absolutely love what they do, while a further 27% feel they have greater job satisfaction than friends in other careers.
Nearly a quarter of our pros stated that their enjoyment derives from being able to capture special moments in people's lives. Other reasons for liking what they do were more closely allied to a sense of personal enjoyment, and included being creative, being their own boss, having a healthy work-life balance, and meeting clients.
84% of our wedding photographers say they'd definitely recommend their career to others, which is a (bell) ringing endorsement. Just 16% were either undecided or said they wouldn't – perhaps because weddings can be high-stakes (you never know when that bridezilla might rear her head) and there's lots of potential for things to wrong.
Not all a bed of roses?
Happier taking the photographs than being the one in the limelight, our respondents reported that the biggest challenge wedding photographers face is promoting themselves and their business.
General small-business red tape, such as dealing with annual tax returns and other legislation was also considered a bit of a headache for this creative bunch.
Meantime the third biggest challenge was said to concern setting prices at the right level and staying commercially competitive. Set your prices too low and it's not sustainable, too high and someone will come in with a cheaper quote.
Further niggles included keeping accounts, timekeeping, finding and buying the right photography insurance, client disputes, getting a proper brief from a client, and invoicing.
Seize the day
Weddings present a massive opportunity for photographers to shoot in a variety of styles and to really harness their creativity - possibly more so than corporate boardroom photography or something studio based. The whole wedding is your set and you could be switching between reportage, photojournalism, portrait, and everything in between.
If you can handle that, have great people skills, and are calm under pressure, you're half-way to a happy and successful career as a wedding photographer. But you've also got to be prepared to learn the business skills that'll allow you to take your passion and earn a living from it.
photographers
running a business