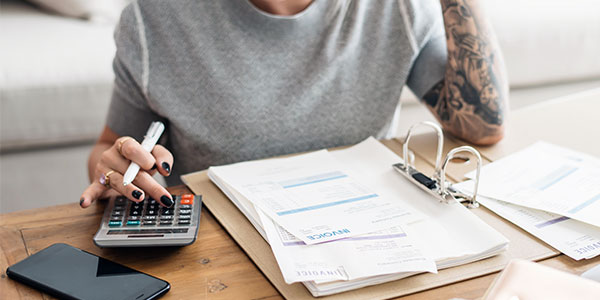 The final countdown
Time for the final part of our 'Graduate to Freelancer' series. Our guest blogger Ben Parkinson, of Write My Site, is here to talk about how to ensure you receive proper payment for all your hard work.
Money talks
Now that you're up and running with your portfolio, network and client base, it's time to tackle the all-important matter of getting paid.
Whether you're a freelance web designer, videographer, copywriter, or photographer, making sure you get paid on time is key to keeping you afloat.
Spotting a potentially bad client
Before you sign up any new client, you should do some groundwork to ensure they don't have a history of delaying or missing payments.
A good place to start is with company reviews, which you can look for on Google or dedicated review sites like Glassdoor. You can also run credit checks on prospective clients (with their consent). Most of the major credit ratings agencies offer credit checking services for businesses.
Treat recorded instances of non-payment as a potential red flag, and don't be afraid to broach the subject with your prospective client before you decide to sign them up.
Deposits and contracts
Your payment terms could include a deposit amount to be paid before the project is factored into your calendar. Taking part of the payment upfront is not uncommon in professional services industries, and it tells your client you're serious about getting paid.
Requesting a deposit can help to weed out the minority of clients who have no intention of paying for your services. However, there may be instances where clients refuse to pay the outstanding balance on the basis that your work was unsatisfactory and you have already had some money in the form of the deposit. Make sure your terms and conditions are watertight, and clearly state that withholding the balance is unacceptable.
If you don't have terms and conditions: get some! It's essential for both you and your client that each of you is clear about matters such as who owns the work, how much it's going to cost, when payment is due, whether interest will be applied, and how payment disputes will be settled.
How to invoice effectively
Invoicing software, such as FreeAgent or Xero, can do all the chasing up and number crunching for you. Input the client and contact details, set up an invoicing schedule and you're away.
The software can send out automated reminders, offer ways to pay directly online via Paypal or another source and offset any payments against the amount owed, as well as your overall cash flow.
Last resorts
Communication is key to getting paid on time, so the following should only be used as absolute last resorts:
Postpone the project until all outstanding payments have been made
Use a service such as Thomas Higgins to send a letter before action – when clients realise you're serious, they will often pay
Take legal action through the Small Claims Court: their Money Claim Online service is designed for individuals and small businesses who do not have the means to hire a lawyer
Always remember that with a bit of due diligence at the outset, and friendly and open communication throughout the project, most payment disputes can be avoided. Most clients want the same thing you do: the project to be completed effectively and efficiently, with both parties delighted by the result!
copywriters
guest posts and interviews
managing risk
next generation of freelancers
photographers
terms and conditions
videographers
web designers