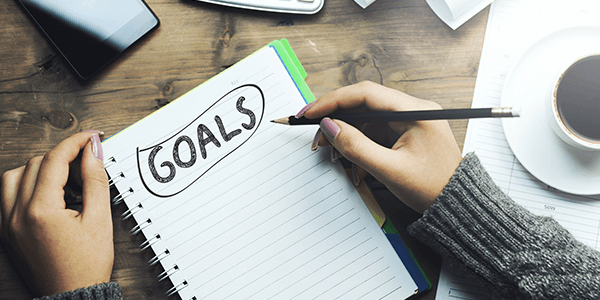 New Year, new meh?
New Year's resolutions ... we make them, we break them.
Yesterday's promise to eat more healthily becomes today's stab of guilt after caving in and reaching for the biscuit tin. So there's little point in making them other than to remind ourselves how perfectly flawed we are, right?
Well no, not really.
Resolutions are a natural means of self-improvement. They're a way of focusing our strengths and determining our weaknesses. And they're a useful exercise for freelancers and small business owners to practice.
Change doesn't happen overnight, of course, and the trick to not breaking your resolutions is to choose ones that are simple, practical and achievable.
Take these six, for example:
1. Set out your goals. New Year is a great time to take stock of where you are and where you'd like to be. Write down your objectives on a piece of paper and stick them up where you can see them. Be as ambitious as you like but make sure you don't overreach or look too far ahead. You don't want to run the risk of falling at the first hurdle and running out of steam.
2. Make friends with marketing. No business is an island and marketing is an essential means of getting your name out. Be careful how you do this; there isn't a 'one size fits all' and not every marketing strategy will work for you. Really think about what message you'd like to put out there. What's your strongest selling point? What makes you stand out from the crowd? Try this free online course from the University of East Anglia's business school on the secret power of brands.
3. Track your progress. Stats. Love 'em or hate 'em, you definitely need some in your life. Whether it's tracking sales or monitoring your SEO, there are some performance indicators that you simply can't do without. Luckily, there are numerous online tools that make monitoring these easy and (whisper it) fun, so it shouldn't be a problem to stay on top. Check out this selection of free SEO tools from Moz if you're unsure where to start.
4. Get feedback. Finding out what your clients or customers think of you can be a daunting task but it's an essential part of growing your business or brand. Whip round an email (or survey, if you like) asking them to rate your services and suggest how they might be improved. SurveyMonkey is a great way to put together a free questionnaire. There's definitely something to be said for hearing it straight from the horse's mouth – you might even be encouraged by what they say.
5. Keep honing your skills. Stuff the January blues. Start a course of self-development that shows your clients you really know your stuff. You don't have to be top of your field but engaging with it and keeping track of new developments shows your passion. If you're not part of one already, sign up to a network that's relevant to your industry and take advantage of its perks (like free workshops and lectures, and discounts for online courses).
6. Cut yourself some slack. Being your own boss takes a lot of discipline. And, let's face it, we all have days where our productivity could do with a boost. So hit the gym, meet a friend for coffee, go for a walk in the park ... whatever it takes to focus your mind and get back to work. Remember there's a fine line between taking a break and procrastination, though.

Resolute resolutions
We were curious and so asked some of our customers what their New Year's resolutions were. Here's what they came back with:
"Our resolution is to maximise our social media output, and prove that marketing for IT can be fun!"
Sarah-Jane, Custodian Data Centres
"As a company, our New Year's resolution is to use the expertise of our team more effectively in our marketing activities. There's a world of knowledge and experience inside our heads, and we want to deliver some of that as help, tips and advice to our target market."
Matt, RibbonFish
"Mine is to make real connections with people and focus on living to work, not working to live."
Col Skinner, Profoundry
"To collaborate, not compete, with every single one of my competitors."
Alice, Brilliant Day
"My resolutions include daily social media posts and getting back to all emails within 24 hours. And no more pyjamas while working from home..."
Anastasia, Jeanne Pompadour
Fancy sharing your New Year's resolutions with us too? Tweet us @PolicyBee, we'd love to hear from you!
marketing and advertising
productivity tips
running a business