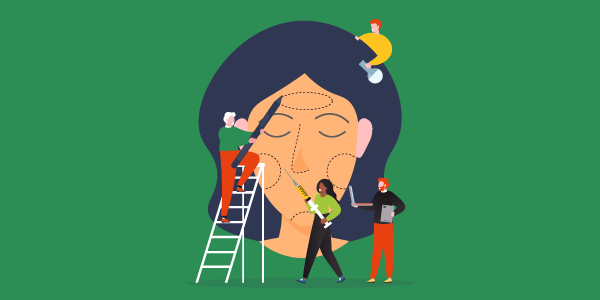 Anyone can train to be a non-surgical aesthetician and build a client list to perform popular procedures like Botox, chemical peels, and laser hair removal. You don't need a medical background to grab a slice of what's a rapidly growing industry.
You do, however, need good quality training to make sure you get procedures spot-on and to reduce the possibility of clients suffering any harm. Although the aesthetics sector is largely unregulated, no one with any sense of responsibility would take a syringe to someone's face without honing their expertise first.
Now, after a dip in the number of online searches for aesthetics training during the UK's national lockdown, the industry is bouncing back.
Facetime
The market for aesthetics has grown steadily over recent years, with Botox still the most popular non-surgical treatment requested in the UK. Demand for cosmetic surgery has remained static or slowed as the non-surgical aesthetic market has rapidly grown in value, estimated to be worth over £3 billion by 2024.
In keeping with these broad trends, online searches for aesthetics training have increased steadily over the past four years. The number of searches was over 100% higher in 2019 than in 2017, as professionals responded to increased demand for treatments.
Searches averaged 7,753 a month in the UK from January to March 2020. However, when the UK went into lockdown, figures quickly fell well below average, with only 5,100 searches conducted in April 2020 (down from 9,750 in January 2020). This smaller search volume reflects the fact that most aesthetics training is hands-on, so largely came to a stop altogether during the strictest lockdown months.
Latest UK search data shows that demand for aesthetics training is now surging again. August 2020 recorded the highest number of searches all year: 10,960, a huge jump of 115% on April's numbers. Year-on-year figures are similarly positive, with searches for aesthetics training in August 2020 up 64% on the same period in 2019.
Looking good
This leap in demand is encouraging for the sector and shows optimism for a healthy future. Increasing numbers of searches for aesthetics training go hand in hand with the expansion of the non-surgical cosmetic procedure sector in the UK. A study published in 2018 found that two thirds of 18-34 year olds in the UK were considering a non-surgical cosmetic treatment within the next 21 months.
Anecdotal evidence from aesthetics industry body Save Face further suggests that the boom in Zoom calls during lockdown has fuelled even greater demand for treatments. Being forced to stare at their own face for long periods during work and social video calls has spurred people to seek out filler treatments. Demand is said to be very high, with waiting lists building up.
When it comes to choosing training courses, would-be aestheticians should always check providers are fully insured and reputable. It's essential that training providers and courses should have a stamp of approval from accreditation bodies, such as the JCCP (Joint Council for Cosmetic Practitioners) or the CPD Certification Service. They should also comply with Health Education England's (HEE) recommendations.
The JCCP Education and Training Provider Register provides a list of training courses and qualifications that have been accredited by recognised awarding bodies.
Protect and survive
Just as important as getting the right training is getting the right insurance protection for your business. Both medically and non-medically trained aestheticians need a policy that can help handle the heat if a client says they suffered harm because of a treatment. Newly qualified aestheticians need to make sure they get the correct kind of cover.
Claims of malpractice and negligence leading to physical and mental harm aren't covered by the more typical type of indemnity cover, professional indemnity insurance. Instead aestheticians need a treatment and professional liability policy that pays legal costs and covers any compensation due in such cases.
That way, should something go wrong in spite of all their training, they have the legal and financial muscle required to help deal with the fall-out and put things right.
Find out more about aesthetics insurance here. Or speak to the team by calling 0345 222 5398.
Image used under license from Shutterstock.
aesthetics
treatment & professional liability