What is professional indemnity insurance?
What do I need to know?
The problem with PI insurance is that it's complicated. Worthwhile, yes, but complicated. It's unlikely you have the time or the inclination to find out what's what.
Thankfully, you don't have to be an insurance know-it-all. You just need to know someone who is.
You've come to the right place.
What's professional indemnity insurance?
Professional indemnity insurance is for professional people or businesses that provide a specialist service – design, advice, words, numbers, ideas or other expertise – to paying clients.
People and businesses just like you in fact.
It protects you if one of those paying clients (or a third party) alleges you've made a mistake and it's cost them money. And they decide to sue you for their loss.
Your policy pays for a specialist solicitor to defend you and, if it turns out you're culpable, picks up the tab for compensation or damages you have to pay your client.
Why do I need professional indemnity insurance?
This is an easy one.
It comes down to three things: money, time and legal expertise. You might have one or two but you'll need lots of all three if a claim drops through your letterbox.
Because any allegation against you, regardless of whether you're actually at fault or not, has to be defended. Ignoring it won't make it go away and, honestly, can you say you're fully equipped to fight the good fight? If you're not, can you risk damaging your business and your reputation trying?
Professional indemnity insurance is your secret weapon. Having it means you can concentrate on your work and not worry about the consequences of your clients' finger-pointing.
You get the might of an expert insurer nestling in your back pocket, ready to fight your corner and protect your finances.
You're free to run your business, safe in the knowledge that at least you'll still have one when it's all over.
How much professional indemnity insurance do I need?
If you have a piece of string, now's a good time to measure it.
Actually, it's not as finger-in-the-air as that. But getting the right level of cover isn't an exact science.
The important thing to remember is that your insurance covers you. So your level of cover should be enough to fix the worst possible mistake you could make.
You need to think about these things: what kind of work am I doing? What can go wrong? What sort of company am I working for? How much am I being paid? Is my work part of a larger project? What could I be sued for?
Your cover should be enough to fix worst-case scenario mistakes, pay compensation to your client AND stump up for the legal costs of defending you.
Buying as much as you can afford is a good place to start. You can never have too much.
What do I get when I buy professional indemnity insurance?
Apart from the warm glow that comes with being insured, you mean?.
If you're buying your insurance from us, the first thing you get is an email with links to your policy documents. This appears in your inbox a moment or two after you've bought your cover. (We don't post anything. Email is quicker, easier, cheaper, safer, and more reliable.)
Those documents are: a policy schedule, a policy wording, a summary of cover, a duty of disclosure, our terms of business, a statement of fact, an invoice and a selection of certificates depending on what insurance you buy.
If you pay by Direct Debit, your insurer posts you a payment schedule.
Some documents have our name on and some have your insurer's name on. Although it sounds like there's a lot to go through, it's really not that bad. At least you don't have to sign anything or send anything back.
Why should I buy my insurance from you?
Glad you asked.
The simple answer is: we know what we're doing. Professional insurance is all we do so we know what you need, even if you don't.
We also know that buying insurance can be, well, a bit of a pain. So we make sure getting yours is quick and hassle-free.
We do all that while treating you like a human being, too. You won't find a call centre here. Or a phone menu. And we've banned nonsense insurance jargon.
Anything else? Well, there's the great stuff you get, such as 10% off everything at MOO. We have an 'I'm insured!' badge for your website too – perfect for the professional professional.
Also, you get to talk about your business in front of thousands on our blog, and we'll give you money each time you recommend us.
Plus, every insurance-related question you can think of is answered in our School of Risk, and you'll get our quarterly risk advice email – The Waggle – to help you avoid problems in the first place.
If you're after a second opinion, have a look at our customers' feedback. They're the ones you should really listen to.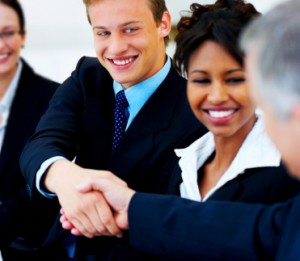 Second time lucky
Having failed miserably to convince you that directors' and officers' insurance is pointless, we're going to try again. With professional indemnity insurance.
You might think you need it, but here are five solid reasons you don't. And this time we're serious. Just like the people in that picture there.