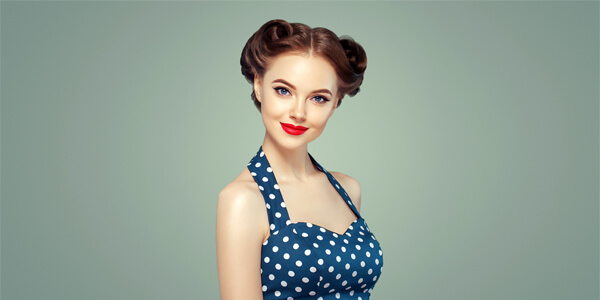 There's been a surge in nostalgic fashion and beauty trends popping back into the mainstream over the last year – particularly those from the '90s and '00s. And although we reckon some of these deserve to stay firmly in the past (do we really have to revisit mullets?), anyone involved in the beauty and hair trades would do well to be prepared.
So, as a heads-up for beauticians and hairdressers as to what styles they may soon be expected to perfect for customers, we headed over to TikTok. We then spent time analysing the hashtag views for 100 beauty trends from previous decades to discover which are currently the most popular among the platform's millions of users. Here's what we found…
Top trends by hashtag views
We picked 100 trends for our research and collated the total TikTok hashtag views to date for each. We included 30 related to hair, 20 to eye makeup, 15 to lip makeup, 10 to face makeup, 10 to body care, 10 to nails, 4 to fragrance, and 1 related to teeth.
Based on our findings, the most popular nostalgic beauty trends overall were revealed as: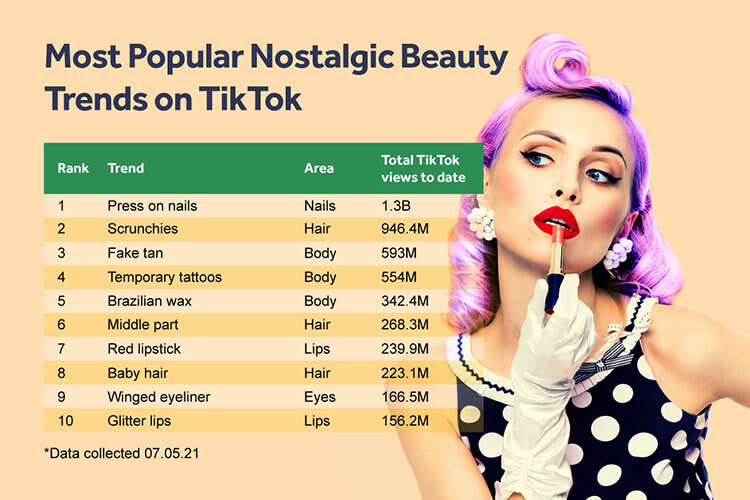 With 1.3 billion hashtag views, press on nails claimed top position overall. With almost 1 billion hashtag views, hair scrunchies took a close second. Fittingly, taking the bronze was fake tan, a staple body care product for many people.
Temporary tattoos, Brazilian wax, middle part, red lipstick, winged eyeliner, and glitter lips made up the remainder of the top 10 overall. Each had more than one hundred million hashtag views.
Several throwbacks to the '90s featured in the top 25. These included space buns (106.9M views), eyebrow slit (74.1M views), blue eyeshadow (58.2M views), Sun-In (53.7M views) and tooth gems (46.5M views).
Top trends by weekly growth
The research also looked at weekly growth by percentage increase to find out which trends are currently fast-growing, or 'ones to watch'. Several hair trends were highlighted as specific trends to watch over the coming months: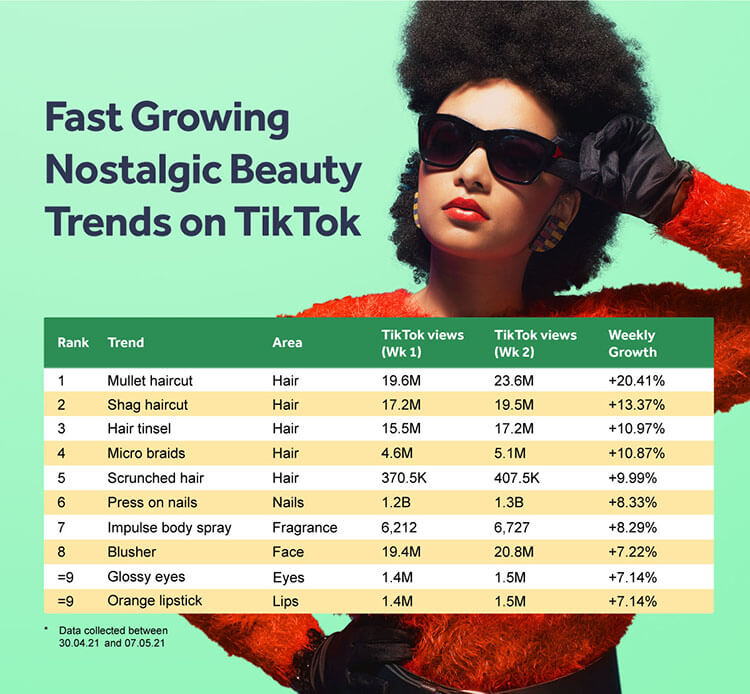 Mullet haircut, shag haircut, and hair tinsel took the top 3 spots. Behind hair tinsel, micro braids, scrunched hair, press on nails, Impulse body spray, blusher, glossy eyes, and orange lipstick saw the next biggest weekly growth in hashtag views (by percentage increase), making up the remainder of the top 10.
A few '90s favourites narrowly missed the top 10 for weekly growth. Spiky hair (2.4M views, weekly growth of 4.35%), thin brows (10.2M views, weekly growth of 4.08%), and frosted tips (9.2M views, weekly growth of 3.37%) were a few of these trends.
Also, while fake freckles are more popular by hashtag view figures, beauty mark saw marginally more weekly growth (0.52% vs 0.57% respectively). Perhaps drawn-on beauty marks could be one of the next big makeup trends?
While some nostalgic trends may have re-shown their face in 2021, many come back as short-lived fads before quickly losing traction among consumers. For example, 21 of the 100 nostalgic trends we looked at did not see enough weekly growth to change the hashtags' views figure. For hashtags with views over one thousand, the views figure shown is rounded to the nearest thousand or hundred thousand and written to one decimal place. Among the 'no-change' trends were body glitter, clumpy mascara, face gems, butterfly clips, concealer lips, and mood nails, plus 15 more.
Top trends by area
As well as looking at the top trends overall, we wanted to break down the findings by area: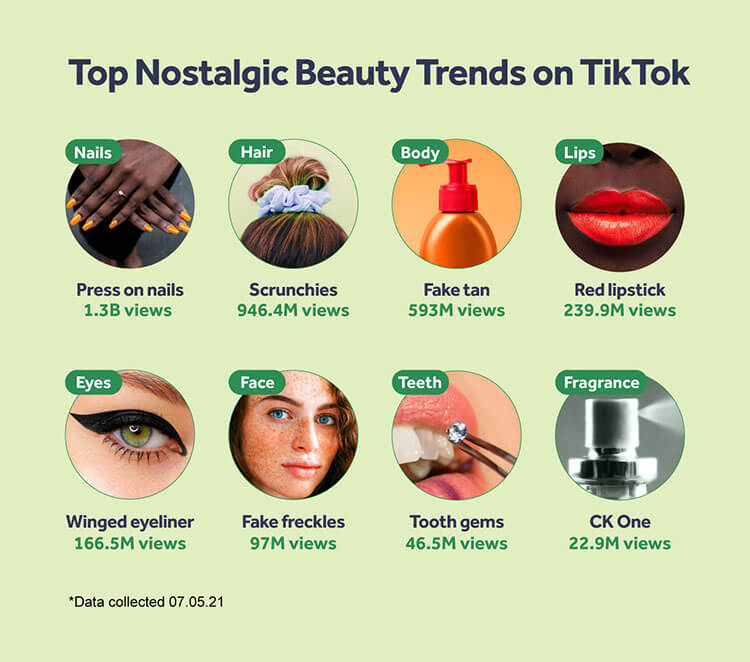 Hair trends
A good hairstyle can enhance your look and show your personality, so we selected 30 different nostalgic hair trends for our research. The top 5 hair trends were made up of popular looks from the '90s, including hair scrunchies, middle part, baby hair, cornrows, and space buns. Other styles, including bubble braids, bouncy blow-dry, and crimped hair each have more than 10 million hashtag views on the video-sharing platform. In contrast, permed hair, zig-zag parting, and accent braids seem to be staying in the past, with minimal views and growth.
Eye makeup trends
We picked 20 trends related to eye makeup, including eyeshadow, eyeliner, and eyelashes. By total hashtag view figures, winged eyeliner, graphic eyeliner, false lashes, eyebrow slit, and blue eyeshadow were the top 5 eye makeup trends that we analysed. At the other end of the scale were feather lashes, metallic eyeshadow, and emo eyeliner, all proving not so popular.
Lip makeup trends
Three different looks – including classic red lipstick, disco glitter lips, and emo-punk black lipstick – made up the top 3 lip makeup trends on TikTok right now, out of the 15 we examined. However, orange lipstick saw the highest weekly growth across those analysed. To our delight, concealer lips aren't making a comeback any time soon, with just 36 thousand views (low in the grand scheme of TikTok trends).
Face and body trends
There were also 10 face trends in our research. Fake freckles, beauty mark, and mud mask made up the top 3 by total hashtag view figures, but blusher, matte bronzer, and powdered skin were top face-related trends by weekly growth. Out of the 10 body care trends we picked, fake tan, temporary tattoos, and Brazilian wax were the top 3 by total hashtag view figures. Fake tan is currently more popular than body shimmer and body glitter. When it came to hair removal, Brazilian wax is more popular than Hollywood wax.
Nail trends
We picked 10 nail trends to look at and top overall was press on nails with 1.3 billion hashtag views. The data also showed stiletto nails were more popular than square nails, and glitter nails beat a classic French tip. Pierced nails and metallic nails saw both minimal views and weekly growth, so don't appear to be making a comeback anytime soon.
Other trends
Nostalgic fragrances emerged as another trend, with unisex fragrance CK One racking up over 20 million hashtag views and proving especially popular. Looking at the biggest weekly growth, hashtag views for that old favourite Impulse body spray saw the largest percentage increase. For teeth, tooth gems were the target of more than 46 million hashtag views on TikTok.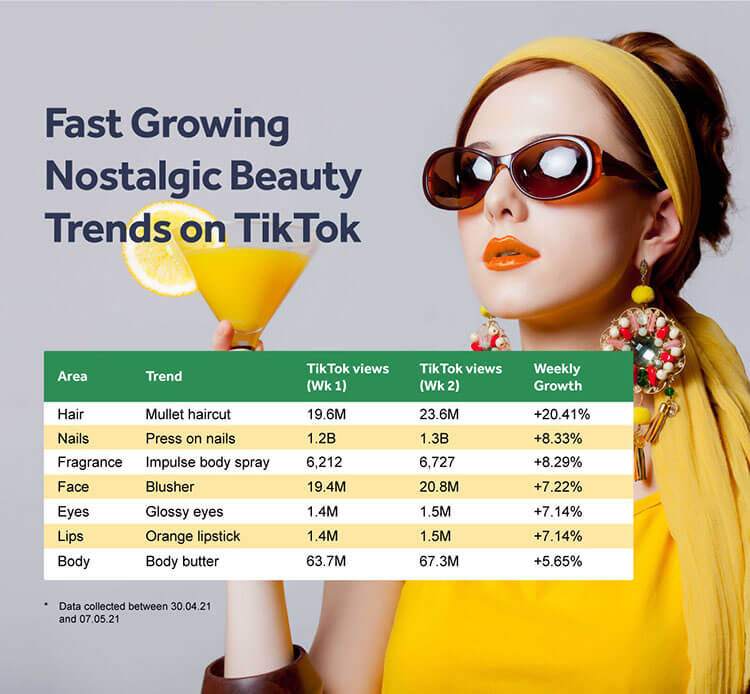 Protecting your in-demand beauty and hair skills
If you're a beauty practitioner or hairdresser looking to discover the next big trends to offer your clients, we hope this research on what's currently hot on TikTok provides you with some inspiration.
However, even if you're confident you have all the skills you need to deliver a great look, it's a fact of life that things don't always go according to plan. Before jumping in with a new look or service, always make sure to do the proper research and training, if necessary, first.
Mistakes and accidents can be both expensive to fix and damaging to your hard-earned reputation, so it's a good idea to get the protection that treatment and professional liability insurance (also known, rather sternly, as 'medical malpractice insurance') offers. If there's a claim you injured a client while treating them, or didn't achieve the promised results, it pays for a lawyer to defend you and covers any compensation due too.
Don't forget that personal injury claims can be for many thousands of pounds. As can claims that someone was accidentally hurt or had their property damaged by tripping over an unmarked step or slipping on a spilt puddle of water. So, it's as well to protect yourself with public liability insurance too.
Our beauty therapist insurance, nail technicians' insurance and hairdressers' insurance provides specialist cover for beauty therapists and salons, hairdressers, make-up artists, nail technicians, and providers of other salon treatments, such as temporary hair removal. Click on the links to find out more or call the team on 0345 222 5391.
* Weekly growth was calculated based on the percentage increase in hashtag views between Friday 30th April and Friday 7th May.
Top image used under license from Shutterstock.
beauty therapists
malpractice insurance