Post-Christmas blues?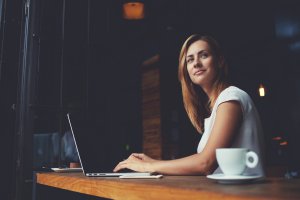 Today, the first Monday of the New Year, is 'Massive Monday'.
A comment on our post-Christmas waistbands perhaps?
Possibly. But according to Metro and the Sunday Times, today is also the most popular day of the year for people to look for a new career.
James Reed, chairman of Reed recruitment, is well aware of the New Year spike: 'We get the most traffic to our site on the first Monday back at work after new year'. Our guess is it's something to do with all those resolutions.
For some people, Massive Monday isn't as much about a change of direction as it is going freelance. It isn't for everyone, but for those well suited to working alone, freelancing can be a valuable opportunity to achieve your full potential. If the idea of being your own boss is a dream come true, use Massive Monday to get the ball rolling. Find out what you need to know to go freelance and then make it happen in 2014.
Just to help you get started, here are our top things to consider before taking the plunge as well as what you can really expect from going alone.
Your bed is not your workplace
It's certainly a perk of freelancing that, if you want to, you can go to work without even leaving your house. We carried out a survey of freelancers around two years ago and we found that 62.8% of them worked from a home office. Hello working in your slippers, goodbye soul-crushing commute.
However, there are some boring office formalities that it's still good practice for freelancers to abide by. A desk, for example, is still an essential. Likewise, if you have three charming but boisterous toddlers, you'll likely need some childcare. When it comes to setting up your workplace, think comfy, by all means, but also think quiet, practical, and well organised.
Number crunching
Of the 2,000 freelancers we surveyed, 17.3% revealed they had problems with accounting or other paperwork. Now that you no longer have a dedicated finances department to rely on, you'll have to polish up your bookkeeping skills smartish.
If numbers really aren't your game, hire an accountant. You might find a one-off session at the end of the financial year is enough to get you out of a pickle, although monthly advice helps if you're really struggling. Freelancing comes with many increased responsibilities so you really have to be up to the job.
High and dry 
A sustainable income through freelancing is, of course, perfectly possible but it pays to be realistic. All businesses go through difficulties, but those low points can feel much more devastating when you're on your own.
We found that 41.8% of our freelancers had experienced problems finding clients at some point. Even after months of great business, work can dry up at any point and it pays to be prepared for the lean times. Savings are your friend.
Networking it 
If you're thinking of going freelance simply because you really hate everyone in your office then it probably isn't for you. To get ahead when working by yourself you really do have to be a 'people person'.
When it comes to winning contracts as a freelancer, you'll have to out-dazzle a lot of competition. Being good at what you do is no longer enough, you have to be an absolute delight to work with as well.
(Free) time management 
For some people, going freelance allows them to spend less time working, and more time doing whatever else they want to be doing. Our survey found that around a third of freelancers spent less time at work than their full time employed equivalents.
However, that's perhaps not the best reason to go solo. Most freelancers found that they still worked nine to five, with a few working much longer hours. Many freelancers also find it difficult to take holiday, as there's nobody else who can pick up their workload. One study has found that freelancers take only half the holiday of their full time equivalents, definitely a factor to consider before quitting your nine to five.
Just get on with it 
Or don't.
If being completely in charge of your career is what you want to do, going freelance may be the best decision you ever make. However, there's nothing wrong with being part of a team if that's how you work best.
Remember this: when you're a freelancer, it's always your turn to make the tea …