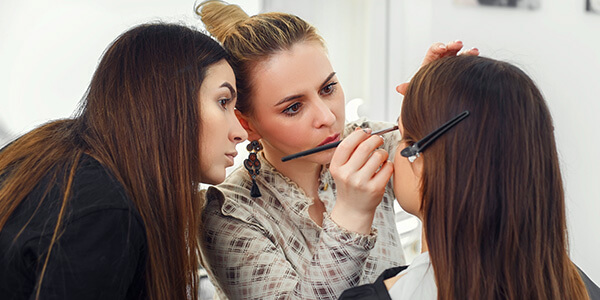 Training up tomorrow's beauty therapists isn't for the faint-hearted. You know better than anyone else what can go wrong.
When cosmetic procedures don't go to plan, it can cause mental distress and bodily harm. At their worst, the effects can be long-term, life-changing or even fatal.
That's why best practice is so important and why your role is too. Because helping beauty therapists hone their skills isn't just a win for your students. It's also a win for their clients since experienced hands reduce the risk of bad outcomes.
But you have yourself to consider too. Because while you're training students in how to safely shape brows, work with fillers, and handle bleach, you're exposed to your own workplace-related risks.
Mistakes can happen regardless of training or experience. Which when you're in the business of training people in how not to make mistakes, can be problematic.
Being prepared with beauty teaching insurance protects your business. It also helps make sure your reputation as a credible educator stays blemish-free.
Now that's a beautiful thing.
Not a pretty sight
You have to hand it to the beauty industry. It's bounced back remarkably considering the strains put on it by the Covid-19 pandemic.
A pent-up demand for hairdressing, grooming and aesthetics services offers enticing opportunities for budding beauty therapists. However, that's opened the door to a new set of problems, too.
While there are plenty of guidelines in place for beauticians, a continued lack of formal regulation or legislation within the industry means bad practice remains an issue.
For example, there's no law in the UK that requires practitioners to have formal training or qualifications when carrying out invasive procedures like dermal fillers or Botox. Some training can also be on the light side, involving little to no supervision or hands-on practice.
And that's problematic when the stakes are high and the consequences of a treatment going wrong can be serious.
Practice what you teach
Making a mistake in the beauty business is no joke. You're often working with chemical substances which, when dropped or incorrectly applied, can cause injuries.
While side effects ranging from allergic reactions to skin inflammation aren't uncommon, allowing them to go unchecked or untreated can lead to something more serious.
For example, some academic research points to one in six patients having a bad reaction after Botox treatment, from blistering and skin discolouration to serious infections, tissue scarring and even muscle paralysis.
Often, complications arise from mistakes made during the procedure itself. Other times, injuries are caused by poorly carried out consultations, with inadequate discussion of the risks or aftercare involved.
All the more reason to work towards change, with better standards of safety for everyone involved.
What are the risks of working as a beauty teacher?
More often than not, claims come from one of two camps: malpractice or negligence.
Both relate to having harmed someone or caused them damage through your work. And both carry embarrassing consequences for beauty teachers, irrespective of their level of experience.
Imagine demonstrating a procedure to your students that goes badly wrong. A hair bleaching incident that triggers an allergic reaction and burns the model's scalp. Or dermal fillers inserted wrongly, leaving unsightly lumps and bumps.
Claims don't have to arise from something you've done directly either. For example, one of your ex-students follows your technique on dermaplaning in their own salon but is too heavy-handed in the process. When their customer complains of cuts and skin irritation and demands compensation, your student tries to shift the blame on you.
Whatever the accusation, arguing the damage was unintentional or not caused directly by you won't stack up in the eyes of the law. You'll have to hire a specialist lawyer to defend you and those don't come cheap.
If things don't go your way, you'll also have to pay damages to compensate the injured party. And, depending on the extent of the injuries and whether they need further treatment, that can leave you many thousands of pounds out of pocket.
What insurance do beauty teachers need?
The key one for beauty teaching is treatment malpractice insurance (also known as 'treatment liability' and 'medical malpractice' insurance). It's for when you've unintentionally harmed someone, either physically or mentally, and they sue you for their injuries.
Specifically, it covers you for claims arising from bodily injury, illness or death, caused by any number of therapies, treatment or tuition.
The second one is professional indemnity insurance, to cover claims where someone suffers a financial loss due to a failure of your professional services. This includes things like breach of care, confidentiality or dishonesty. Or just plain bad advice.
Adding on some clinic cover is also a good idea, to protect the equipment you use and the place you use it. That can be a space you rent inside a beauty college, your own premises, a student's home, or wherever else.
And if you're reliant on the internet to do your work (and chances are you are), then you might want to look into cyber insurance too. It covers your lost income if there's a cyber-attack, for example, that wipes out your laptop and prevents you from teaching.
Is beauty teaching insurance different to regular teachers' insurance?
Yes. Beauty teaching insurance does a different job. Because your average teachers' insurance policy generally won't cover you for treatment malpractice.
Instead, you'll get indemnity insurance. Which is great for when someone alleges your professional services have caused them a financial loss eg when your teaching isn't up to scratch and students demand their course fees back. But it simply isn't designed to cover physical or mental harm.
Similarly, public liability (PL) insurance covers third-party injury, just like malpractice insurance does. But it's concerned with haphazard accidents that result in injuries and property damage. Like trips, falls and spills.
It's still a good idea to have PL though, especially if students come to your premises, or you visit them at home. It protects you against all kinds of mishaps – so if your treatment table collapses in the middle of a demonstration and your model gets injured, you're covered. Likewise, if you spill hair bleach over a student's living room carpet.
Many beauty academies and colleges will ask for proof of public liability at the very least, so it's worth checking their beauty teacher insurance requirements beforehand.
Click the link for more advice on what insurance beauty teachers need. And here's an article explaining the difference between malpractice insurance, professional indemnity and public liability. Or you can call the team on 0345 222 5391.
Image used under license from Shutterstock.
beauty therapists
malpractice insurance
teachers and tutors