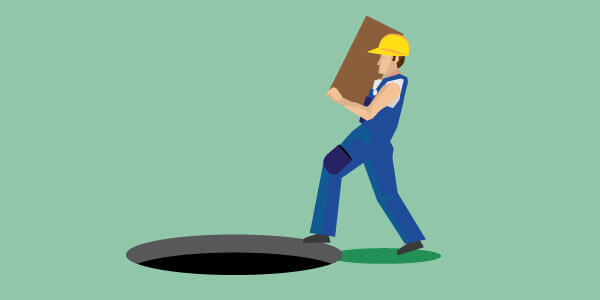 Find out everything you need to know about your legal duty to protect your staff with this at-a-glance employers' liability insurance guide.
What is employers' liability insurance?
Employers' liability insurance (EL) protects you against claims made by your employees for injuries and illnesses they suffer at work. It pays any compensation you're liable for and your legal defence costs, too.

It's especially important because it's the only business insurance required by law. It's also our third most-requested type of cover after professional indemnity insurance and public liability.
Who needs employers' liability insurance?
It's safe to say most UK businesses probably need EL. That's because the policy wording uses such a broad definition of what constitutes an 'employee'.
To make sure as many people as possible are covered, 'employee' is taken to have a much wider meaning than just a permanent member of staff employed under contract. They don't even have to be paid.
Part-timers, volunteers, work experience kids, secondees, temps, helpers, apprentices, staff borrowed by you and labour-only subcontractors under your supervision are all classed as 'employees'. So don't fall into the easy trap of thinking that because they're not really 'your' staff, they're also not your responsibility. They are – and so is their welfare.
In fact, apart from publicly funded organisations, the only businesses that don't need employers' liability insurance are:
Companies where the owner is the sole employee, owning 50% or more of the issued share capital.
Family businesses not incorporated as limited companies where all employees are closely related to the business owner (for example father, son, brother, sister, husband, wife etc).
How much employers' liability cover do I need?
By law, £5m is the minimum amount required for most businesses. However, you'll find most insurers offer £10m as standard, which at least makes choosing your level of cover straightforward.
That figure reflects just how costly claims for staff injury and illness can be. Even a claim for back problems sustained by sitting for long periods in an unergonomic office chair can run to the £thousands. And serious accidents and injuries inevitably demand much more.
What happens if I don't have it?
The Health and Safety Executive (HSE) enforces the law on employers' liability. If a health and safety officer comes knocking, you could be fined £2,500 for every day you should've had cover but didn't, and £1,000 for not displaying your insurance certificate. Gulp.
In fairness, it's likely you'll be given a few days' grace to sort out a policy rather than fined there and then. But it's best not to chance it, particularly when cover costs from around a measly £40 a year (from us).
Anything else I need to know?
When you get your policy documents from your insurer/broker, stick your employers' liability certificate in an obvious spot on a suitable wall - somewhere everyone can see it. That's because you're legally obliged to have it in a place others can easily read it.
And if you don't have a wall, you can store your certificate electronically. Just make sure your guys know how to access it if they want to.
Not sure if any of this applies to you?
If you want EL advice straight from the horse's mouth, the HSE have put together a handy employers' liability insurance guide, which you can find here. It's everything you need to know about employers' liability in one document.
If that doesn't cover it, there's more info here, or feel free to give us a call. We're happy to talk you through it.
Image used under license from Shutterstock.
claims
insurance explained
rules and regulations