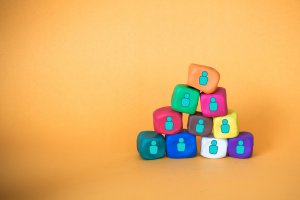 Behind every successful (business)man...

Ask most company bosses about their most important asset and odds on they'll say their employees.
And so they should. Success lies in building a team of happy, engaged and productive workers.
That's the end goal certainly. But what's not always clear is how you'll get there. Your client might not appreciate that HR is sometimes a tricky thing – even for professionals like you.
There's employment law, with all its rules and regulations. Staff recruitment and training, both of which are ring-fenced by complicated contracts and lengthy Ts&Cs. Then there's your client's data and confidentiality to protect, plus unexpected issues like missed targets and extra costs.
Let's take a closer look at some of the risks.
Things just got personnel
Last year, Deloitte's survey into Global Human Capital Trends discovered that only 30% of business leaders thought HR profs made good business decisions.
Not exactly a resounding thumbs-up is it?
Perhaps that's not too surprising. HR projects can cost millions of pounds to implement and there's a lot to get right. And a lot to get wrong.
If your client doesn't see proof of promised returns or is fined by an employment tribunal because you advised them incorrectly, it's likely they'll file a claim against you arguing you've cost them money.
This is what we insurance people call a breach of your duty of care.
Even if you're sure you haven't done anything wrong, you can still be dragged into a dispute. It's an inconvenient truth that some clients are all-too demanding – and quick to lay blame if they think you've made a mistake or not done what they asked for.
In such situations, "sorry" doesn't quite cut the mustard, and a stiffly worded solicitor's letter can't be ignored. At the very least you'll have to defend yourself. Worse, if a court deems you're liable, you'll have to compensate your client for their loss too.
All this spells financial – and reputational – trouble for your business.
Power to the people
The main thing to remember here is that you're not on your own. A decent professional insurance policy can work wonders.
Throw in these four golden rules to limit your risks and you're well way on your way to being the smooth, HR know-it-all you really are:
Provide your client with a clear timeline and goals. Get this signed off.
Don't make concrete predictions – especially ones involving stats and numbers.
Get your Ts&Cs agreed and signed. So everyone knows where they stand.
Communicate with your client clearly and often. No one likes surprises.
It's always a good idea to check your policy wording, but your HR consultants' professional indemnity insurance should cover you for:
Negligence or breach of duty of care.
Misstatement/misrepresentation.
Libel and/or slander.
Employee dishonesty.
Breach of confidentiality and/or data protection.
Intellectual property or copyright infringement.
Passing off someone else's work as your own.
Computer virus transmission.
If all goes a bit south, err on the side of caution and notify your broker as soon as you think you're in trouble. Don't admit liability, call a solicitor or try to settle the claim yourself – these could prejudice your insurer's position and mean your claim is turned down.
If your client agrees to an out-of-court settlement, your insurance will cover the costs up to the limits specified in your policy (important to get these right). If your claim does goes to court, your insurer will provide you with a specialist lawyer, pay your legal costs and compensate your client – whether or not you're in the wrong.
If you have any questions, it always helps to speak to a friendly voice. Call us and our own, er, human resources will be happy to help.
duty of care
HR consultants
managing risk
negligence