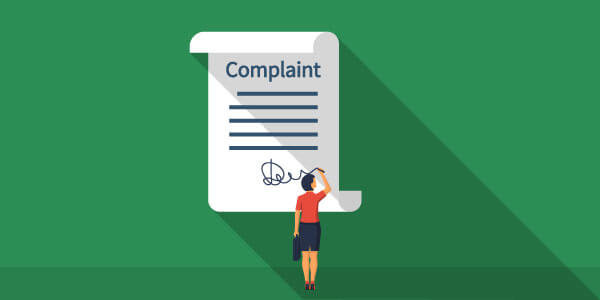 Complaints are bad for business, that's a no-brainer. They take time and money to resolve, and can pile up faster than you can say 'sorry'.
There have been plenty of cases recently where large volumes of complaints, for mis-sold PPI, for example, or mishandled mortgage products, have landed finance companies in hot water.
What's more, companies regulated by the Financial Conduct Authority, or any other body, can be fined £millions for misconduct on top of any compensation they have to pay out.
So it's extremely important they turn to the right professional, someone who'll help lighten the load and get their complaints handling procedures exactly right.
Bring on the complaints handlers…
That's where you come in.
It's your job to right other peoples' wrongs. Listen, apologise, smooth things over.
Problem is, while you're busy covering your client's back, who's covering yours?
Say hello to your new best friend: complaints handlers' professional indemnity insurance.
Make no mistake
Let's say your client's unhappy with your work. Or they think you've made a mistake that's cost them money. They could hand you a warning, suspend you or decide to sue. If it's the latter, you're left facing a barrage of legal costs that could leave you sorely out of pocket.
Granted, the risks are low. It's likely you're highly trained and your work is checked (and double and triple checked) before final decisions are made.
But mistakes are a fact of life and, when faced with allegations of wrongdoing, you'll need to defend yourself from potentially damaging claims.
Think how much just a consultation with a specialist litigation solicitor can cost (that's right, it's a lot) and you'll soon realise your money's better spent on complaints handlers' insurance instead. Consider it a short-cut to much deeper pockets.
What does insurance for complaints handlers cover?
So what does complaints handlers' PI insurance get you, exactly? And how much of it do you need?
Well, it covers you for a number of claims and allegations including (but not limited to) negligence, defamation, copyright infringement, breach of confidence, misrepresentation and transmission of computer viruses.
That's not all though. It covers the costs of hiring a legal expert to defend you in court and, if it turns out you're in the wrong, it pays for any compensation you owe your client.
How much cover you need is up to you but we'd recommend getting as much as you can afford (more on that here).
Add portable equipment insurance to your policy and you're also covered for the loss, theft and damage of any electrical devices (laptops, mobile phones, etc) you take to your client's office.
Stay safe
Even with professional insurance as back up, the quickest route to an easy life is never to have to face a claim in the first place. So here are some golden rules to keep in mind to help reduce your risks:
Keep your cool. Anger can cloud anyone's judgement but, as an impartial advisor, it shouldn't affect yours. Be polite to customers and they'll have no reason to file a complaint against you.
Choose your words carefully. Be careful when allocating blame. You might know who's in the wrong but the customer doesn't need to know your thoughts about it. The last thing you want is to be accused of deliberate defamation (this isn't covered by your PI insurance).
Be an obsessive note-taker. Keeping close records of your work process means you can back yourself up when it comes to justifying your decisions.
Keep a close ear to the ground. Open yourself up to feedback and let your insurer know straight away of any shortcomings that could lead to a claim. This includes any criticism of your work (whether you think it's fair or not).
Check your contract's terms. Many clients now ask you have PI insurance in place before you start working for them to cover you should anything go wrong.
For a quick quote, click here. Or if you want to speak to someone direct, call us on 0345 222 5391. Our advice is free and impartial, so you shouldn't have any, er, complaints.
Image used under license from Shutterstock.
complaints handlers
managing risk
negligence