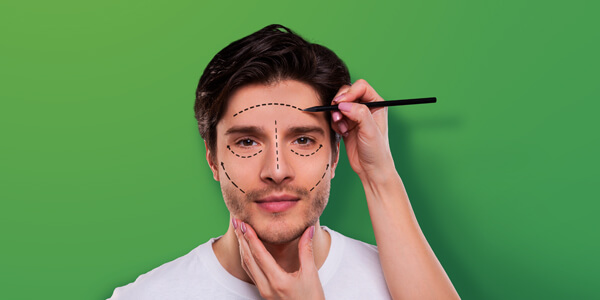 Male aesthetics have risen hugely in popularity in recent years. It's all part of a more general trend. In 2021, 43% of all UK adults were considering non-surgical treatments as part of their regular grooming routine.
Growth in demand has been linked to the 'Zoom boom' – video meetings and conferences replacing face-to-face contact during Covid-19. Men staring at their own image on video calls means they've become more self-critical. Consequently, they're more likely to look for non-invasive aesthetic procedures to improve their appearance and, most importantly, combat the signs of ageing.
Popular aesthetics treatments for men include:
Botox injections
Filler around the jawline and chin
Non-surgical hair growth procedures.
Aesthetics treatments appeal as they're quick and don't involve a recovery period. They can be over and done in as little as half an hour. Aesthetics treatments have also become more affordable in recent years.
Industry experts predict the demand for male aesthetic procedures to continue to grow from now on.
This article looks at the latest male aesthetics industry statistics. And gives us an insight into 2022 male beauty trends. (All figures quoted are the most up-to-date at the time of publishing.)
The male aesthetics industry at a glance
The UK non-surgical aesthetics industry was worth an estimated £2.75 billion in 2017 and in 2022 could now be worth over £3 billion. Procedures like Botox injections and fillers account for 9 out of 10 of all cosmetic procedures performed in the UK.
There are almost 950 medical aesthetic clinics currently open in the UK, with over 600 clinics in London.
The American Society of Plastic Surgeons reported a 99% rise in men receiving injectable aesthetics treatments between 2001 and 2021.
Although the market for male aesthetics is still in its early stages, industry experts predicted strong future growth. In 2020, some Harley Street clinics reported a 50% increase in men looking for aesthetic treatments.
Men are most interested in treatments for hair loss, the periocular area (around the eye) or jawline.
Demand for non-surgical aesthetic treatments is now growing at a much faster rate than surgical cosmetic procedures.
Fundamentals of the men's market
Aestheticians are increasingly targeting the male market by tweaking treatments they usually offer to women to include men. While demand from women remains up to 10 times higher than from men, the male market has rapidly grown over recent years and is set to continue.
Social media's influence on the rising demand for aesthetic treatments can't be underestimated. And dating apps and social networking sites like Instagram have led men to become more focused on their outward appearance.
Keeping up with younger colleagues is also said to be one of the main reasons men are turning to aesthetic treatments in the UK.
Injectables are the most popular procedure for men as a 'gateway' into aesthetics treatments. They're one of the most accessible, affordable, and easily administered treatments. Men are generally looking for quick treatments that look natural and have little to no aftercare.
In 2021, news reports highlighted a lack of regulation in the UK aesthetics industry, showing a health and safety concern. This could lead clients to become nervous about procedures.
In response, the UK government recently announced a crackdown on unregulated cosmetic procedures, including Botox and filler injections. This is likely to mean aestheticians will need a license to carry out these types of non-surgical treatments in the future. They'll also have to provide proof of adequate training and meet agreed health and safety standards.
The proposed changes follow new laws in the UK making it illegal to administer aesthetic treatments to under 18s. This is alongside banning adverts on social media, influencer advertising, and traditional advertising targeting those under 18.
Male aesthetics industry statistics
The demographic most likely to look for aesthetics treatments are professional men like lawyers or those who work in finance.
Hair loss is the number one concern that leads men to look into aesthetics treatments. Non-surgical techniques targeting hair loss are growing in popularity, like PRP (platelet-rich plasma) therapy.
Statistics from The Aesthetics Society show the number of non-invasive cosmetic procedures on men increased 20% between 2018 and 2019.
In the USA, in 2019, Botox was reported as the most popular aesthetic treatment for men, with 473,354 treatments. This is up 5% from 2018 and over 400% since 2000.
Non-surgical jawline contouring, which involves injecting fillers to sharpen the appearance of the jaw, is popular with men over the age of 40.
Between 2017 and 2018, global demand for non-surgical aesthetic treatments grew by 10%. In contrast, the number of surgical cosmetic treatments performed shrank by 0.6%.
'Medical' health and wellness spas accounted for 14.8% of UK non-surgical and cosmetic procedures in 2021-2022.
There's a clear gap in the market to meet the demand for male beauty treatments. Research has found men actually spend more on beauty treatments annually in the UK than women (£3,300 for men vs £3,000 for women).
According to Talent.com, the average salary for an aesthetician in the UK in 2022 is £24,999. Entry-level positions start at £20,494 a year, while the most experienced workers can earn £30,000 a year.
Most popular male treatments
The most popular male aesthetics treatments in 2022 are:
Injectable fillers, like synthetic hyaluronic acids, for the jaw, chin, and neck area.
'Brotox' (Botox for men), as Botox is the number one most requested non-surgical aesthetic treatment worldwide.
According to The Aesthetic Society, laser hair removal's the next most popular aesthetic treatment after injectables.
Hydrafacials and non-surgical facelifts (particularly those using hyaluronic acid, which can be used as a surgical 'nose job' replacement filler).
Cryolipolysis is an alternative to liposuction involving exposing cells to freezing temperatures causing them to break down. There have been over seven million Cryolipolysis procedures worldwide.
Aesthetics business insurance
Wherever you work and whatever treatments you offer, mistakes can happen, and things can go wrong. Significantly, when it comes to aesthetics, people can get hurt. That's where having the right insurance can protect your business.
Treatment malpractice insurance (also known as 'treatment liability' or 'medical malpractice' insurance) covers you if you unintentionally harm someone physically or mentally, and they sue you for their injuries. It pays for solicitors to defend you and covers any compensation awarded to your client.
Being a customer-facing company also means you're likely to see people in person. Public liability insurance covers haphazard accidents that result in injuries and property damage. Like trips, falls and spills.
Our aesthetics insurance page has more information on what types of cover practitioners may need, whether medically or non-medically qualified. Or you can call 0345 222 5391 to speak to the team.
Image used under license from Shutterstock.
aesthetics
beauty therapists
statistics