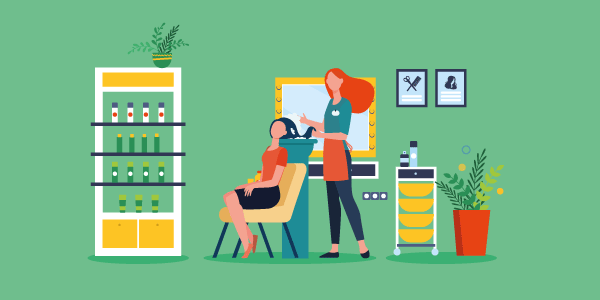 After years of strong growth, the UK's hair and beauty industry was hit hard by the pandemic. Now the industry faces new challenges in the wake of Brexit, high inflation, and increasing energy costs.
Despite all that, the industry is bouncing back. Albeit rather slowly.
In the July 2023 industry survey, NHBF found that 43% of salons and barbers surveyed made a profit. 42% broke even.
Energy costs were the number one concern for businesses, followed by cost increases in trade supplies. Most hair and beauty businesses have put up their prices or are planning to in the near future.
Clients certainly don't seem afraid to spend money. Women who visit salons regularly spend, on average, a staggering £1,000 a month on hair, nails, beauty, and aesthetic treatments.
To establish the current state of play, we're taking a look at the latest hair and beauty industry statistics for the UK, as well as those for the last few years. We've focused on salons and self-employed hairdressers and therapists providing face-to-face treatments.
Hair, nail, and beauty industry statistics at a glance
There were more than 48,000 hair and beauty businesses operating in the UK in 2022, a 5% rise from the previous year. Despite the pandemic, salon numbers have continued to increase year on year.
The hair and beauty industry is largely represented by small businesses: three-quarters of businesses employ fewer than five people, while 95% employ fewer than ten people.
62.5% of people working in the hair and beauty sector are self-employed.
87% of the workforce is female, and more than half are aged between 16-34.
The number of people starting apprenticeships increased in all four countries in 2021/22 for the first time since 2016/17.
The hair and beauty market
The hair and beauty treatment industry in the UK generated £4.4 billion in 2022. The growth rate was 35% and the industry is expected to continue growing for the next five years.
A 2021 report by the National Hair & Beauty Federation (NHBF) identified the industry as one of the hardest hit by the UK's pandemic lockdowns, with turnover falling by an average of 45% in 2020 compared to 2019. Salon capacity fell to 70% of its pre-pandemic level due to social distancing and enforced closures. Full-time employment was also down 21% on 2019's figures.
The NHBF also carried out a State of the Industry Survey in July 2023, which found that nearly three-quarters of hair and beauty business owners were now confident of their business' survival. 43% of respondents said they were intending to grow their business. Although that still leaves 25% under threat of closure, these results are more promising than the previous year.
Where are hair and beauty salons based?
The British Beauty Council's 2023 Value of Beauty Report shows that the beauty industry accounts for 1 in 50 jobs in the UK. They also found that growth in the industry was not just city-based. Equal opportunities were found in rural areas, as well as in deprived areas.
According to data gathered by the Office for National Statistics, there were, in fact, 53,435 beauty and hairdressing businesses operating in the UK in March 2022. The geographical breakdown went like this:
North East – 2,215
North West – 6,400
Yorkshire and the Humber – 4,190
East Midlands – 3,435
West Midlands – 4,485
East – 4,595
London – 9,905
South East – 6,550
South West – 3,615
Wales – 2,335
Scotland – 4,105
Northern Ireland – 1,605.
Beauty salon industry statistics
The number of beauty salons in the UK increased by 24.8% between 2017 and 2021.
At the end of 2021, there were 10,675 beauty salons in the UK. According to SumUp, beauty salons are the second-highest businesses in demand on the high street.
In 2014, there were less than 500 companies registered with the word 'beauty' in their name. Each year since then, more than 500 companies have registered with 'beauty' in their name.
65% of people who worked in beauty in 2020 were self-employed (up from 57% in 2019).
The average hourly wage for employed beauty therapists in the UK is £8.90, according to payscale (£15k - £23k annually).
Hairdresser and barbershop industry statistics
In 2020, 73.3% of people working in hairdressers and barbers were female.
At the end of 2021, there were 15,861 barbershops.
The NHBF reported that 60% of people working in hairdressing and barbering in 2020 were self-employed (up from 54% in 2019).
The average hourly salary for hairdressers in the UK is £8.83, according to payscale (£13k - £24k annually, depending on experience).
The number of hair salons in 2019 was 16,559, a 21% increase over five years (NHBF).
Around 7,000 people started a hairdressing or barbering apprenticeship in England in 2021-22.
Nail salon industry statistics
There were 4,131 nail salons in the UK in 2022. 952 of them opened in the last five years.
The average hourly salary for nail technicians in the UK is £8.88, according to payscale (£17k - £25k annually, depending on experience).
In contrast to the hair and barbershop industry, nail businesses have a healthy influx of entry-level employees. According to figures gathered by Future In Beauty in 2021, 9.2% of nail technicians were entry-level and 47.7% were in their early careers.
In 2021, 93% of the nail technician workforce was female and 7% was male. 16% of nail and beauty business managers were male.
About 57% of nail technicians were self-employed, meaning approximately 43% were in employment. There was a fairly even split between those working full- or part-time.
Figures show that the South East has the greatest number of nail technicians in employment (17,342), higher even than London (15,029). The North East has the lowest number with 2,743 nail technicians.
Hair and beauty industry services
As more and more beauty enthusiasts take to TikTok for inspiration, it's easy to get an idea of what treatments have been the most popular throughout 2022 and into 2023. A report by online beauty retailer Justmylook shows that the most searched-for treatments are:
Laser hair removal – 90,500 monthly searches
Builder gel/Biab nails – 60,500 monthly searches
Microblading – 49,500 monthly searches
Microneedling – 49,500 monthly searches
Botox – 40,500 monthly searches.
The study also found that Greater London was the region seeking the highest number of beauty and aesthetic treatments, with a total of 109,690 searches every month.
The most searched-for haircuts are 'the wolf' and 'the butterfly'.
Hair and beauty business insurance
Anyone running their own hair or beauty business needs to think about getting the right insurance protection.
If things go wrong when providing a treatment, a client could make a claim against your business for negligence or bodily injury. That's when you need treatment and professional liability insurance. It pays your legal costs and any compensation due too.
You're covered whether your work is salon-based or you go out and about visiting clients. Plus, there's your kit to think about. As well as potential claims from clients who've slipped, tripped, or had some other sort of mishap that's caused them an injury or damage to their property.
There's more advice and info on our hairdressers' insurance, beauty therapist insurance, and nail technicians' insurance pages.
All beauty industry statistics quoted are the most up-to-date available at the time of publishing.
Image used under license from Shutterstock.
beauty therapists
statistics