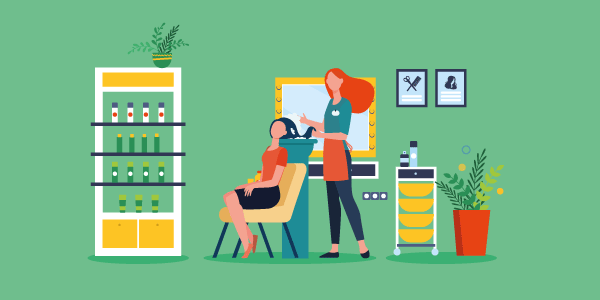 After years of strong growth, the UK's Covid-19 pandemic hit the hair and beauty industry hard. Multiple lockdowns saw businesses forced to close for months at a time.
The industry has been in recovery this year, with the pandemic's long-term impact on business numbers yet to be determined. But what's clear is that the sector was experiencing a boom period of growth in the years prior to the crisis.
Brits like to keep well-groomed, and the amount spent at hairdressers and personal care salons in the UK was highest in 2019, reaching £8.6 billion. This is equivalent to every person in the UK spending £166 on personal care treatments yearly.
Given that 2019 was a bumper year and the hair and beauty industry had previously boasted an impressive growth rate, there's hope it will quickly bounce back to pre-Covid levels. Also that new businesses will open up to fill the gaps left behind by those that have ceased trading.
A reported 432% spike in bookings at the end of lockdown in April 2021 (while not entirely unexpected) indicates the future is bright. To establish just how bright, we're taking a look at the latest hair and beauty industry statistics for the UK, focusing on salons and self-employed hairdressers and therapists providing face-to-face treatments.
(All figures quoted are the most up-to-date at the time of publishing.)
The hair, nail and beauty industry at a glance
There were almost 45,000 hair and beauty businesses operating in the UK in 2020 and an estimated 288,000 beauticians, hairdressers and barbers working in the UK (excluding salon owners/managers).
The hair and beauty industry is largely represented by small businesses: over two-thirds of businesses employ fewer than five people, while 94% employ fewer than ten people.
The survival rates for hair and beauty businesses lasting one year, three years and five years declined between 2015 and 2019.
The hair and beauty market
There has been a massive growth of 54% in the number of hairdressing, barbering and beauty businesses across the country over the five years up to 2020. The nail and beauty industry was one of the strongest in the UK prior to the Covid-19 pandemic, with the number of salons increasing year on year.
Beauty salons, nail salons and barber shops were the top three retail categories with the highest growth. Research carried out by American Express Shop Small predicted the hair and beauty industry would grow 16% by 2023, to hit 56,484 independent salons.
However, a 2021 report by the National Hair & Beauty Federation (NHBF) identified the industry as one of the hardest hit by the UK's pandemic lockdowns, with turnover falling by an average of 45% in 2020 compared to 2019. Salon capacity fell to 70% of its pre-pandemic level due to social distancing and enforced closures. Full-time employment was also down 21% on 2019's figures.
The NHBF also carried out a State of the Industry Survey in September 2021, which found that nearly two thirds of hair and beauty business owners were confident of their business' survival (although uncertainty was higher in the beauty sector). 40% of respondents said they were intending to grow their business.
Where are hair and beauty salons based?
According to data gathered by the Office for National Statistics, there were 44,880 beauty and hairdressing businesses operating in the UK in March 2020. The geographical breakdown goes like this:
North East – 2,020
North West – 5,425
Yorkshire and the Humber – 3,690
East Midlands – 2,980
West Midlands – 3,815
East – 3,875
London – 7,015
South East – 5,425
South West – 3,110
Wales – 2,155
Scotland – 3,810
Northern Ireland – 1,560.
Beauty salon industry statistics
There were 8,677 beauty salons in the UK in 2019, a huge 73% increase in businesses since 2014.
94% of people working in beauty in 2019 were female.
65% of people who worked in beauty in 2020 were self-employed (up from 57% in 2019).
The average hourly wage for employed beauty therapists in the UK is £8.34, according to payscale (£14k - £22k annually).
A huge trend in retail in the last few years has been demand for organic and 'clean' beauty products. This is sure to be reflected by customer demand for similar styles of treatment in salons.
Hairdresser and barbershop industry statistics
83% of people working in hairdressing and barbering are female (2019).
There were 13,046 barbershops in the UK in 2019, up 64% from 2014.
The NHBF reported that 60% of people working in hairdressing and barbering in 2020 were self-employed (up from 54% in 2019).
The average hourly salary for hairdressers in the UK is £8.35, according to payscale (£13k - £23k annually, depending on experience).
The number of hair salons in 2019 was 16,559, a 21% increase over five years (NHBF).
The number of hairdressing and barbering apprenticeships in England continues to fall. In 2019/20, roughly 7,000 people began an apprenticeship. That's a sharp fall of 30% compared to the 10,000 starting a course in 2018/19.
Nail salon industry statistics
There were 3,517 nail salons in the UK in 2019, an increase of 56% over five years.
The average hourly salary for nail technicians in the UK is £8.39, according to payscale (£16k - £21k annually, depending on experience).
In contrast to the hair and barbershop industry, nail businesses have a healthy influx of entry-level employees. According to figures gathered by Future In Beauty in 2021, 9.2% of nail technicians were entry level and 47.7% were in their early career.
In 2021, 93% of the nail technician workforce is female and 7% is male. 16% of nail and beauty business managers are male.
About 57% of nail technicians are self-employed, meaning approximately 43% are in employment. There's a fairly even split between those working full- or part-time for all nail technicians.
Figures show that the South East has the greatest number of nail technicians in employment (17,440), higher even than London (14,882). The North East has the lowest number with 2,766 nail technicians.
Hair and beauty industry services
Gel manicures and eyelash extensions are two of the top beauty treatments requested by consumers - for example, there was a 795% increase on searches for Russian Lashes in 2019. Other beauty treatments increasing in demand include:
Dermaplaning, which has been steadily growing in popularity (up 621% in 2019 compared to 2018).
Brow lamination (up 465% in 2019).
Sugaring (up 300% in 2018 and a further 91% in 2019).
Face treatments post-lockdown, possibly due to mask-wearing induced skin problems.
Hollywood waxing is the most popular treatment booked post-lockdown.
As lockdown lifted at the end of March 2021, the most in-demand service from hair and beauty professionals was, unsurprisingly, a haircut, which made up 47% of all personal care bookings. This was followed by hair colour appointments, with demand peaking for a full head of highlights or a balayage.
Hair removal and facial treatments made up 18% of bookings each. Ever-popular gel manicures such as Shellac were 9% of all beauty treatments booked post-lockdown.
Google data revealed that the most popular haircut searched for in 2020 was the bob, with over 200,000 monthly searches.
Hair and beauty business insurance
Anyone running their own hair or beauty business needs to think about getting the right insurance protection.
If things go wrong when providing a treatment, a client could make a claim against your business for negligence or bodily injury. That's when you need treatment and professional liability insurance. It pays your legal costs and any compensation due too.
You're covered whether your work is salon-based or you go out and about visiting clients. Plus, there's your kit to think about. As well as potential claims from clients who've slipped, tripped, or had some other sort of mishap that's caused them an injury or damage to their property.
There's more advice and info on our hairdressers' insurance, beauty therapist insurance and nail technicians' insurance pages.  
Image used under license from Shutterstock.
beauty therapists