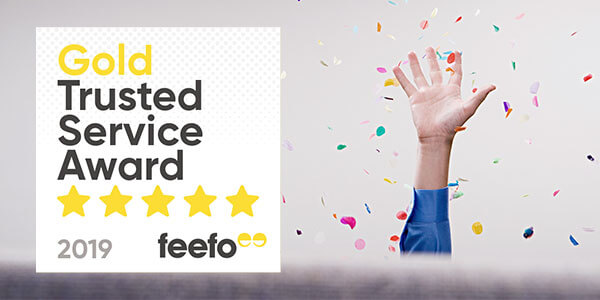 We don't want to blow our trumpet too much here, but we've just won a Feefo Gold Trusted Service Award for the fifth year running.
These awards go to businesses that get at least 50 reviews with a rating of 4.5 or higher in a year. In 2018 we got 370 reviews with an average score of 4.8. Not too shabby.
Thank you to everyone who took the time to give us a score. Your feedback, both positive and negative, has helped us net this award more times than an insurance company probably has any right to.
A first-rate service
In fairness, we have always tried to do insurance quickly, painlessly, and in a friendly and easy-to-understand way. Your feedback on Feefo helps because it means we can continually monitor what we do to make sure that's still the case.
And, although it's great to hear our service is good enough that people say nice things about it, we welcome constructive criticism too. Nobody's perfect and we relish the opportunity to learn and improve. We can't do what we do without you.
So if you'd like to give us your thoughts on how we do things – good and bad – send an email to contactus@policybee.co.uk and we'll get back to you.
And if you'd like the warm glow of knowing your decision to get your insurance from us was a good one, read what our customers say. You're in good company.