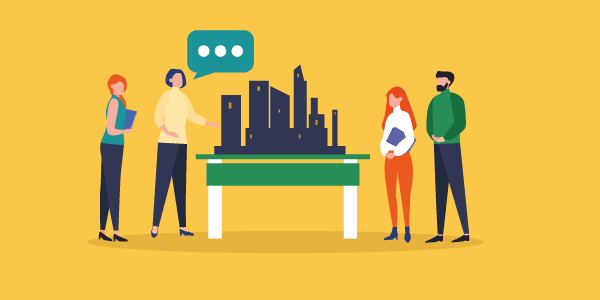 For architects, the consequences of a simple mistake can be disastrous. Your clients put substantial amounts of money into the projects you work on. So, there's an awful lot at stake.
The good news is, professional indemnity insurance (PI) protects you if something does go wrong.
By law, architects have to be registered with the Architects Registration Board ARB, and most also choose to be registered with RIBA or CIAT. To be registered with any of these, you must have certain levels of professional indemnity cover. So, PI is essential.
Architectural technicians and consultants don't need to be registered. But getting professional indemnity insurance is still really important.
As safe as houses
As an architect, claims of professional negligence are your worst enemy.
A window in the wrong place, a wrongly calculated roof pitch. Something seemingly small that you've overlooked can cost your client time and money, and even bring the whole project crumbling down.
Architects' professional indemnity insurance is there to defend you when your work comes under scrutiny. If a client thinks you've cost them because you made a mistake on your plans, gave them bad advice or breached your contract, a claim could be coming your way.
PI insurance is there to pick up the tab by paying your legal fees as well as compensating your clients if necessary. Think of it as a solid wall of protection around your business.
If you're working on a big project, with various professionals, it can be hard to determine who's at fault when things go wrong. So, it's not unusual for the finger-pointing to start long before anyone's worked out who's to blame.
That means having to defend your reputation, even when you've done nothing wrong. So, it doesn't really matter if you're great at your job. You still need to be covered.
The snags of architects' insurance
In recent years, getting architects' professional indemnity insurance has become more of a headache.
Due to the Grenfell Tower fire, cladding concerns, problems with basement conversions and other issues, insurance premiums for architects have gone up considerably. And for some architects, it's become difficult to secure appropriate levels of cover.
But it's still possible to get the PI insurance cover you need. It can just take a little more time and effort to get it. That's where a broker can help.
A good broker with 'advised' status will do most of the leg work. They'll work with you to find affordable cover that's tailored to your needs. They can help you arrange things like excess layer insurance to cover additional risks and offer specific insurance advice.
Insurers will want to know, in great detail, the risks they're taking on by insuring you. So, when you're ready to talk to a broker, make sure you have any relevant documents and important information about your contracts and your business at the ready.
Better by design
As well as having PI insurance, it's important to take steps to minimise the risk of a claim. Anyone can allege you've been negligent, even when you haven't. So, it's good practice to make it as hard as possible for accusations to stick.
A good risk management strategy is just as important as having the right insurance. By all means, be cautious. But don't be afraid to turn down clients. Here are some things to bear in mind when taking on work:
If a client is refusing to sign a contract or you generally feel uncomfortable working with them, ask yourself if it's worth taking the risk.
If your client is very inexperienced and has unrealistic expectations, you may have to spend extra time with them compared to other clients. Their budget could be way off, or they might expect a completed project in half the time it'll actually take.
Be wary of any clients who want to work to an extremely tight budget. It could seriously restrict the work you're able to do and leave you in a potentially risky situation if you're expected to cut corners.
Be careful about taking on projects which fall outside your areas of expertise. If you do decide to branch out into unfamiliar territory, do extra research or enlist the help of someone in the know.
Make your contracts as agreeable as possible. That means clearly worded terms and conditions, with no technical jargon. Avoid hiding any unpleasant bits in the small print.
Insist your subcontractors have their own professional indemnity insurance. That way, they'll be able to resolve their own mistakes, rather than leaving it up to you.
Check with your broker. If you're feeling unsure about a project, contact your broker and discuss it. Find out if your current policy will cover it. If not, will the extra insurance costs make the project unaffordable?
The perfect plan
Professional indemnity insurance is there for when you make mistakes. But ask yourself – are there any other kinds of risks your business faces?
If you regularly visit clients or invite them into your office, public liability insurance is something to consider. It covers your legal costs and compensation for third-party accidental injury and damage.
If a client trips over a step on your premises and breaks a bone, or you knock over a client's 'priceless' (code word for very expensive) sculpture, public liability will get you out of a hole.
How much sensitive information do you store on your computer? Cybercrime is an unfortunate side effect of the digital world we live in, and we're all vulnerable to it.
With cyber insurance, you're protected in the event of an attack. IT experts will try to retrieve any stolen or missing data and will get your systems back up and running securely. You'll also be given legal help if there's any fallout because of the attack.
If you run an architecture business and hire others, it's a legal requirement for you to have employers' liability insurance.
Drawing a conclusion
Professional indemnity insurance is a legal requirement for architects. And for good reason. Getting the right levels and right type of cover is really important, so using a broker is always advisable.
Click on the link to find more information on architects' insurance. Or, if you still have questions, feel free to get in touch on 0345 222 5391 or email contactus@policybee.co.uk.
Image used under licence from Shutterstock.
architects
managing risk