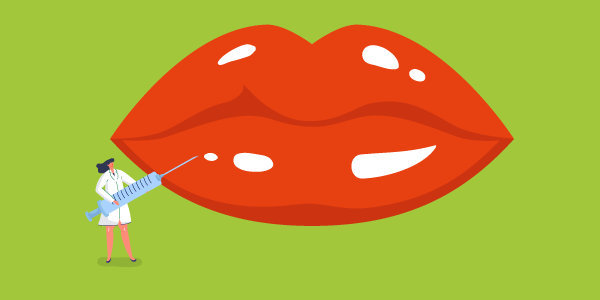 The days when people scoured stores and websites for the next big thing in anti-wrinkle serums are dying. Now many in search of a beauty fix head straight to the treatment room for Botox and dermal filler injections instead.
As a relatively straightforward procedure offering quick results, cosmetic injectables are attractive to both sides. Clients can be in and out of an appointment within around 30 minutes, while affordability compared to many other procedures ensures a steady stream of customers.
Contributing to the popularity of fillers and Botox is an army of Instagram, YouTube, and other stars always ready to show off their latest look. And the result is a £multi-million industry that's growing by the day, with more and more practitioners jumping on board.
But as an unregulated industry, it can sometimes be difficult to know exactly what's what where cosmetic injectables are concerned. So, here's a run-down of Botox and dermal fillers FAQs and what you need to know about becoming a practitioner.
Top 5 Botox and dermal fillers FAQs
1. Who can legally administer Botox in the UK?
Botox differs from dermal fillers. Whereas fillers plump the skin, Botox temporarily paralyses and relaxes the small muscles that surround deeper wrinkles like frown or laughter lines. In doing so, it makes them appear smoother.
Botox is the trade name of the drug injected into the skin during the procedure. It's made from a toxin produced by the bacterium Clostridium botulinum – the same one that can give you botulism, or food poisoning.
When it comes to who can legally administer Botox in the UK, the simple answer is 'anyone'. That's because the non-surgical cosmetics industry remains unregulated. However, it would be incredibly irresponsible to conduct an invasive procedure with very real risks of physical damage without the proper training.
Anyone considering becoming a Botox practitioner should, therefore, make sure they first get good quality training from a reputable supplier. Make sure you do your research before signing up, since there's a lack of reliable accreditation for the many courses on offer, and quality varies.
2. What qualifications do I need to administer Botox and dermal fillers?
This is one of the most asked Botox and dermal fillers FAQs. And the answer will perhaps come as a surprise.
The fact is, there are no legal restrictions whatsoever concerning minimum levels of training for Botox and dermal fillers practitioners. Although it's of course only a matter of common sense (and common decency) to seek out good quality, practical-based training before you start advising and injecting clients.
Naturally, because of the lack of required qualifications, there are loud voices crying out for regulation of the sector, either by the government or an independent industry body. But nothing looks like happening very soon.
The only exception is Scotland, which plans to introduce a licensing regime to ensure cosmetic injectables practitioners are suitably skilled. Some local authorities also have licensing requirements, but they vary hugely, and some have none at all.
Qualifications do, however, matter where getting hold of Botox is concerned since it's a prescription-only drug in the UK. That's straightforward if you're a doctor, prescribing nurse, dentist, or prescribing pharmacist. If you're not, you'll have to partner with someone who's qualified to write Botox prescriptions on your behalf.
3. Can non-medics and beauty therapists do Botox and dermal fillers?
Medically trained practitioners like doctors, dentists, and nurses are at an obvious advantage where Botox and dermal fillers are concerned. That's because they already have anatomical and pharmaceutical expertise and will be skilled in giving injections.
But that doesn't mean non-medics and beauticians can't also administer cosmetic injectables. The absence of industry regulation means anyone can legally carry out Botox and dermal fillers procedures on clients, whatever their level of training.
And while there are many scrupulous practitioners who don't have a medical background, there's also a minority who lack the necessary skills but practice anyway. It's these people who cause reputational problems for the sector as a whole.
It's also maybe why a report from industry body Save Face found that in 2018, 934 complaints about non-surgical procedures were registered, 616 of them concerning dermal fillers. 387 of the people affected reported having to undergo corrective procedures, while 11 of them ending up in accident and emergency departments.
4. What insurance do I need to administer Botox and dermal fillers?
No matter what your level of expertise as a cosmetics injectables practitioner, and how many years you've been doing it, things can still go wrong. A mistake on your part or a client's bad reaction can spell serious problems for both of you.
At the very bad end of the scale, an injection in the wrong place can block off the blood supply to an area of tissue, causing necrosis (tissue death). That can lead to permanent scarring and even blindness. Post-procedure lumps, bumps, and infections may also require corrective interventions.
There's no escaping the results of a treatment that hasn't gone to plan. Facial disfigurement is there for everyone to see and can cause huge mental and physical pain for anyone affected. It can also mean a very large claim for compensation for the damage done and the consequential suffering.
That's why all Botox and dermal fillers practitioners need treatment and professional liability insurance. It takes care of claims that you've caused a client illness, bodily injury or (dare we say it) death. Also, that you've been negligent in your treatment of them.
This insurance covers you both for procedures that go wrong and for accusations that you've given a client bad advice. It pays for an expert to fight your corner and covers legal costs and any compensation awarded if things don't go your way. Meantime, you're free to keep on practicing.
5. What other insurance might I need?
As anyone who's ever seen You've Been Framed knows, people take pratfalls at an alarming rate. Trips, falls and embarrassing slips seem to come out of nowhere. And although in TV land no one apparently gets hurt (or the clip simply ends before they double over in pain), reality can be very different.
If someone is accidentally injured at your premises and says it's your fault, public liability insurance covers you. Say a client slips getting into the treatment chair and knocks their teeth out. Then they claim it was because the way the chair was set-up, or that the floor was slippy. Public liability pays legal fees and compensation.
It also kicks into action if you go out and about doing treatments and manage to cause damage in the process. Say you visit a client at home but knock an antique vase off a shelf in passing. It's easy to do.
Plus, you'll want to protect your equipment – especially if you carry out other types of treatments besides Botox and fillers, meaning you have extra kit. Clinic cover pays repair or replacement costs for any of your gear that gets damaged, lost, or stolen. That's important because equipment can be costly, and without it, you can't do your job.
Facing facts
The stakes are high in your line of work and if things go wrong, there's no hiding it. Despite the good intentions, Botox and dermal filler injections can cause lasting damage. That's why it's important to get the right training and to practice responsibly, despite the lack of regulation across the industry.
It's also why it's essential you have treatment and professional liability insurance. Claims for facial disfigurement can run into the £tens and possibly £hundreds of thousands. By covering the costs, insurance protects you and your business. It also provides the reassurance you need to avoid developing your own deep frown and worry lines.
If you have any more Botox and dermal fillers FAQS about insurance, call the team on 0345 222 5391. Or click here.
Image used under license from Shutterstock.
aesthetics
beauty therapists