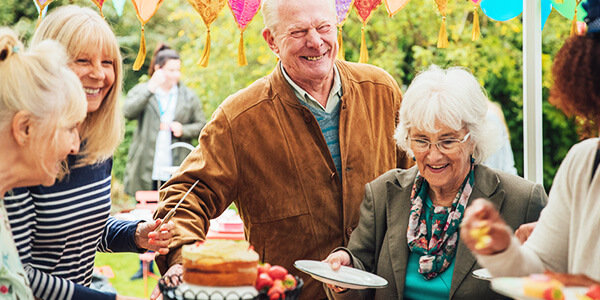 Thumb through any parish or community newsletter and you'll find some kind of charity cake sale, coffee morning or book fair going on. Maybe there's a village Christmas fair or a school summer fete in the offing.
It's clear, as a nation, we're a generous bunch. And we enjoy doing what we can to help others and support a good cause.
But with everyone up on their feet pitching in, it's a sad fact that public events don't always go to plan.
An accident with a tea urn here. A slip on some wet grass* there …
If you've not done a risk assessment, your fundraising event could actually leave you out of pocket instead. And that's where charity public liability insurance can help save the day by paying to deal with legal claims for compensation.
But I only do the odd small event, so I don't need charity public liability insurance, do I?
Many smaller charities don't really 'get' the hazards involved in putting on events. It's tough understanding what insurance they need (not to mention how it really benefits them), or if they even need it at all.
So let's take an average coffee morning as an example.
It's likely you need to hire a room in a community centre or village hall to host it.
Fine. But what happens if someone topples off a wobbly chair? Or scalding coffee gets spilt in someone's lap? What if someone slips on the wet kitchen floor? Or a large window is shattered?
Many people wrongly assume the building owner covers any injuries or property damage.
Sadly, this isn't true. As the event organiser, if something does go wrong, the legal claim will be made against you or your charity. And, as you're liable, you'll have to pay a solicitor to help defend you, and write a cheque for any compensation you owe.
Let's not forget, also, that people aren't shy about claiming in our 'where there's blame there's a claim' society. And that goes whether you're a not-for-profit or not.
Helping yourself
Risk assessment doesn't need to be time-consuming or tricky once you know what to look for. If you can prove you've done as much as you can to prevent any mishaps, it'll help if Joe Public has a fall (or damages something).
Here are a few things to consider:
Get your health and safety up to scratch. Take a walk round your surroundings with a 'hazard checklist'. That way you can identify any areas where there's a bigger risk of accident or injury. Once you've done that, take steps to deal with what you find. The sooner you do things, the less chance of more problems down the line. Make sure you warn people about any loose cables, uneven terrain, or areas where there are moving vehicles. Put up some signs if you need to. The Health & Safety Executive's 'Health and safety made simple' can help you get to grips with the basics.
Be open. If you have staff or volunteers helping you, the law says you need to provide a safe working environment. If you've spotted anything that looks a bit dicey, tell them. Do you have any first aid kits? Are there adequate toilets and wash facilities? What's the maximum speed limit on site? Make sure you share this sort of info. Some areas may need extra attention. Give training if you think it'll help.
Review the situation. Depending on the size of the event and the level of risk, you should have a decent amount of supervision on the ground to keep things ticking over. They'll help you keep tabs on how it's all going while the party's in full swing. That way you can make adjustments, or act on any problems, as they crop up. Oh, and it doesn't hurt to keep one eye on the weather too.
How public liability insurance for charities can help
If a member of the public is injured or their property is damaged and there's a finger pointing in your direction, you're covered. Your charity's finances are protected.
You'll need to defend yourself, whether or not you believe a claim is valid and whatever the eventual outcome. Charity public liability insurance covers your legal costs and representation and, should you be required to pay compensation, covers that too.
That means you can carry on fundraising without your funds flowing in the opposite direction instead.
Getting the right insurance for your charity shouldn't be intimidating or difficult. If you're not sure where to start, our team can help. Call a friendly expert on 0345 222 5399 or click here for more info.
And if you'd like to read about what other insurance your charity might need, it's all explained in our simple guide.
*Someone really did claim against a charity because they slipped on some wet grass. They successfully argued there were no signs out to warn that grass can indeed be slippery when wet. Just a little something to think about next time the rain clouds gather …
Image used under license from Shutterstock.
charity insurance
health and safety
managing risk
public liability insurance