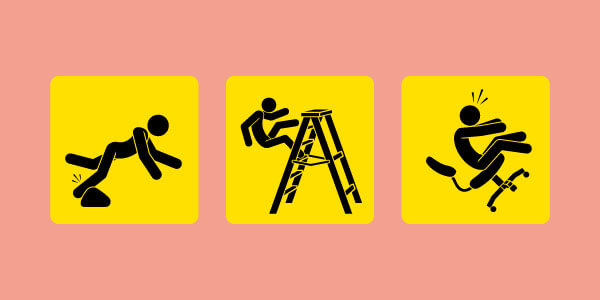 Isn't You've Been Framed brilliant? It serves up a lot more laughs than talking about public liability insurance ever could, that's for sure.
All those hapless, clumsy unfortunates, tripping and stumbling their way to hilarious personal injury for our entertainment. Oh, how we titter as we eat our takeaway from the safety of the sofa.
Still, at least they get £250 for their trouble. Everyone's a winner!
But there's' another side to the story. Because those banana-skin moments also carry the possibility of serious injury to someone. And if they happen where you work there can be less hilarious consequences.
It's likely to cost you a lot more than £250 to placate the victim and fix the problem. So what can you do? Be prepared, that's what.
Introducing....public liability insurance
In the world of unnecessary cliches, 'accidents happen' is an insurance company favourite. The same goes for the no-win-no-fee solicitors' battle cry of 'where there's blame there's a claim'.
The problem is, like most cliches, they spring from truth. Accidents DO happen, however careful you think you are. And a somewhat unhelpful 'compensation culture' says that accidents ARE someone else's fault and someone DOES have to pay. (Whiplash anyone?)
That perfect storm of a technically difficult and time-consuming claim to deal with, and impending financial ruin, means you need protection. That protection comes in the form of public liability insurance.
How does public liability insurance protect you?
If there's an accident, and it's your business's fault, a third party (a client, a member of the public, anyone else) can claim compensation against you for property damage and bodily injury.
Say they slip on a puddle of spilled tea and break their nose in the resulting fall. Maybe they fall down some badly-lit steps, trip over a trailing cable, or fall foul of a plummeting ceiling fan. Anything really. As we said, accidents happen.
If a claim then lands on your doormat, your insurer appoints a legal expert to fight the time-sapping and complicated case against you. And if the injured person's claim is upheld, your public liability insurance also covers the compensation you're liable for.
Your policy isn't limited to just visitors to your place or your events, either. You're covered if you go out and about and cause problems somewhere else, too. So don't worry too much if that successful pitch was tarnished by spilling water all over your prospective client's top-of-the-range iMac...
How much does it cost?
The good thing is, although levels of cover start in the £millions of pounds, you can buy public liability insurance from as little as £4.50 a month. That depends on what you do of course, and the amount of cover you're after.
So, to finish where we began in the wonderful world of cliches protecting your business shouldn't cost you an arm and a leg. In any sense.
If you'd like any more info on public liability insurance, you can give us a ring on 0345 222 5391. Or click here.
Image used under license from Shutterstock.
insurance explained
managing risk