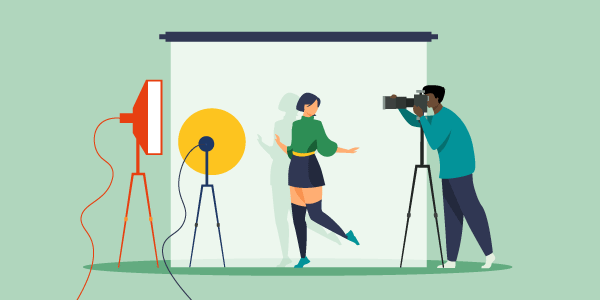 A survey of photographers by the British Photographic Council found that 91% of professional photographers are freelance. That's a big majority of the sector going it alone.
And you cover a whole range of niches and specialisms. In fact, Google lists over 40 different types of professional photographer. Experts in pet, fashion, underwater, portrait, wedding, and travel photography are just the start of it.
There's no doubting photographers have had it tough in recent times. But with the worst of the pandemic now fading out of shot, the number of both employed and self-employed photographers in the UK is on the up.
There's more good news in that the market is forecast to grow by 32.3% in 2022.
So, with the world opening up again, and both weddings and events back on the agenda, there's plenty of opportunity for freelance photographers to seize the moment. As long as that moment doesn't go horribly wrong, of course.
Which is where insurance for freelance photographers comes in…
Picture this
You've completed a photoshoot. You're happy with how the images have come out, and you set up a meeting with your client. So far, so good.
But the client isn't happy. You missed the shot they were most hoping for, and the other images aren't up to their expectations. Somewhere along the line the brief has got lost in translation.
That's when your professional indemnity insurance clicks in. If the client sues, saying you failed to capture their special one-off moments, it'll pay for a solicitor to defend you and pay compensation to your client if any's due.
It happens more than you might think. Here are some horror stories for all you freelance wedding photographers out there. Read them and wince.
Snap action
There's more that can go wrong and potentially cost you dear(y me), too.
Say you're with a client or model either in your studio or on location. They trip over your electrical lead and injure themselves badly. Or you break an expensive prop you've hired-in specially for the occasion.
In both cases, you'll likely be asked to pay compensation. Public liability (PL) insurance is there if you or a third party are accident-prone and someone or something gets damaged. PL covers both legal costs and any damages due.
One other thing. If you belong to a professional organisation, you're likely to need insurance as a condition of your membership. The British Institute of Professional Photography (BIPP) and Master Photographers Association (MPA) both require members to have professional indemnity insurance and public liability insurance.
Location, location, location
In your job, you rely on your specialist equipment. Camera, tripod, lighting, lenses, laptop, phone. Your business would be nothing without them. If they go missing or get damaged, you can't work. And they're likely to be expensive to replace.
Photographers' equipment insurance pays to replace or repair damaged, lost or stolen kit. And depending on your policy, it can also pay to hire equipment while you wait for your stuff to be fixed, or for replacements to arrive. That way, you don't have to turn down or cancel jobs.
Just a word to the wise. When telling your insurance company how much cover you need for your kit, make sure you account for everything. Write a list, add it up and give that as the value.
So, if you own three cameras but only take two out and about, make sure you include all three in your estimates. If you don't, you'll be underinsured, and if you make a claim, your insurance might not pay out as much as you hope.
What other insurance for freelance photographers can you get?
Equipment breakdown insurance covers your costs if your kit breaks down (but not from wear and tear). It'll pay to repair or replace cameras, hand-held devices and tech equipment that unexpectedly fails or stops working.
And if you employ anyone, even temporarily, by law, you'll need employers' liability insurance (EL). If an employee claims they've been injured or become ill through work, they can make a claim against you. If they do, EL will pay for a solicitor to defend you and pay any compensation due to your employee.
How about short-term cover and one-off events?
When you buy your policy, you select a level of cover. Occasionally, however, a venue might need you to increase your public liability insurance cover. This is usually because the venue's insurer specifies a minimum amount, and they need your cover to fall in line.
If that's the case, you can ask your broker or insurer to temporarily extend your cover. It might put your premium up slightly, but it's cheaper than increasing it for the whole year.
And you might think, to save money, of taking out a short-term professional indemnity policy. Just if you're doing a one-off job you consider high risk, for example. Or the client has a reputation for being especially fussy.
These aren't a great idea as professional indemnity insurance is 'claims made'. That means if someone makes a claim against you, you need to be covered both when you did the work and when the claim is made. So you wouldn't be covered if you take out a policy, do a job, cancel the policy a day later, and a client makes a claim a month after the job is completed.
You can read more about why short-term professional indemnity policies aren't a good idea here.
Focus…
It doesn't matter if you're full time or part time. If you're freelancing as a photographer, your business relies on you and your kit. And accidents and incidents can happen to everyone.
You can read more about insurance for freelance photographers here. Or call our team of experts on 0345 222 5391 for more advice.
Image used under licence from Shutterstock.
freelancers
managing risk
photographers
public liability insurance
running a business