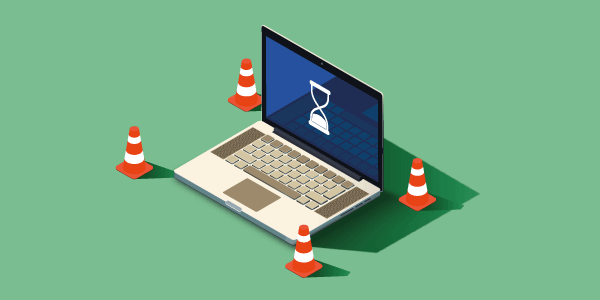 If your kit is lost, stolen or damaged, you've probably got insurance. You know you're covered.
But what about if something goes kaput? It stops working right when you don't need it to. Your computer doesn't boot up, or a camera goes on the blink.
Equipment breakdown insurance covers 'that bit in the middle' where an item hasn't been physically damaged or stolen but just…stops working.
To paint a clearer picture of what it is, what it does, and when you might need it, here are some actual examples of equipment breakdown insurance claims.
Virtual Assistant in MacBook Mayhem
You can't easily be an efficient assistant, virtual or otherwise, if your computer starts failing to co-operate. But that's what happened to Ingrid.
She had a problem with her MacBook. There were issues with the display. So Ingrid did the sensible thing and phoned her broker (us) to see if her equipment breakdown insurance could help.
Our claims team's first job was to establish that the problems weren't down to wear and tear. Because equipment breakdown insurance doesn't cover that.
That's understandable, since we all know things get old and die. In fact, globally, humans discarded 53.6 million tons of electric waste in 2019. It is, however, best to replace things before you get to end-game stage.
Luckily for Ingrid, the Apple Service Team established that wear and tear wasn't the cause of her display issues. It was, in fact, a malfunction with the display's backlight.
It was repairable. Ingrid's insurance paid over £500 for the repair of the MacBook. Her feedback was that our claims team were 'very helpful and very responsive. All in all, the process was efficient.'
That's good to know.
Wedding photographer's lens loses focus
Weddings can be stressful. And not just for the wedding party. If they don't get that perfect shot, photographers can face professional indemnity insurance (PI) claims.
There are a whole host of wedding photography horror stories here, but on this occasion, it wasn't a PI claim Lowri needed help with. Her lens stopped working, so her equipment breakdown insurance was called into action.

The autofocus wasn't doing what it should. So, her insurer's specialist Computer and Technology Solutions team assessed if the lens could be repaired or replaced.
Luckily repair was an option, and Lowri received nearly £1,500 (excluding excess) to get the lens put right.
Green light for that claim.
Videographer didn't feel negative when his hard drive failed
You can lose data in a number of ways. A member of staff deleting something would be the simplest. A cyber-attack or a hard drive failure are more technical scenarios.
Unfortunately, if your hard drive fails, it can cost you a lot more than just a replacement bit of kit. And that's especially the case if you run the kind of business that relies on data.
So when Arash's hard drive 'just stopped working' it could have been costly. He had regularly backed up the files, which is required under the t&cs of his equipment breakdown insurance. But he didn't have the latest versions that he was working on.
Luckily, the data retrieval was successful and Arash received over £3,000 to cover the costs of a specialist company being able to get his data back.
Panic over.
The benefits of equipment breakdown insurance
Relying on specialist kit means you can't run your business if it breaks. Equipment breakdown insurance helps by paying to repair or replace your gear if it stops working.
It also covers the costs of recovering lost or damaged data as part of the claim if your kit breaks and you can't retrieve lost files.
A word to the wise though. If your equipment's getting past it, it's best to replace it in advance. Because equipment breakdown insurance can't help if your kit's crumbled, worn or torn.
It also can't help if you accidently hit delete and lose data…regular backups are the best insurance for that.
You can add equipment breakdown cover to your insurance by emailing us at hello@policybee.co.uk or calling the team on 0345 222 5391.
Image used under licence from Shutterstock
equipment breakdown insurance
insurance explained
managing risk
running a business