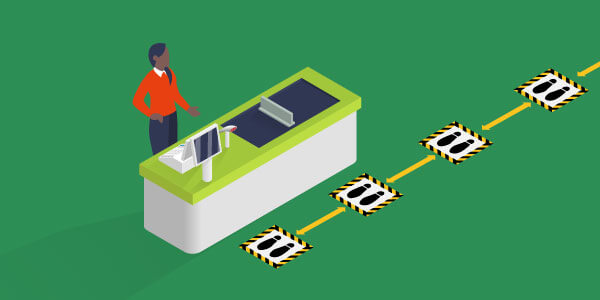 With everyone busy staying 'alert' to coronavirus and one government announcement falling hard on the heels of the last, it's sometimes been difficult to know what's what during lockdown. Or how the rules should be interpreted and exactly what is and isn't allowed.

But with people now returning to the workplace, and phase 2 of the government's response to the pandemic in England about to begin, things are becoming more transparent. Because there are clear guidelines for who can and can't get back to business, and how they should go about it.

It's important to get the return to work right, so you neither fall foul of the rules nor put your staff or the public at risk. It also has to be done with a degree of sensitivity, considering some employees will be naturally anxious about coming back to the workplace and potentially being exposed to the virus.

So, here's a quick run-down of what you need to know, what you need to do, and where you can go for detailed guidance.
Who can go back to work?
The advice remains to work from home if possible. And, thanks to the connectivity the internet and video conferencing apps offer, many thousands of people are already doing just that. For now, the guidance is for them to continue.
Other businesses deemed 'essential' have been operating right through lockdown of course. A handful more including garden centres, furniture retailers and DIY stores got the nod to reopen mid-May. Car showrooms and outdoor markets are next, and as of 15 June, all other retailers can cautiously open their doors.

The news for anyone with a hospitality or entertainment business isn't so good. Neither is it for those offering a service which is, by its nature, up-close and personal, like hairdressers, beauticians, and aestheticians. They won't be allowed to start operating again until phase 3 kicks in – 4 July at the earliest.
What do I have to do to reopen my business?
The first step is to be aware of what the government guidelines say. Obviously, the specific measures each business must take will differ according to their various workplace settings. To help with that, the government has tailored its guidance to be relevant to eight broad business sectors.
But the emphasis is very much on you to find out what's expected before you press the button on reopening your business, and to see it through. Plus, there are general rules that apply, including guidance on social distancing and hygiene standards.
Staff must be able to keep a 2-metre distance, which may involve changing the way your workspace is set out, having fewer people working or staggering start and finish times. If that's not feasible, you'll have to think about installing screens or having staff facing away from each other.
Employees also need to be able to move around the workspace without coming into close contact with each other. One way of doing that might be to impose a one-way system and to make doors either entry or exit only. Any contact with the public must likewise be within the rules.
The guidelines highlight regular cleaning as another priority, especially often-touched surfaces like door handles and stair bannisters where the virus could lurk. Staff should also have easy access to hand sanitisers and facilities where they can wash their hands with soap and water.
Getting the planning right
With so many things to think about before you can open your business again safely, you need to make a firm plan. And the best way of doing that is to carry out a risk assessment. In fact, not only is it a good idea, it's a necessity.
Employers have a duty of care to their workforce and the Management of Health and Safety at Work Regulations 1999 say they must make a reasonable assessment of workplace risks. If you have over five employees, then it needs to be written down. And if you have over 50, the government would like to see it published on your website.
The Health & Safety Executive (HSE) offers some good advice on managing risk during the pandemic and also provides risk assessment templates and examples. Meanwhile, as a measure of just how seriously the government is taking workers' welfare, it recently handed the HSE £14 million to bolster its contact centre operation and to help pay for spot checks on businesses.
What does all this mean for my staff?
Your staff must be an integral part of your planning. And that means working out not only who is able to come back to work, but how many. As well as the obvious constraints of the social distancing guidelines, you may need to adjust staffing levels to match anticipated work volumes.
There are also things like lack of childcare to consider, with most children still unable to attend school. Some staff may have medical conditions that require them to shield themselves. And others may be nervous about the risk of infection in the workplace, – especially if there are vulnerable people in their household.
The answer is to tread softly. Talk to your employees about their individual situations and their worries. If you have staff furloughed, work out who it would be best to bring back first. Also, who could possibly stay at home until August, when the scheme becomes more flexible to accommodate people returning part-time.
Bringing staff out of furlough has never been done in the UK before. And there's the inevitable possibility that some businesses will also have to make redundancies. Remember that in all this you have an obligation to act in accordance with existing employment legislation including the Equality Act 2010 and the Employment Rights Act 1996.
The buck stops with you
It's positive news that the wheels of the economy are gradually beginning to turn again, and that more companies can now throw off the dustsheets and get back to business. But the onus is on you to do it right and to stick by the guidelines, keeping everyone as safe as possible in the process.
That means knowing the government advice inside out and making sure you're up-to-date with any changes or additions. Also to be aware that this advice differs between the devolved nations who each take a separate approach, and that what goes for England may well not apply for Scotland, Wales and Northern Ireland.
It's a good idea, too, to check with any relevant trade bodies or associations for your profession, to see if they're offering their own support and sector-specific guidelines. And if you're dealing with furlough or possible redundancies and are unsure about the rules surrounding employment law, you may want to consult an HR specialist.
That's because the mistakes you make now can come back to haunt you. We may be in unprecedented times, but the law is the law, and breaking health and safety or employment rights protocols will still land you in hot water.
That hot water can reach boiling point if someone makes a claim against you, saying your bad interpretation of the rules meant they caught coronavirus, or passed it to a vulnerable family member. Or if you made them redundant but discriminated against them or didn't go through the correct consultative processes.
Undercover
If someone does make a claim against you, then providing you have the relevant cover, your business insurance could help by paying to defend you and picking up the tab for costs and compensation. But that cover only goes so far.
That's because all the major types of insurance, including professional indemnity, public liability, employers' liability, directors' and officers', cyber and medical malpractice have what's known as a 'deliberate or reckless acts' clause. So, if you were judged to have been reckless in not making yourself aware of the coronavirus guidelines or not following them adequately, your insurance might not cover you.
These are challenging times for everyone. But until we get the all-clear, it's important to stay alert to the changing rules that dictate the way we must all do business and to implement them well. That way you give both your staff and your business the very best chance of surviving the pandemic.

If you have any business insurance questions during the coronavirus pandemic, we can help. Call the team on 0345 222 5391.
Image used under license from Shutterstock.
coronavirus
rules and regulations
running a business