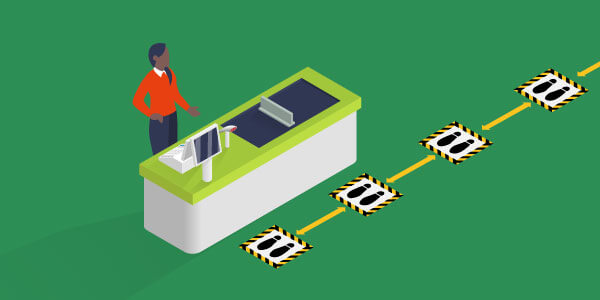 New year, new coronavirus variant, new lockdown.
On 3 January, the government announced a new national lockdown, starting at midnight on 4 January and lasting through until mid-February at the very earliest.
With the local tier system suspended, everyone within national borders must now follow the relevant rules. And latest regulations are every bit as restrictive as for the spring shut-down, meaning thousands of businesses will be affected. Many of them negatively.
Of course, it depends what your business does and where it's located as to which set of regulations you must follow. The governments of Scotland, Wales and Northern Ireland all have their own take on the pandemic and a raft of different restrictions apply.
But whichever part of the UK you're in, it's important to get it right, so you neither fall foul of the guidelines and risk a fine, nor put your staff or the public at risk. So, here's a quick run-down of what you need to know, what you need to do, what help you can get, and where to go for detailed guidance.
Which businesses can stay open?
The advice for everyone is to work from home if possible. And, thanks to the connectivity the internet and video conferencing apps offer, many thousands of people are already doing just that. Those people who had returned to the workplace in the lull before this latest storm should again do their jobs from home if they can.
Other businesses deemed 'essential' like food retailers, newsagents, garden centres and banks can stay open, while non-essential stores can operate on a click-and-collect basis.
Also making it onto the 'essential list are: off licenses; pharmacies and chemists; builders' merchants; vets; pet shops; groomers; dentists; opticians; hearing centres; chiropodists; chiropractors; osteopaths; other medical or mental health services; post offices; funeral directors; laundrettes and dry cleaners; bicycle shops; vehicle repair and MOT services; petrol stations.
Businesses associated with moving house, including estate agents, can also continue to operate. And it's the same for the construction industry and building sites.
The news for anyone with a hospitality, leisure or entertainment business isn't so positive, as they'll have to close their doors…if they weren't already locked and bolted under the tier system. There's a slight saving grace in that take-aways from restaurants, pubs and cafes are within the rules up until 11pm. Alcoholic drinks can only be delivered though.
Neither is the immediate future looking very rosy for anyone offering a service which is, by its nature, up-close and personal, like hairdressers, beauticians, nail artists, masseuses and aestheticians. They can't operate for the meantime, either from their own premises or in people's homes. It's the same for home tutors.
Personal trainers who work outdoors in parks and open spaces can still service their clients, however, since exercising outside is permitted. The only proviso is that training must be one-to-one and socially distanced rather than in groups. Other indoor and outdoor sports venues, including gyms, tennis courts, golf courses and swimming pools must stay closed.
What do I have to do to keep my business open?
Everyone who has employees back in the workplace should by now be familiar with new guidelines for the coronavirus era. Otherwise, they shouldn't be operating. With the more infectious mutated strain of the virus sweeping the country and hospital beds filling up, it's more important than ever to limit the risk of transmission in the workplace.
The first step is to be aware of what the government guidelines say. Obviously, the specific measures each business must take will differ according to their various workplace settings. To help with that, the government has tailored its guidance to be relevant to 14 broad business sectors.
And the emphasis is very much on you to find out what's expected and to implement it to the letter. Plus, there are general rules that apply, including guidance on social distancing and hygiene standards, and when to wear a mask.
Staff must keep a 2-metre distance where possible (or 1-metre with risk mitigation), which may involve changing the way a workspace is set out, having fewer people working, or staggering start and finish times. Screens, working in fixed teams, and staff facing away from each other are all encouraged.
Employees also need to be able to move around the workspace without coming into close contact with each other. So, a series of one-way systems may be required. Any contact with the public must likewise be within the rules, including the wearing of face masks in certain circumstances as stipulated.
The guidelines highlight regular cleaning as another priority, especially often-touched surfaces like door handles and stair bannisters where the virus could lurk. Equally, staff should have easy access to hand sanitisers and facilities where they can wash their hands with soap and water.
Getting it right
The soundest way to make sure you're getting it right and doing the best by your staff where coronavirus restrictions are concerned, is to do a risk assessment. In fact, not only is it a good idea, it's a necessity.
Employers have a duty of care to their workforce and the Management of Health and Safety at Work Regulations 1999 say they must make a reasonable assessment of workplace risks. If you have over five employees, then it needs to be written down. And if you have over 50, the government would like to see it published on your website.
The Health & Safety Executive (HSE) offers some good advice on managing risk during the pandemic and also provides risk assessment templates and examples. Meanwhile, as a measure of just how seriously the government is taking workers' welfare, it recently handed the HSE £14 million to bolster its contact centre operation and to help pay for spot checks on businesses.
What does all this mean for my staff?
Your staff must be an integral part of your coronavirus response. As well as the obvious constraints of the social distancing guidelines, you may need to adjust staffing levels to match changing work volumes.
Another complication is the fact schools and colleges are closed to all pupils other than the children of key workers, those deemed vulnerable, or those without online learning access. That means the twin demands of childcare and home schooling are going to prove challenging for many families.
Moreover, some staff may have medical conditions that require them to shield. And others may be nervous about the risk of infection in the workplace – especially if there are vulnerable people in their household.
The answer is to tread softly. Talk to your employees about their individual situations and their worries. Accommodate their needs where you can and, if you have to furlough staff, work out who that should be. Who can you spare? Who might be best suited to some time away from the workplace? Who can take the financial hit? Is flexible furlough an option?
There's also the inevitable possibility that this latest lockdown may be the final straw for some businesses, leading to redundancies. Remember that in all this you have an obligation to act in accordance with existing employment legislation including the Equality Act 2010 and the Employment Rights Act 1996.
What if my business has to close or can't operate as normal?
Under lockdown 3 rules, certain types of business will be obliged to dust off the 'closed until further notice' sign again. And while that's far from ideal, the government has at least shored up financial support to help hard-hit businesses and workers.
A quick way of finding what support you could be eligible for is to use the government's handy business support finder tool.
The Coronavirus Job Retention Scheme (CJRS, otherwise known as furlough), will now run until the end of April. That means the government will continue to pay 80% of your employees' monthly wages up to a maximum of £2,500. In return, you must keep paying their National Insurance and employer pension contributions.
Staff must have been employed before 30 October 2020 to be eligible for the scheme, while flexible furlough remains an option. This gives employers the chance to bring staff in on part-time hours, safe in the knowledge they'll also receive a furlough grant for their usual unworked hours.
On top of furlough, the government is providing £4bn in one-off 'top-up grants' to help the beleaguered retail, hospitality and leisure industries. Companies that usually operate in these sectors can claim a payment of up to £9,000.
Plus, there's a new £594m discretionary fund that'll allow councils to support other local businesses that don't qualify for the one-off grants but are still affected by the restrictions. So, you should check what's available in your area.
Getting a loan
The government is providing a variety of loans to support businesses through to the other side of the coronavirus pandemic. All of them have so far had their application dates extended until 31 March.
The Bounce Back Loan Scheme is for smaller businesses and aims to give them quick access to funds. Businesses can borrow between £2,000 and 25% of their turnover, up to a maximum of £50,000.
The loan is guaranteed by the government, and there are no fees or interest to pay in the first year. After that, the interest rate is 2.5% annually. Businesses that have already applied for a loan but need more can top-up the amount they borrow, up to the maximum allowed.
The Coronavirus Business Interruption Loan Scheme is for small-to-medium-sized businesses affected by the pandemic with a turnover below £45 million. It helps them access additional finance up to £5 million. The government guarantees 80% of the finance to the lender and pays interest and any fees for the first 12 months.
The Coronavirus Large Business Interruption Loan Scheme provides financial support to larger businesses affected by coronavirus with a turnover above £45 million. It helps them access loans and other kinds of finance up to £200 million. The government guarantees 80% of the finance to the lender but does not cover interest payments.
What help is there for the self-employed?
Support for the self-employed continues in the same vein through England's third national lockdown. An extension to the Self-Employment Income Support Scheme had already been introduced in anticipation of lockdown 2, meaning it now runs until April 2021.
To be eligible, claimants need to earn at least half of their income from self-employment, and average trading profits must be below £50,000 per year. People who trade through a limited company or trust cannot apply.
The scheme is structured in a way that provides a series of grants over time. It's currently open for applications for the third grant, covering the period November 2020 to January 2021. Anyone looking to claim it must get their application in on or before 29 January.
The third grant is worth 80% of average monthly trading profits, capped at £7,500 in total.
The fourth grant in the scheme will cover the months February through to April 2021. However, the government hasn't yet announced when applications will be accepted or how much it will be worth.
The buck stops with you
It's safe to say everyone's pretty sick of coronavirus by now and a third countrywide lockdown is another body blow for many businesses. However, it's a collective effort that's needed, and that means playing by the rules.
It's your obligation to know those rules, by the way. Not just as a citizen, but as a business owner. Because if you get those rules wrong, you could literally be endangering people's lives. You could also be fined, including for forcing employees to come into work if they're meant to be self-isolating.
It's a fast-moving environment for businesses at the moment, with rules changing all the time and a Budget planned for early March. That means it's important to keep abreast of any modifications or updates. Also, to be aware that once this England-wide lockdown is over, we may go back to a tier system, with regulations that differ between regions.
It's a good idea, too, to check with any relevant trade bodies or associations for your profession, to see if they're offering their own support and sector-specific guidelines. Plus, you might want to consult an HR specialist if you're dealing with furlough or possible redundancies and are unsure of the rules surrounding employment law.
The thing is, any mistakes you make now can come back to haunt you. We may be in unprecedented times, but the law is the law, and breaking health and safety or employment rights protocols will still land you in hot water.
That hot water can reach boiling point if someone makes a legal claim against you, saying your bad interpretation of the rules meant they caught coronavirus, or passed it to a vulnerable family member. Or if you made them redundant but discriminated against them or didn't go through the correct consultative processes.
Undercover
If someone does make a claim against you, then providing you have the relevant cover, your business insurance could help by paying to defend you and picking up the tab for costs and compensation. But that cover only goes so far.
That's because all the major types of insurance, including professional indemnity, public liability, employers' liability, directors' and officers', cyber and medical malpractice have what's known as a 'deliberate or reckless acts' clause. So, if you were judged to have been reckless in not making yourself aware of the coronavirus guidelines or not following them adequately, your insurance might not cover you.
These are challenging times for everyone. But until we get the all-clear, it's important to stay alert to the changing rules that dictate the way we must all do business and to implement them well. That way you give both your staff and your business the very best chance of surviving the pandemic.
If you have any business insurance questions during the coronavirus pandemic, we can help. Call the team on 0345 222 5391. Or visit policybee.co.uk
Image used under license from Shutterstock.
coronavirus
rules and regulations
running a business