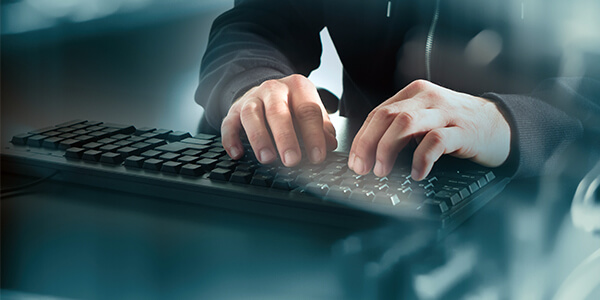 A new threat
Cybercrime. Sounds a bit ominous doesn't it? A little bit sci-fi?
Well don't worry. It doesn't mean you're faced with Terminator-style cyborgs breaking into your office anytime soon. No, that won't be happening until at least 2029 …
What it does mean is that your business is exposed to a new kind of threat from a new kind of criminal.
It's such a big problem that the Metropolitan Police have a dedicated e-crime unit tasked with keeping it in check.
They're targeted to save the nation £504m (based on the theoretical earnings of captured criminals) over the next four years. And they're doing well with £140m of this already racked up in the last six months.
Two-pronged attack
The problem is technology. Undoubtedly, it's helped transform the way we do business and in many cases has meant SMEs can compete with much larger companies on an equal footing. But you don't get something for nothing.
The flipside is a whole new world of security issues and potential problems. A new breed of ne'er do well is out there looking for ways to exploit your tech to their advantage.
If your business uses the internet and email (which is pretty much all businesses these days), securing your office now involves much more than fitting good locks and an alarm.
Relatively straightforward issues like computer viruses, a lost smartphone or laptop, or just a careless employee can all have serious consequences. Any of these could make you a victim of hacking, online fraud, lost confidential data and disruption to your normal service.
What you can do
It's not all bad news though. You don't have to house your office in an underground bunker to protect it from the worst of the web. Taking these simple steps should be enough to get you started:
Ask an expert. Sounds obvious but if you're not tech-savvy enough to know what risks you're facing and how to combat them, ask a professional IT security consultant. You'll save time, effort and money.
If you store information on a central file server, manage who in your company has access to the files. This helps prevent data loss, whether accidental or deliberate.
Make sure you have a clear email and internet usage policy in place and raise online security awareness with your employees.
Encrypt important information. Make sure that only authorised users can access it.
Back-up your files regularly. Make sure you can get your business up and running quickly in the event of an incident.
Protect your physical hardware. Secure as much as you can in lockable areas at the end of each day; particularly easily grabbed items like laptops.
Get a good cyber insurance policy.
Wholesale and expensive changes to your working practices aren't usually needed; just a little common sense and a willingness to take the threat seriously will do.
And if all else fails, you could always try Omni Consumer Products' solution instead.
cyber liability insurance
managing risk
office insurance