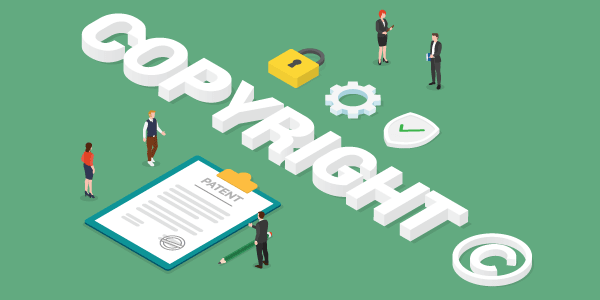 Your business's confidential information and intellectual property (IP) are crucial assets.
And, if you don't protect them, someone can steal your ideas, branding or business information. That can damage your business's reputation and goodwill, relationships with customers, suppliers and staff, and future sales revenue.
If you don't have proper safeguards in place to protect your IP and confidential information, potential investors or buyers may be wary.
That makes it very much in your interest to check you're doing everything you can to protect your business's reputation and future.
So we asked our friends at Sparqa Legal what advice they'd give to help. Here's their five top tips.
1. Consider registering your intellectual property
You can register certain types of intellectual property, including trademarks, designs and patents. This gives you more protection and helps notify others of the IP assets that are yours.
Trademark registration
Use a trademark registration to stop others from copying your branding (e.g. your business name, logo, slogans, sounds and more). Your registration will last for 10 years and can be renewed as often as you like (if you're still using the trademark). You can apply online through the UK Intellectual Property Office. And you'll need to decide which categories of goods and services you want your trademark to cover.
Design registration
You can also register designs that protect your products' look and shape. This means no one else will be able to make, import, export, sell or use your design or idea without your permission. It also gives you more rights than relying on unregistered design rights.
However, if you work in a fast-moving industry like fashion, you might need to rely on unregistered design rights. That's because it's not always practical to register your designs.
Patents
Patents protect inventions that meet specific criteria. And they give you exclusive rights to use your invention for up to 20 years.
Applying for a patent can be costly and complex, so it's worth asking a patent attorney or other professional to help. Some businesses prefer to rely on trade secrets to protect their inventions and avoid the 20-year limit that patent protection has.
If you want to rely on trade secrets, make sure you have tight security and confidentiality agreements in place.
2. Use an NDA to protect your confidential information
A non-disclosure agreement (NDA) is a legal agreement that prevents the misuse of confidential or sensitive information.
Using an NDA means the person or company you're working with has to:
keep shared information confidential
only use shared information for the reason you've shared it
not disclose shared information to anyone without your permission
destroy or return the information at your request.
You should consider using an NDA whenever you give information to a third party. This includes potential investors, contractors or suppliers, or other businesses you're collaborating with.
An NDA can discourage someone from misusing your information. It can also make it easier to make a legal claim against them if they break the agreement.
If you share info about a non-patented invention and don't have an NDA, you could lose the right to patent your idea.
3. Set out website terms of use
Although they're not legally required, having website terms of use can protect your website from misuse.
Terms of use set out rules telling visitors what they can and can't do on your site and with your content. And they protect your branding and IP from being copied. Web terms of use can also cap your liability for any issues when visitors use your site. For example, you can explain to users if they're allowed to copy parts of your site for personal or commercial use. They can also tell them you own the intellectual property and other content on your site.
You should make sure your site's terms of use are clear and easy to find. For example, put a link on each page of your website in the footer directing visitors to your terms of use page.
4. Check you're protecting your copyright
Copyright is a type of intellectual property for creative original works. This includes books, plays, articles, artworks, web content, computer programs and films.
You can't register copyright as it's automatically given to you when you create your work. This means there's no register for others to check who owns the copyright on a piece of work.
You need to make your copyright ownership clear, and you can do this by:
Including your name and the year it was created on your work. And stating you own the copyright.
Using the international '©' mark. This isn't legally required in the UK but can be helpful if you're using your work overseas or putting it on a website. The © has legal rights in some countries.
You might want to think about using the WIPO Proof system to create a date-and time-stamped digital fingerprint for your work. This doesn't provide any IP protection but can help to prove when you completed your work.
5. Don't forget to monitor your competitors
Even if you register your intellectual property, you still need to monitor for infringements. The UK Intellectual Property Office doesn't do this for you.
You can keep an eye on what's happening in your industry through internet research on social media and search engines. Using automated tools like Google Alerts and Mention gives you an alert when something you've said you're interested in is published online.
Searching the UK trademarks register and Companies House register can help keep you in the loop. You can use these sites to see if anyone else has registered trademarks or business names similar to your name or branding.
And, depending on your circumstances, you could consider hiring someone to monitor for intellectual property breaches. This can be expensive, though, so you'd need to consider if it's really worth it.
The content in this article is up-to-date at the date of publishing. The information provided is for information purposes only and is not to provide legal advice. ©Sparqa Limited 2021. All rights reserved.
Image used under license from Shutterstock.
guest posts and interviews
managing risk
running a business