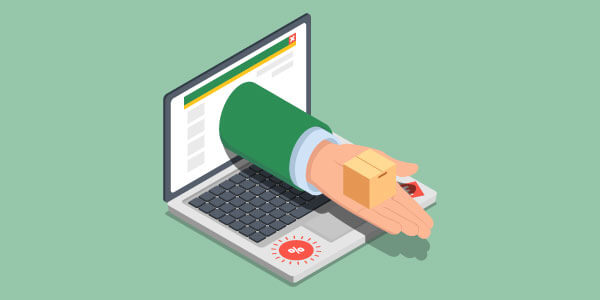 Running an online business is tricky. You might have the most amazing products out there, but with new websites being launched all the time, competition between online retailers is consistently fierce.
So whether you're new to the scene or have been trading for a while, there's a good chance at some point you'll find it harder to get noticed. What then?
There's no easy answer here, but one thing's fairly clear: the mistakes you make while running an online business can easily turn into bad habits that cost you your sales.
There's no reason to be discouraged, though. As always, there's room for improvement and it's never too late to take stock of what's holding you back – and what'll help you grow.
With that in mind, here are some of the worst mistakes you can make when selling online:
5 top mistakes you can make when running an online business
1. Not getting inside your customer's head
It's easy to get carried away with a bright idea and launch your online shop before you're ready. But understanding who you're selling to (as opposed to just what you're selling) should be at the heart of what you do. It's likely to influence many of your decisions further down the line.
Rather than leap straight into selling, make it your mission to know your target audience inside out. Find out where they hang out online, see what trends they're following, what topics they're talking about, what products get them excited – in short, what makes them tick.
While you're at it, research your competitors too. What special services, products or promotions do they offer? Now use that knowledge to think about how you'll cater to your customers. What can you do that your competitors don't?
2. Specialising in only one platform
Mobiles, tablets, desktops, laptops ... today's online shoppers browse the web in more ways than one. So you need to make sure of two things: that your customers can find you across a range of devices and that their browsing experience (everything from the look and feel of the website to the payment process) is the same across the board.
If it helps, try using an off-the-shelf system like Shopify or WooCommerce. Both are quick to set up, easy to use and allow you to manage your inventory across multiple sales channels using a nifty range of apps and widgets. Perfect if website development isn't your thing.
Either way, you'll still need to protect yourself (and your client's data) from hackers, viruses, and fraudsters. Covering yourself with cyber insurance is always a good idea, as is downloading anti-virus/anti-spyware software, and using PayPal to process payments.
For more information on preventing cybercrime, check out the government's advice for small businesses.
3. Marketing yourself too broadly
When it comes to online marketing, it's tempting to assume that more is, well, more.
Free and easy access to a vast number of online tools also means that even the most die-hard technophobes can quickly become a marketing whizz.
Google Analytics for website traffic, Moz for SEO, HootSuite for social media and MailChimp for email marketing, to name just a few.
But unless you're monitoring your results and finding out where you're generating worthwhile leads, you could be wasting time and money. Rather than throwing yourself into too many tasks, dedicate a good slice of your time towards testing and trying out new things.
If sales don't pick up straight away, be patient. Increased traffic doesn't automatically equal more sales, so keep optimising your site and fine-tuning your strategies. Persistence makes perfect and you'll soon be in a position to see some good returns.
4. Not giving great customer service
Online retailers all agree that one of the biggest challenges of running an online business is turning first-time buyers into repeat customers. While there's no easy fix, building up a good rep for customer service can definitely help.
It goes without saying you should dispatch orders on time, check your stock regularly, and make sure you respond quickly to all complaints and enquiries. Customers don't like to be kept waiting and will sooner shop elsewhere than wait for a slow response.
Once you've built up a track record of meeting your customers' expectations, see if you can exceed them too. Sending out courtesy emails, jazzing up your packaging and throwing in the odd voucher or free sample are just some of the ways you can do this.
Consumer safety should be every online retailer's first priority and the government has various rules on long-distance and online selling to get your head round. If you need more help, Which.co.uk's guide to consumer contract regulations clearly explains consumer rights and what your returns policies should entail.
5. Not coping with unprecedented delays and disruptions
Running an online store surely means you're master of your own destiny, right? Well, no, not always.
Seems pretty obvious that any major delays to your service mean customers are a lot less likely to buy from you again in future. But the fault doesn't always have to lie with you.
Sometimes it takes something as unexpected and outside of your control as theft, winter weather or a postal strike to throw a major spanner in your works. A fire or flood wipes out your stock and equipment, for example. Or a utilities failure prevents you from getting online...
Online retailers' insurance won't mitigate those odds, but it will throw you a lifeline in many cases. So, if you're sold on the idea of protecting your business, head over to our e-commerce insurance page to get a quote.
Image used under license from Shutterstock.
cyber liability insurance
online retailers
rules and regulations
running a business