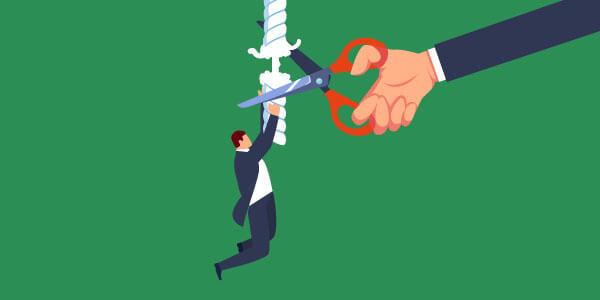 Here's a little story about the disadvantages of subcontracting your work and what happens if your subcontractor messes up.
In a deliberate attempt to fly in the face of our throwaway society (go me!), I recently decided to repair not replace some errant-hemmed trousers.
I would've had a go myself but wielding a needle and thread is totally beyond me, quite frankly.
So I let a professional take care of it instead. That professional came in the form of my local dry cleaner.
Trousers duly dispatched, I waited for his call.
(This is going somewhere, don't worry.)
Stitched up
And that call came soon enough. I collected my trousers and tried them out – perfect. Another happy customer.
Or so I thought. A couple of days later, the hem came loose and fell down again. So I took them back.
The dry cleaner explained that he doesn't actually repair items himself – he passes them to an innovative, passionate, clothing-repair solutions provider he knows. A woman in the village, basically.
Regardless, he promised to have another go at fixing the hem for me. I agreed that would be best but, to be honest, I wasn't bothered who fixed them as long as somebody did.
A couple of days later, the trousers came back and all looked good. It wasn't. The hem fell down AGAIN.
So I figured enough was enough and asked for my money back. The dry cleaner was very apologetic, of course, and offered to fix them free of charge. He did and, so far, the floppy hem has remained firmly in place.
Sew what?
Why am I telling you this?
Because it highlights the potential disadvantages of subcontracting your work to help you complete contracts.
The point here is that there was a problem and someone had to fix it. Because I went to the dry cleaner initially, my 'contract' was with him. I was expecting him to take care of it, regardless of who actually carried out the repair.
And that's exactly how your clients think. If they ask you to do some work for them, as far as they're concerned, it's your responsibility to make sure they get what they've paid for. They're not bothered about the ins and outs of how you do it.
However, if part of what they need is outside your area of expertise, you'll need to use a subcontractor to do it for you. That's when you need to be careful because it's your name on their work.
What are the disadvantages of subcontracting?
Let's look at worst-case scenario: the contract goes wrong (or the client's not happy) and it's because of the work you subcontracted. Your client decides to sue.
They won't sue the subcontractor, though. They'll sue you because that's who their contract is with. Essentially, you get the blame for someone else's mistake. And that's one of the biggest disadvantages of subcontracting.
Sounds a bit unfair doesn't it? So how do you make sure you're protected? Do a little risk management is how.
Tips for making subcontracting less risky
Before using a subcontractor, it's a good idea to do a few quick checks:
Do they have relevant, checkable, recognised qualifications?
Do they have a portfolio of work or, better still, customer testimonials?
If you're using third-party materials or products, are they fit for purpose? Have they been tried in a similar environment?
Do they have professional indemnity insurance to at least the same level as you? Your professional insurance can help protect you in this situation, but often only if your insurer can subrogate (insurance jargon for 'pass on') the claim to the subcontractor's insurer.
It's possible your own professional indemnity insurance covers work your subcontractors do. But don't bank on it. Get confirmation from your insurer or broker before you take on outside help. If that's us, ring the team on 0345 222 5391, and they'll be happy to help.
As usual, it's all about self-preservation. Getting outside help is fine if you need it – just make sure you don't get stitched up.
Image used under license from Shutterstock.
managing risk
running a business
subcontractors