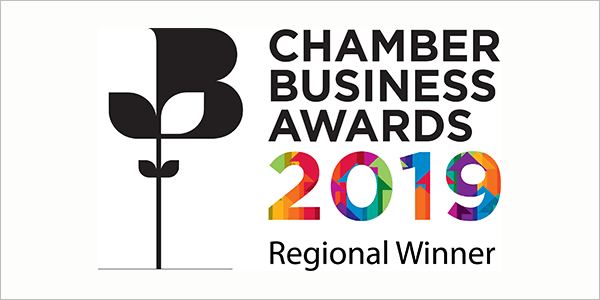 We're chuffed to say we've been named the regional Employer of the Year in the 2019 Chamber Business Awards. Organised by the British Chambers of Commerce, the Chamber Business Awards recognise and reward excellence in British businesses.
Having scooped the regional prize, we'll join three other Suffolk businesses going through to the national stages of judging: The Hearing Care Centre, Morrison Freight and Thomas Ridley. And because we've made the national round, our name will also be in the hat for the Business of the Year Award. Needless to say, we've got everything crossed.
What do we do that makes us an award-winning employer?
(Warning: some own-trumpet blowing ahead)
As one of the first digital business insurance brokers in the UK, we believe our success and positive reputation is down to putting our customers' needs first. Our team is the key to this: they're a tight-knit, highly skilled bunch who buy into our company values.
Senior management believe that recruitment, retention and development is paramount. So, training and development go way beyond making sure everyone's up-to-date with compliance to industry and regulatory standards (although that's entirely necessary, of course).
We take continuing professional development seriously, giving our people opportunities to learn on the job as well as take part in external training. This helps define progressive career paths for every employee and bolsters dedication, enthusiasm and loyalty.
Like every business, we strive to be a model employer and a desirable place to work. We're happy with staff who aren't after the traditional 9 to 5 and will try our best to fit around personal circumstances that might otherwise exclude a talented individual from the workplace.
The results are in
Put all that together, and the end result is a team of people who look out for each other and show dedication, diligence, enthusiasm, enterprise, integrity and a willingness to learn.
It's also one of the reasons behind our incredibly high staff retention rate – three of our partners started as university leavers and have been with us for more than 15 years. And in a team of just 34, there are another five people who've stayed for more than a decade.
It's because of our team's dedication that we were awarded Feefo's Gold Trusted Service Award recognising customer satisfaction for the fifth year in a row.
Not bad for a small(ish) insurance broker in Suffolk.
employee benefits