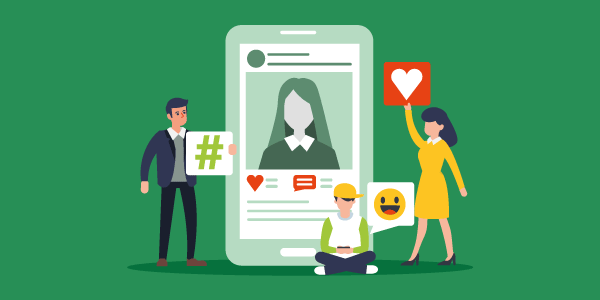 Word of mouth and customer recommendations have been used as marketing tactics for years. Bring that into the 21st century with social media, and there are legal implications. So we asked our friends at Sparqa Legal what advice they'd give if you're thinking about investing in influencers.
Here's what they said…
Brand endorsements from celebrities and other types of 'influencers' on social media are a popular marketing strategy. Successful influencers can affect the buying decisions of large numbers of consumers. However, if you're planning to work with an influencer, you both need to comply with advertising and consumer law.
The Advertising Standards Authority (ASA) has found people struggle to identify when social media posts by influencers are ads. In response, they recently launched a webpage 'naming and shaming' influencers who repeatedly failed to comply with the ASA's advice when advertising on social media. Brand association with influencers who breach the rules could be damaging to your business's reputation. 
The ASA's key message is influencers must make it clear to the public when advertising products. It doesn't matter if they've been paid cash, given free products or received other types of benefits in return for their 'influence'. This guide will help you and your influencer make sure their ads are clearly labelled as ads, which helps you maintain public trust, comply with the law, and ultimately boost your brand. 
Why does compliance matter?
Falling foul of the ASA's advertising codes and other consumer law can result in:
removal of your ads
fines issued against you, your influencer (or both)
negative publicity.
You might also be required to complete some official tasks to comply with the rules in future.
Other consequences could include termination of social media accounts, disqualification from receiving industry awards, and in extreme cases, imprisonment (although this is rare).
So, what's influencer advertising?
An 'influencer' is any person who promotes products or services on their own social media account. They don't need to have a certain number of followers or a particular job to count as an 'influencer'.
To comply with general consumer law, if your business provides an influencer with payment, the influencer must make it clear to the public that any related posts are adverts. Payments can include cash, free products, discounts, loans of products, commissions or other benefits.
If your business has editorial control over the influencer's posts or the influencer is engaged in affiliate marketing, this counts as advertising. As such, the ASA can apply the CAP Code, which means more rules apply. We'll cover more about this later.
What are the main rules that apply to influencer advertising?
1. Use appropriate labels to make it clear ads are ads
An influencer must make it clear to potential customers they've benefited from promoting your brand. It's a good idea to require your influencer (e.g. in their contract) to use certain words on their social media posts to show they're advertising.
Words and hashtags that are acceptable to notify customers of an advert include:
#ad
#advertisement
#advert
#advertising
advertisement feature.
Social media platforms also have certain tags you can use to show influencer relationships (such as 'Paid partnership with' on Instagram).
Words and phrases that are usually not sufficient to show the influencer's advertising a product include:
#spon
#sponsorship
supported by/funded by
affiliate/aff
in association with
@Brandname
thanks to [brand] and
#collab.
2. Don't hide the labels/hashtags
It's important hashtags and other labels are visible before a potential customer clicks on or engages with the content. For example, labels should appear at the beginning of a post (unless the post's short, in which case they can be at the end). Your influencer shouldn't bury the labels in or at the end of a list of hashtags. The labels should also not be directly after the name of a brand (e.g. #sparqalegalad) or under the fold (e.g. the 'see more' tab).
Bear in mind labelling will depend on the type of platform and the context. For example, on Instagram, where an image is initially visible, your influencer might need to include your advert label on the image, as well as in the accompanying post. Check the labels are visible on different devices and label colours are prominent enough against backgrounds.
3. Make it clear if an influencer hasn't used the product
If an influencer promotes a product they've not used themselves, this must be made clear on their post. The public expect views expressed by influencers to be genuine and not misleading.
4. Disclose any current or past relationship
An influencer must disclose if they've had a relationship with your business over the past year. Any post the influencer makes about your brand (even if you aren't currently providing them with a benefit) should still be easily identifiable as an advert.
Don't rely on an influencer's 'bio' page or previous posts to notify customers they're an influencer (each post must include the relevant advertising label).
5. Be aware of each social media platform's rules
Different social media platforms will have their own rules about influencer advertising. Ensure you're aware of these rules and stay up to date as they're subject to change. Instagram, for example, has recently put into place a system for anyone attempting to endorse a business. The person posting will need to confirm if they were offered an incentive and then include clear disclosures on the post. If users breach these policies, Instagram has said they'll delete posts and terminate user accounts (or both).
6. Don't forget about the CAP Code
The CAP Code applies where you have any form of editorial control over your influencer's post. For example, if you:
tell an influencer to use certain words, labels, hashtags, images, videos or key messages
specify when and how often an influencer must post
approve a post before it goes up.
The CAP Code also applies to affiliate marketing. Affiliate marketing's where your business can give advertisers or influencers a unique link or discount to promote. The advertiser or influencer then benefits financially from each sale associated with the code or link. This form of advertising's also subject to consumer and advertising law.
The CAP Code contains various rules adverts must comply with; these include:
making sure ads don't mislead or cause harm or offence
ensuring advertising's socially responsible
ensuring claims about health and nutrition are of a specific permitted type.
And many others.
You and your influencer will both be responsible for making sure adverts comply with the CAP Code.
If someone does make a mistake, then you have some backing from advertising law if:
you can prove someone else was at fault
the action was out of your control
you took all reasonable precautions to avoid the problem from happening.
If you want to use an influencer, work closely with them to ensure the content's labelled correctly as an advert. Get your terms agreed in writing to reduce the risk of disputes and show evidence you took reasonable steps to comply with the law.
You can get your adverts vetted for free by the ASA before publication by contacting their Copy Advice team. They also offer advice on other types of social media advertising (such as curating user-generated content or promoting your products on your own social media account).
The content in this article is up to date at the date of publishing. The information provided is for information purposes only and is not for the purpose of providing legal advice. ©Sparqa Limited 2021. All rights reserved.
Image used under license from Shutterstock.
guest posts and interviews
marketing and advertising
rules and regulations