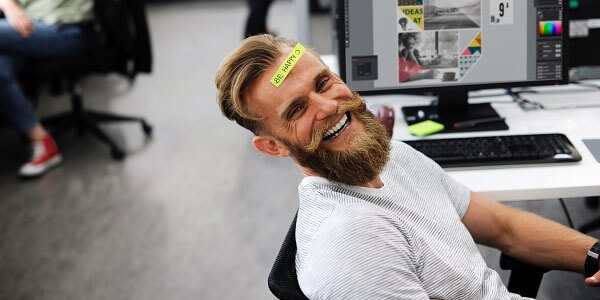 If you're an IT professional thinking of jacking in your perm job and going into contracting, now's a good time to go for it. The market for IT contractors is pretty buoyant.
In fact, IT recruitment consultants, Bristow Holland, say demand's increased to the point where it's outstripping supply.
But while you can earn a packet, there are pros and cons to contracting. So, before you take the plunge, here's a few things to think about.
What's the difference between contracting and being employed?
Permanent, employed staff work for a company on an on-going basis.
As a contractor, a firm will hire you for a fixed term. And while contracts are usually for six months, shorter or longer ones aren't uncommon. It'll depend on the project.
It's not unheard of, either, for a company to keep renewing your contract. Know what you're talking about? Good at getting on with people? You could end up under contract to the same firm for several years.
The word 'freelancer' is used a lot at the moment. It seems to be an umbrella term for any kind of independent worker. But don't confuse it with contracting. There's a key difference between the two terms. And that's the number of clients.
Contractors work for one client, the firm they're contracted to. And that's usually at the company's offices.
Freelancers tend to work remotely, and for more than one client at time. They're hired on an ad-hoc basis, or just for one task.
What are the advantages and disadvantages of contracting?
Money, money, money
The main issue with perm work is the ceiling on what you can earn.
Contracting can be really well paid. A specialist role in London, for example, currently commands a day rate of between £700-£1,200.
But these are the higher-end contracts. And if you don't live in London, you'll have to travel there and back each day. Or rent a place during the week. Costs you'll need to factor in, because they'll eat into your earnings.
It's also worth bearing in mind that if you have to commute weekly, long-term, it could put a strain on your relationships.
No work perks
As a contractor, you don't get the same perks as employees either. That means no sick pay, holiday pay, pension payments or healthcare packages.
So, you'll need to factor in insurance to protect your income and health cover, to your earnings. And sort out your own pension plan.
Flexi-time
One of the joys of contracting is the flexibility it offers. You get to choose who you work for. And the kind of work you do.
And unlike traditional employees, you're not limited to a certain number of days holiday a year. So, if a contract ends and you want to take a month or two off, you can.
The thing is, when you're between contracts, you don't get paid.
Brad Koehler, who was a contractor for several years, explains the impact this can have:
'Before we had children, my wife and I took a month off in China and Japan. It was amazing. But expensive, obviously. And while we were booking it, at the back of my mind, I was thinking, it's not just the cost of the holiday, I'm not going to be working that month either. So I'm not being paid.'
Balancing act
In fact, one of the main reasons Brad stopped contracting not long after that, was because he felt he'd got too focussed on the money.
'I was always thinking, this month I've got to earn this much because I want to take these days off. It may sound a bit cheesy, but as I've got older, and started a family, I've started to value my time more than the money I'm making'.
Brad's IT career's run the full gamut. He started off as a junior developer in a digital agency, went freelance for a while, and then set up a co-operative with other developers. Several years' contracting followed that, and he's now back in full-time employment, as an in-house developer for a private company.
But contracting is something he says he'll probably go back to. 'If contracting fits your schedule and your life at the time, it's definitely worth doing. It's a really interesting way to work for your career'.
Keeping it fresh
As an employee, you'll generally work on one product. Or a small suite of products. As a contractor, you work on lots of different projects. So you get a real breadth of experience.
And because you're regularly thrown into different office environments and meeting new people, you don't get stale, either.
The stress factor
One of the biggest downsides to being a contractor is the uncertainty. Not knowing where the next contract's coming from. And when.
It's also like having three jobs. Finding the work. Doing it. And keeping up with your admin. It can be stressful.
Say you're employed on a 3-month contract. 2 months in the client tells you there's no chance of extension once the 3 months are up.
That last month, you've got your 'day job' to do. But you've also got to spend time finding your next contract. And trying to stay on top of things like your accounts.
We know from our research that IT contractors work longer hours, on average, than people in full-time employment. So, if you don't like dealing with things like tax, hiring an accountant's a good idea.
Especially as the government's rolling out the changes in IR35 rules to private sector companies from April 2020. So it's more important than ever, you make your self-employed status crystal clear.
Are you cut out for contracting?
Contracting still appeal? Before you jump in, Bristow Holland suggests you take some time to decide if you're cut out for it. Work out why you want to contract. And find out whether your skill set is in demand.
You need to be absolutely ready to take that leap, because you'll have to hand in your notice at work, with nothing to go to. The contracting market's fast-paced. Which means you have to be immediately available.
Matt Foot, a director at Bristow Holland says: 'The first contract is the hardest to get. And you can't get a contract while you're employed. So the biggest risk you face, is that first step. Leaving your permanent job, so you can be in the market for contract work.'
Risky business
Contractors aren't legally required to set up their own limited company. If you're going to contract for longer than six months, though, it's probably worth it. And it can save you some tax.
But if you're seriously thinking of going into contracting, treat it like your own business.
And because running your own business comes with risks, it's worth checking you've got the right insurance.
IT and technology
IT contractors
personal accident insurance
rules and regulations