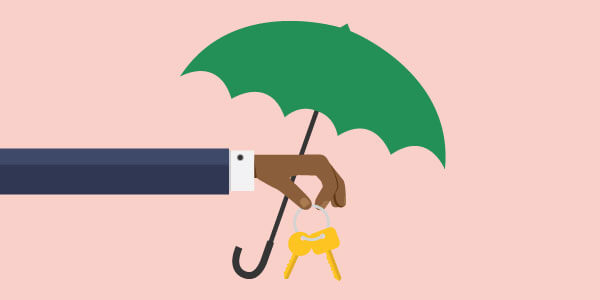 Investing in property is probably the single biggest financial commitment most of us will ever make.
Likewise, protecting yourself with insurance for estate agents and letting agents could be the most sensible professional investment you'll ever make.
That's because people like us seek expert help from people like you when we're buying or renting property. We rely on you to guide us and help us make the right choices.
It's no problem though, right? That sort of thing is right up your, ahem, street.
Well, yes, but your clients' dream moves are fraught with potential issues. Are the details accurate? Was the property valued correctly? Did you give your opinion or a statement of fact? Is your clients' data secure?
And that can cause problems. The kind of problems insurance for estate agents and letting agents is designed to help with.
Wrong move
There's a decent argument to suggest that being an estate or letting agent is fundamentally risky, purely because of the sums of money involved.
Property isn't cheap and when there's thousands, perhaps millions of pounds swilling about you need to have your wits about you. Throw in an emotional edge and all of a sudden even a small mistake could turn into a big mess.
To compound the issue, and in the interests of maximising profits, it's likely you're not just limiting yourself to marketing property and negotiating sales/leases either. What about property management? Or financial services broking? Vital streams of revenue, sure, but all this adds to the risk mix.
In need of updating
Just in case you're not already aware, you have something called a professional duty of care to your clients. Both legally and morally.
And although the fact you're a professional has a nice ring to it, it can also be a bit of a double-edged sword. It means you can charge for your expertise but it also means you're open to claims of professional negligence if something (however small) goes wrong.
The service you offer has got to be of a higher standard than that of the – no pun intended – average man in the street. It's what your clients pay you for.
If that service isn't up to scratch, or you make a mistake and your client suffers a loss as a result, they're perfectly at liberty to sue you. That's what we insurance people call a breach of your duty of care.
What you have to think about is this: what could I be sued for? Where's my risk?
What does insurance for estate agents and letting agents cover?
We know that claims rarely arise from a basic lack of skill or competence. More likely, it's something small and unexpected that leads to something big and expensive.
Thankfully, professional indemnity insurance for estate and letting agents exists to help fend off claims of all sizes. Once thought of as luxury cover, members of both NAEA and ARLA now need it as a condition of membership. It's also required if you want to join the Safeagent (formerly NALS) scheme.
That's all very well but what sort of thing does it cover? Exactly what allegations can you face?
If it helps, here are some typical reasons estate and letting agents face claims:
Property misrepresentation. Does the property definitely have double glazing? Is the shed included? Double-check before releasing particulars.
Damaged property. It's not unheard of for tenants to 'trash' property and leave without paying the rent. Is it your responsibility to get references or do periodic checks?
Underselling property. Is your valuation correct? If not, the seller could be asking you to make up the difference if their property goes too cheaply.
Breach of confidentiality. Who's getting access to your clients' property? Are you making sure you're not passing on privileged information to (whisper it) burglars?
Property management. Is it your responsibility to repair faults? Do you have a system in place to make sure repairs have been carried out?
Employee dishonesty. What internal checks do you have? We've heard of employees setting up lettings and disappearing with numerous client deposits.
New viewing
If you've not considered any of these circumstances before, it's time to think long and hard about protecting your business.
Some simple checks and safeguards are usually all that's required. Don't forget, reputation is everything – particularly in your business.
But if you do find yourself in hot water, (especially if your clients claim they haven't had any for weeks), professional indemnity insurance has your back. If there's a claim against you, it pays for a solicitor to defend you and picks up any compensation due.
That can be worth many thousands of pounds in terms of hard cash - we all know what legal costs are like. But just knowing you're protected should the worst happen is nothing short of priceless when it comes to peace of mind.
You can get a quick quote for insurance for estate agents and letting agents by clicking here. Or, if you prefer, speak to a member of the team by calling 0345 222 5391.
Image used under license from Shutterstock.
duty of care
estate agents
managing risk
negligence