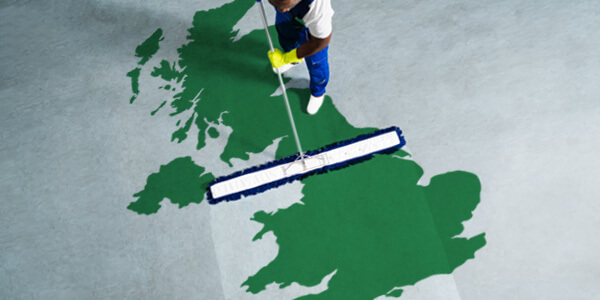 British people are officially too busy to clean their homes in the 21st century. The rise in demand for cleaners over the past decade has been huge, with one in three households now employing a cleaner.
A report from the British Cleaning Council (BCC) in 2021 found that cleaners make up 5% of the UK's entire workforce, with the industry employing 1.47 million people (down from 1.76 million in 2018, likely due to the impact of Covid-19).
The figure includes those working in non-core cleaning services, such as cabin crew or hospitality staff, who clean as part of their job. The BCC found the industry directly employed 957,000 individuals in 2019.
In 2019, the UK came fifth globally in terms of the number of employees working as cleaners. The cleaning industry is one of the top ten in the country and has been growing at a rate more than double that of overall UK economic growth.
This article looks at the latest cleaning industry statistics for the UK, including domestic and commercial cleaning services. (All figures quoted are the most up-to-date at the time of publishing.)
Cleaning industry statistics at a glance
In 2018, cleaners contributed £54.5billion to the UK economy. Turnover in the industry increased by 28% from 2013-18.
In 2020 there were 66,420 cleaning businesses in the UK, up from almost 60,000 in 2016.
The cleaning industry employs more non-British workers than average, at 25% (the average across all employment sectors is 18%).
Cleaners can expect to earn from £10 to £23 per hour in the UK in 2021, according to figures published by industry title In The Wash. Rates are predictably higher in southern cities compared to northern regions.
Most cleaning businesses are small, with nine out of ten employing fewer than 10 people. Almost all cleaning businesses (99%) are independently owned.
The industry as a whole employs a fairly even split of genders, with 53% of workers male and 47% female. However, women dominate the domestic cleaning sector while waste management services employ many more men.
Window cleaners make up a large proportion of the UK industry at 7% of all cleaning employees.
The cleaning industry market
Cleaning industry statistics suggest the industry as a whole grew 5% between 2015 and 2018. Turnover increased 30% over the same period, reflecting increasing demand from both consumers and businesses.
However, the Covid-19 pandemic is likely to have impacted the industry. Lockdowns and people working from home will have reduced demand for commercial cleaning in 2020-21. Similarly, demand for domestic cleaning services is expected to have decreased, with consumers limiting social contact at the height of the pandemic.
Meanwhile, demand for cleaning in other sectors such as medical buildings soared. And the BCC expects the cleaning industry to bounce back fully once the impact of Covid-19 subsides. In fact, the number of people searching for 'cleaning services' online in November 2020 was double the figure for the same month in 2018.
There is growing demand for waste collection, disposal and recycling services in the UK. Waste management now accounts for a quarter of the entire cleaning industry and grew 3.4% in the year to February 2021.
Demand for environmentally friendly cleaners using 'green' cleaning products has been growing for a number of years. This will impact the future of the cleaning industry, as consumers increasingly look for green credentials.
This goes hand-in-hand with government initiatives pushing the nation towards minimising waste and using products that are better for our environment. The sustainable cleaning market is set to boom.
In terms of demand for domestic cleaning services in different age groups, a 2019 survey found that 67% of millennials (25-34-year-olds) and 66% of 35-44-year-olds in the UK were concerned about having a clean home. That compared with a lower proportion (58%) of those aged 45 and over.
Which areas have the most cleaning businesses?
Industry growth varied across the UK between 2019 and 2020. England experienced the biggest increase in the number of cleaning businesses at 3%, followed by 2% in Scotland and 1% in Wales. The northeast of England witnessed a particular spike with 7% growth.
Number of cleaning businesses by UK nation in 2020
England – 58,030
Scotland – 4,350
Wales – 2,760
Northern Ireland – 1,275
Number of cleaning businesses by region in 2020
East – 7,055
East Midlands – 4,140
London – 11,850
North East – 1,760
North West – 6,425
South East – 11,365
South West – 6,215
West Midlands – 4,915
Yorkshire and Humber – 4,310
Cleaning business insurance
The cleaning industry provides a vital service. The role it plays has come into sharp focus during the Covid-19 pandemic, underlining the fact that there'll always be a need for it.
However, any cleaning company, no matter what size and whether in the domestic, commercial or waste management fields, needs insurance. Because the very nature of the business means things get broken, chemical fluids get spilled and sometimes, people get hurt.
All that costs money, which is where insurance can help. If damage is done, public liability insurance covers your legal costs and any compensation you have to pay. And if you have anyone working for you, you need employers' liability insurance at the very least because it's the law.
Click on the link for more information about cleaning business insurance. Or call 0345 222 5391 to speak to the team.
Image used under license from Shutterstock.