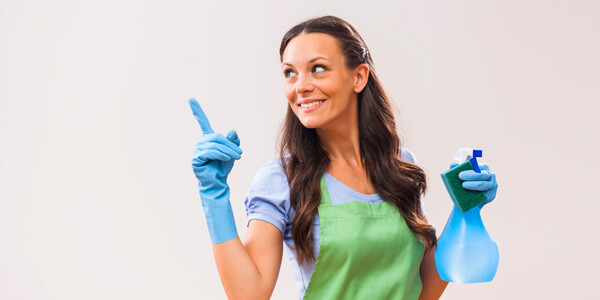 The short answer is yes. You spend your time working in other people's homes or their offices. And accidents happen.
Self-employed cleaner insurance means that if something does happen, your business won't be taken to the cleaners. And you can keep on doing what you do best.
Here's a quick guide to how self-employed cleaner insurance can keep your business sparkling.
Cleaning up
It's official. The cleaning industry is one of the biggest employers in the UK. According to the British Cleaning Council, in 2020, there were over 1.47 million people in the cleaning workforce. That number includes people working in hospitality, travel, or doing it as just part of their job.
One in three households in the UK now employs a cleaner. And almost all (99%) cleaning businesses are independently owned. That means a lot of cleaning, a lot of companies and a lot of potential accidents.
Why do cleaners need insurance?
A bit of dusting here, a quick vacuum there, wipe over the taps, bleach down the loo… And on the carpet. Eeks. You can't cover that up.
Or you've just mopped the kitchen floor, and your client walks in, slips, lands badly, and breaks their wrist.
If there's an accident, you break something, or your client says you're negligent, cleaners' insurance gives your business financial protection by covering legal costs and damages.
Self-employed cleaner insurance also reassures your clients that you take a professional approach to your work. It can be the difference that secures you a job if you're competing against others.
And if you clean commercial workspaces, such as offices, they might insist in your contract that you have public liability insurance.
What self-employed cleaner insurance do I need?
Top of the list is public liability insurance.
Public liability covers you (or an employee) if you accidentally break or damage something. Like taking the varnish off a piece of antique furniture by using the wrong product. Or knocking over and smashing an expensive vase when you're dusting. If you're working in an office, you could accidentally spill something over a costly bit of tech.
Public liability covers injuries to third parties too. If your client trips over the vacuum cleaner cable breaking their wrist, they'll probably want compensation.
If someone makes a claim, public liability pays your legal fees to defend you (even if it wasn't your fault). And it'll pay any compensation awarded if necessary.
There's no 'I' in team
In your line of work, you and your team (if you have one) are your most valuable asset. So, you need to make sure you're protected.
Personal accident cover pays out if you injure yourself (even if it isn't while you're working). It means that if you need time off work to recover, you don't have to worry about your finances.
And if you employ anyone, even part-time or on temporary contracts, then legally, you'll need employers' liability (EL). You can get a fine for every day you don't have EL, so it's a must if you have a workforce.
Employers' liability protects your business and your employees. Working with cleaning chemicals is a risk. And if you don't provide the proper protective equipment, an employee can get hurt.
Cleaning spray in an eye or undiluted bleach on their skin can cause serious injury. If something like this happens, your employee could take you to court. Employers' liability pays to defend you with specialist lawyers and will pay any compensation awarded, saving you potentially thousands.
Keeping your kit spick and span
And then there's your equipment. Your kit costs money, and without it, you can't work. Portable equipment cover makes sure you're not left in the lurch. It covers you if your kit gets lost, broken or stolen. Portable equipment cover makes sure that you can get a replacement and carry on working.
Safety first
The environment you work in will dictate the hazards that might be around you. And what you need in terms of paperwork. Wherever you work, though, keeping your clients and employees safe from harm is essential.
Bleach, oven cleaner, and even washing up liquid (yes, that carries a health warning too) are hazardous. When working with chemicals like these, you need to be familiar with The Control of Substances Hazardous to Health Regulations (COSHH). The Health and Safety Executive's COSHH guidelines for cleaners give you a simple checklist that can help prevent illness or injury. They suggest:
minimising contact with harmful substances
wearing protective clothing (gloves, goggles, if necessary)
locking away toxic substances where possible.
Completing a risk assessment and getting yourself on a first aid course is also a sensible precaution. If you employ anyone, you'll need a first aider anyway, but if a colleague breaks a vase and cuts their hand, do you know what to do?
Keeping your business reputation sparking and the people around you safe is part of running your own company. Click on the link for help on self-employed cleaner insurance or to get an online quote. Or call us on 0345 222 5391.
insurance explained
managing risk
running a business