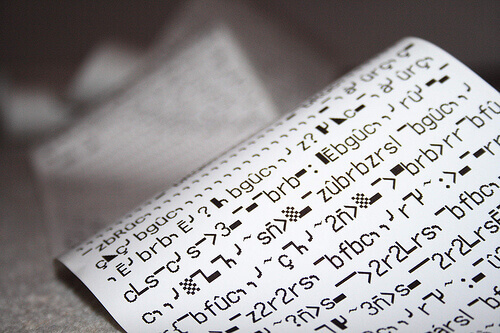 Mind your language
Most insurers' documents and websites are littered with legalese and mired in muddle.
This doesn't, in any sense, make sense. Why is the most important information the least accessible?
How do you know what's covered if you don't know what the words mean?
Yes, we know these are legal documents. And yes we know, because they are, they have to be watertight and unambiguous.
But that's no excuse for making everything unintelligible is it?
Until insurers realise times have changed, however, it looks like we're stuck with it.
So we'll tackle the mystery instead. And there's no better place to start than your policy wording.
Indemnity to principals. If a client alleges you've been negligent, and sues you for their losses, your professional indemnity insurance covers it.

But if, because of your negligence, your client (the 'principal') is sued by their client, an indemnity to principals clause in your policy means your insurer has to cover your client's client's losses too (the 'indemnity').
If you've spotted an indemnity to principals clause in a client's contract, you'll need to ask your insurer if they're happy to cover it. Whether they will or not depends on the work you're doing, and how much it's worth. Don't assume it's covered.
Civil liability. All professional indemnity insurance policies cover your professional negligence. But some limit their cover to just that, while others pick up any other civil liability claim against you too.
This means you're covered for claims made against you in a civil court, and subject to civil damages, not necessarily related to your professional negligence.
Operative clauses. The bits in your policy wording that define what's covered.
Deliverables. Usually only specifically covered under an IT professional indemnity policy, 'deliverables' are defined as software, hardware, firmware, cabling or electronic equipment.
If part or all of your contract involves designing, producing or supplying these things, and they're either not up to spec or are proven defective, you're covered if your client sues you for breach of said contract.
Discovery run-off. A professional indemnity insurance extension that comes into effect when the policy expires. Often called run-off cover or just run-off.
If a claim is made against you after your policy's ended, it's not covered – even if it relates to work you did when your policy was running. Having run-off cover means it is. How long you have it for is up to you, but at least a year is a good idea (unless you're a chartered accountant or an architect, and then it's six years).
Subrogation. If you're sued by your client for something that's not actually your fault, and your insurer pays out, your insurer can recover their losses from the culpable third party. This is called their right to subrogation.
Essentially, it's passing the cost of the claim on to the person or organisation that's actually at fault.
Vicarious liability. Usually only relevant to recruitment and employment agencies, vicarious liability covers both an agency's negligence and that of the people it places.
Non-vicarious liability, by the same token, limits the cover to just the agency's negligence.
Whether you need it or not is determined by your contracts. Whether your insurer offers it or not is determined by what your placements do.
OK, that'll do for now. If there's something else you want cleared up, dip your toe in more insurance speak for beginners, or see if it's covered in one of these six big insurance questions.
And you can always call us and ask.
full civil liability
insurance explained
IT and technology
IT contractors
negligence
run-off cover
vicarious and non-vicarious liability