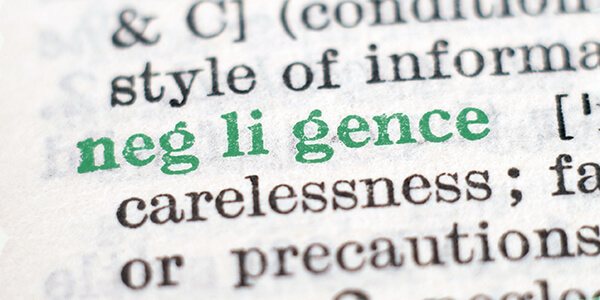 If you are, or have been, looking around for professional indemnity (PI) insurance, it's likely you've come across the term 'negligence'.
You may even be able to quote it as one of the reasons for having PI in the first place. Professional indemnity cover exists to 'protect you against claims of negligence', after all.
While that's certainly true, in typical insurance-industry style, it's not always made clear what that actually means. So, what exactly is 'negligence'? And why do you need protection from claims of it?
Negligence explained
As a professional person, you have a duty of care to your clients (both legally and morally). You have a responsibility not to cause damage to others that could reasonably be foreseen and avoided.
Your client is paying for better-than-the-average-man-in-the-street levels of expertise in your particular field. If your professional service fails to deliver what they wanted, or worse, damages them or their business, they can sue you for their losses.
So, in the context of professional indemnity insurance, negligence means a failure to carry out the duty of care you owe your client (with that failure causing them financial loss).
Damage your client suffers as a result of your work could and should have been reasonably avoided by you. If that's not the case, you're deemed to have been negligent.
Bring on the lawyers.
Negligence examples
Now we've got a good idea of what negligence is, the next obvious question to answer is: how does it manifest itself?
As you might imagine, it's a broad term and covers a wide range of possible circumstances. Arguably, there are as many different examples of negligence as there are professions.
For ease of understanding, we broadly define negligence as 'a mistake you've made or something you failed to do'. Those words are dotted around our website if you think they sound familiar.
Examples include a management consultant's bad advice, a web developer's coding error or an architect's incorrect design.
What else? Well, as it's professional indemnity insurance that covers claims of negligence, it's worth looking at a few policy wordings to see what's covered. These things, for starters:
Errors and omissions
Infringement of intellectual property
Defamation
Misstatement and misrepresentation
Dishonesty of your employees and company-related personnel
Passing off
Loss of documents (those necessary for your work for a client)
Breach of confidence and misuse of information.
Word to the wise
This is just a broad selection of circumstances. Individual, occupation-specific policies necessarily carry more cover. But at least now you'll have a good idea of where negligence ends and insurance begins.
Fighting allegations of negligence (of whatever shape and size) is expensive and time-consuming, with the potential to ruin your reputation and your livelihood.
What's clear is that your biggest mistake could be not having a policy in the first place.
Here's more about how professional indemnity insurance protects you against claims of negligence. Or ring the team on 0345 222 5391.
Image used under license from Shutterstock.
business and management consultants
duty of care
insurance explained
managing risk
negligence
running a business