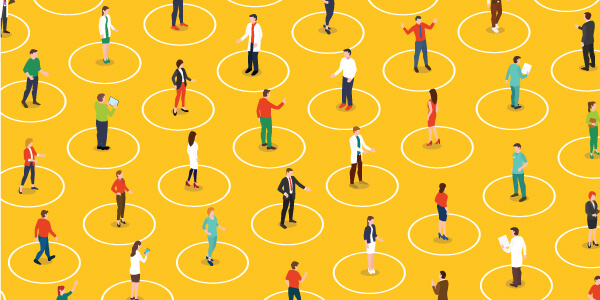 The world has changed in recent weeks and the way we do business has changed with it.
The coronavirus pandemic means some businesses have been suddenly and almost entirely stopped in their tracks. Meanwhile, millions of others have had to adapt to doing things in a completely different way.
So, what does all this means for your business insurance?
Quite a bit really. Because even if you're in temporary shut-down, you probably still need the protection your existing policies offer. For others, changes in the way they work could mean they need to cover new risks.
Here's what you need to know about how your business insurance is affected by the new norm, and how it can help get you through these tough times.
Protecting your work
If your business isn't operating during lockdown, it's reasonable to assume you don't need the safety net of your professional indemnity (PI) insurance, right? If you're not doing any business, you can't make mistakes.
Well, you can't make any new mistakes, no. But that won't stop clients bringing claims against you for mistakes you made in the past, before the current crisis. Because let's face it, some problems can take months or even years to crawl out of the woodwork.
The thing is, professional indemnity is what's known as 'claims made' insurance. So, for your policy to do what it's designed to do, it needs to be up and running when the work in question was done and when a claim is made. If you've stopped your cover in between, it can't help you.
Meantime, if you've adapted the way you work, but are still essentially doing the same thing, your PI will continue to cover you. Say you've taken your real-life tutoring or personal training online, or your staff are working from home rather than from your usual business address. So no worries on that front.
Protecting your things
There are two things to think about here. First, the equipment you may have had to leave in situ in your normal premises while your business is in suspended animation. And second, any kit you've taken home with you or installed in your employees' homes so you can keep working.
Your contents policy will continue to cover any kit lying idle at your business address as usual. And although it's normal practice to have to inform your insurer if you leave premises unoccupied for more than 30 days, most have extended this to 60 or 90 days for the meantime.
Insurers will still expect you to have left the building as secure as possible, with all doors and windows locked. There's also some leeway being given around testing alarms and sprinkler systems to schedule, if that's not proving possible. But check with your broker or insurer for specifics.
Some contents policies will stretch to cover the kit you take out of your premises and install in your own or others' homes, like computers. There's usually a limit to the value, and portables like laptops are often excluded, but it's worth checking your wording.
Don't just assume any office equipment you take home will be covered under your home contents insurance though. Many policies differentiate between home and business use, and anything worth more than about £1500 usually has to be 'named'. Again, check your home contents policy wording very carefully.
Protecting your data
The coroanavirus crisis is like having all your Christmases come at once for cybercriminals. With so many people remote working from home, often with sub-standard security, hackers are reaping the rewards.
Currently the internet is awash with fake websites promising essential coronavirus information but instead delivering malware onto your network. Scam emails and phishing attacks are also rife, carrying with them the very real threat of significant data breaches.
There's advice on what to look out for and how to ramp up your security here. But now more than ever may be a good time to invest in cyber insurance. Although it can't stop the hackers getting onto your system, it provides a rapid structured response and helps get your business back up on its feet again quickly.
It buys you the IT expertise to stop an attack and repair the damage, and takes care of your lost revenue while you're unable to trade as normal. It also pays to handle the sensitive matter of informing customers and dealing with the regulator if personal information has been stolen. And it covers any resulting claims against you.
Protecting your people
If you've got employees or helpers, you need employers' liability (EL) insurance. It's the law. And your EL goes on doing the same job for you whether your employees are working at your usual premises or working from home.
It doesn't matter if you've furloughed staff either. They remain your employees and they could still make a claim against you based on something that happened before anyone even knew what 'furlough' means. So, you still need your EL.
However, that's not to say you shouldn't make every effort to check home-based employees are working in a safe environment with the correct equipment – as much as that's possible in these days of social distancing. And to have a clearly defined home working policy. Otherwise you could be storing up trouble for the future.
Protecting yourself
Sad to say, but an uptick in redundancies and bankruptcies is one of the inevitable consequences of this sustained period of coronavirus lockdown. Also, hastily re-engineered companies, with responsibilities perhaps redistributed and social distancing mandatory for those essential businesses that continue to function as before.
Trailing in the wake of these changes and the need to adapt comes the increased possibility that, as a business owner or director, you'll be sued. You personally, that is. Because your position of responsibility singles you out as directly accountable for your decisions and actions.
So, if someone else involved in the business thinks the decisions you made during lockdown caused it to go bust, they might come after you for compensation. You could also be sued by an employee who says the proper HR procedures weren't followed when they were hastily made redundant or redeployed.
Similarly, you might find yourself facing a lawsuit if a worker says it's your fault they caught coronavirus – because social distancing wasn't enforced, or they weren't provided with adequate personal protection equipment.
The other thing about being personally liable, is that your liability is limitless. So, on top of the huge expense of hiring a defence lawyer, you could find yourself facing a potentially eye-watering bill for compensation. A bill you'd have to pay out of your own pocket, also placing assets like your house at risk.
Directors' and Officers' insurance takes the strain by buying legal expertise to fight your corner and picking up the tab for any compensation you owe. It's probably more relevant at this time of shifting sands than ever before. You can add on employment practices liability insurance to cover any disputes with staff.
Taking stock
It can be difficult finding the time to take stock when we're all busy adapting to the new normal and establishing different ways of working. But with the changed business environment come new risks – just as the old ones never went away.
That makes it important to think carefully about your business insurance as we all try and weather the storm. Make sure you've covered all the bases. Because the last thing anybody needs in a storm is a leaky boat.
If you'd like to talk about any aspect of your business insurance, you can call the team on 0345 222 5391.
Image used under license from Shutterstock.
coronavirus
rules and regulations
running a business