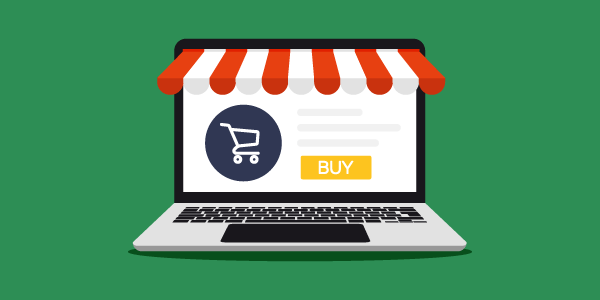 If you're using Shopify as your online selling solution of choice, you're in good company. This giant of the e-commerce world holds almost 20% of the market share for online retail shopping platforms.
The coronavirus pandemic has given the online selling trend a huge boost. In 2020, 87% of British consumers were shopping on the internet - up from 77% in 2017.
And is it surprising when shopping online has so many advantages, like being able to purchase just about anything from anywhere in the world? Shopify's aim to become the "world's first global retail operating system" is helping to make international shopping normal.
The fact is, an international business model can be good for both companies and consumers. For the entrepreneur, Shopify's dropshipping business app means bringing the perfect present easily to your purchaser, direct to their door. And it can be sourced from anywhere in the world. For the customer, buying a unique gift from across the pond is now just a few clicks away.
Do Shopify stores need business insurance?
All those customers looking for the perfect item to add to their basket, and all those items winging their way around the world adds up to a lot of business. Such high volume also means there's considerable potential for things to go wrong. The kind of things that could bring down the shutters on your Shopify store.
And although Shopify doesn't require you to have insurance to trade on the platform, whatever your business set up, that doesn't mean it's not a good idea.
Whether you're selling on your own website or another third-party platform, you should have some protection. No matter if you make your products yourself or source them from other manufacturers. If someone buys something from you, they're your customer. And if they complain, you're the one that has to deal with it.
That includes if there's any legal action. Insurance can protect you and your business if something goes wrong. It can help if your customer alleges a product caused them harm and support you with legal costs if they take you to court.
Terms of Service
Did you know Canadian law governs Shopify's terms of service? That's because they're a Canadian company with an international reach. So, if a customer decides to sue you, they can use the Canadian legal system even if you're a UK company selling just in the UK (or worldwide). It doesn't matter where they are in the world or where you're based.
It's similar on other e-commerce sites too - Etsy, for example, has terms of service under Irish law. That means you need to be careful and make sure your policy has the right geographical areas included. And your policy covers you if the e-commerce site you use isn't UK based.
Your Shopify insurance policy wording will specify which countries your insurance covers. Usually, unless you ask, it will just cover you for the UK. If you're not sure, you can speak to your broker or insurer. You can get an add-on for other parts of the world if you need to.
Insurance for a Shopify dropshipping business
A dropshipping business model is no different to any other business in terms of insurance. Just because you don't see the physical products you sell doesn't mean that you don't have a responsibility to your customers. They're still buying from you, and therefore, you should have some protection. Imagine if you purchased a product from an online shop. Who would you go to if there was a problem? The person who sold you the item, right?
You might also need to think about insurance for when your items are in transit. Just in case a product goes missing or gets broken en route.
So, what insurance do you need?
The insurance you may need will depend on your business model.
A comprehensive online Shopify insurance policy, where you sell 70% or more online, and maybe offline at the occasional craft fair, can include:
Public liability insurance – if you come into contact with other humans, public liability covers you for any accidents, slips and trips. For example, if the postman slips on a loose paving slab on your driveway, or you accidentally spill coffee over a supplier's laptop in a cafe.
Product liability insurance - even if you don't make the products you sell, you're still responsible if the item causes an injury. Product liability covers your legal costs and any compensation you're liable for, even if the fault isn't solely yours.
Employers' liability insurance – a legal requirement if you employ anyone. It covers you if any of your staff become ill or injured due to working for you.
Stock and property insurance – to cover your stock if, for example, a fire took out all your products and equipment, and wiped out your business.
Other cover for Shopify sellers
Cyber insurance - Shopify takes cyber seriously. In the past, they've paid ethical hackers to help secure transactions and data. That means they've paid computer security experts to try and get into their systems to make sure they're as safe as they can be.
As a small business reliant on tech and data, you should take cyber seriously too. Shopify cyber insurance covers repairing and restoring your systems, data and website if it's breached or hacked. It helps get you up and running again quickly. If a customer sues you for losing personal data, cyber insurance also pays legal fees and compensation.
Business interruption insurance – covers your lost income if the unexpected happens and you can't trade. It usually goes hand-in-hand with stock and property insurance.
For advice and guidance for Shopify insurance when you're selling online, call us on 0345 222 5391. Or click here for more information.
Image used under license from Shutterstock.
managing risk
online retailers