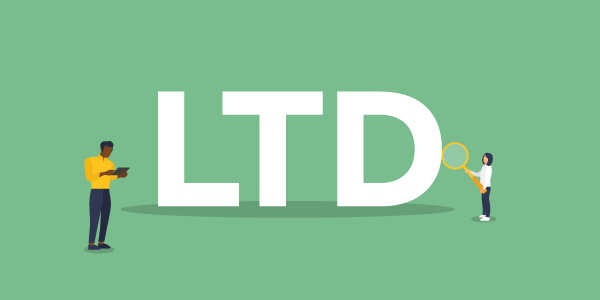 2021. The year that buses began driving themselves in Cambridge, Boris Johnson became the first Prime Minister to marry while in office for 200 years. And Companies House saw the highest number of companies incorporated on record.
With the standard industrial codes (SIC) that Companies House uses to classify businesses ranging from electrical installation to manufacturing ice cream (yum). And from sewerage (not so yum) to space transport, the sky's the limit with what you want your limited company to do.
But what does being a limited company mean, and what limited company insurance do you need?
What makes a limited company?
You'll probably set yourself up as either a sole trader, limited company, or a partnership when you start your business.
There are other types of companies, but if you incorporate yourself at Companies House, you'll probably be 'limited' as 96% of all corporate body types fall into that category.
Being a limited company means you're 'limited' by shares (if your company has shares and shareholders) or by guarantee (the money gets invested back in, so not-for-profit).
As a limited company, your personal and business finances are separate. There's also a list of other responsibilities you have to meet, or you could face a fine.
Sole traders have 'sole' responsibility money-wise. Partnerships mean, well, you have a partner who you share accountability with.
And with that in mind, what are limited company insurance requirements?
What insurance does a limited company legally require?
If anyone works for you, you're legally required to have employers' liability insurance. There are always exceptions to the rule, though. For example, if you're the only director of your limited company and the only employee.
Employers' liability insurance (EL) is there if a staff member has an accident or is made ill through work and they say it's the business's fault. If they make a claim against you, EL pays for a solicitor to defend you, and it'll pay any compensation if it's awarded.
Trade bodies, such as RICS (for surveyors) or the Complementary Natural Health Care Council, might require you to have insurance to be a member. You'll have to check your trade organisation's website and membership terms for specifics.
What are other limited company insurance requirements?
If a trade body specifies insurance, it'll most likely be professional indemnity (PI). Or, if you're in beauty, medicine, aesthetics or therapy, you'll be looking for medical malpractice (medmal for short, or treatment and liability). Both of these are designed to protect you if you muck up professionally.
You can read more about the differences here, but essentially, PI covers you if a client is financially impacted by a mistake you've made or bad advice you've given. For example, an accountant could get the figures wrong, meaning a client makes damaging business decisions based on faulty projections.
And medmal is more about if you physically or mentally injure a client. Say a treatment doesn't go to plan, or the result isn't what was promised.
You'll need one or the other, but not both. If a client sues because your work wasn't up to scratch, your insurance pays for a specialist solicitor to defend you. And it covers any compensation you have to pay – which can involve some hefty sums.
If you meet with people, either when you're out and about or have clients at your workplace, public liability insurance (PL) is a good investment. You won't deliberately trip them up and break their wrist. Neither, unfortunately, will that cup of coffee magically un-splash over their laptop.
But if you or they are a bit accident-prone, PL will keep your limited company finances safe when it comes to third-party slips, trips and smashes. Again, it pays for a specialist solicitor to defend you if you need them and covers any compensation awarded.
You might also want to think about…
A limited company means your personal and business finances are separate. But as a director, that doesn't mean your finances are safe.
If a regulator, shareholder, employee, customer, competitor or member of the public say you've made a mistake, they can take legal action. And you have unlimited personal liability.
That means you have to pay personally. Directors' and officers' insurance will pay a solicitor to defend you and cover any compensation awarded.
If your company works 'online', then cybercriminals could target you. And they aren't picky over the size of their target. Big, small, not-for-profit, multinational - anyone can be a victim.
If you have a website, they can hack you. If you send emails, they can trick you. Cyber insurance gets you immediate access to IT experts to stop the attack and fix your system. It also provides legal experts if you need them.
So, what insurance you need will depend on what you do. And knowing the requirements for your limited company insurance is half the battle. Click to get a quote for limited company insurance. Or call us on 0345 222 5391 to speak to the team.
Image used under license from Shutterstock.
insurance explained
managing risk
running a business