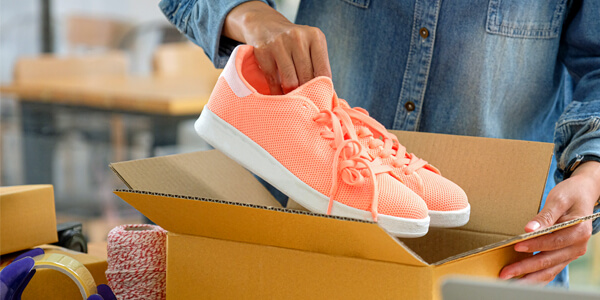 If you're an Amazon seller, chances are right now you're elbow-deep in the sales rush that is the run-up to Christmas.
Nothing unusual there. Except this winter, thanks to a combination of social distancing and a second lockdown, people are starting their Christmas shopping earlier, and doing a lot more of it online.
Keeping busy with orders is good news for your bottom line, of course.
But there's a balance to be had. If something goes wrong and your business takes a hit, you could see your funds drain away quicker than you can say, Ho-Ho-OH…
So, it might be worth giving something back to yourself this year. Something in the shape of Amazon seller's insurance, perhaps. Here's why.
Nightmare before Christmas
If 2020's taught us anything, it's to expect the unexpected.
Like a kitchen gadget that sparks a fire in someone's home after its batteries overheat. Or a customer who sues you after the heavy ornament they've ordered slips out of its safety packaging and injures their foot.
Thankfully, accidents like these aren't in the main. But it only takes one of them to make a sizeable dent in your business.
Rightly or wrongly, you'll have to defend yourself – and pay out of your own pocket to do it, too. Plus you'll need to figure in court costs, legal representation and possibly also compensation, likely amounting to several £thousands.
Unless you have Amazon seller's insurance that is, which'll do all that for you.
Why do I need Amazon seller's insurance?
As a third-party seller, you can't assume the platform you sell on will pick up your legal tab. Or that the injured party will chase after the bigger boys for compensation, and not you.
Also if you occasionally ship to countries that err on the litigious side, like the States, there's every reason to be careful there too.
That's where Amazon product liability insurance comes into play. It covers you if someone claims against you for damages. In other words, where something you've sold has injured someone, damaged their property or made them ill.
E-retail giants like Amazon generally aren't afraid to assert their diminished responsibility. It's well within their rights to say they don't source their sellers' products, they just run the platform on which they're sold.
You have a case to argue too – but you don't have to do it yourself. Product liability insurance for Amazon sellers covers the costs of a lawyer who'll represent you in court. If it turns out you have to pay damages to the injured party, it'll cover that too.
Tough breaks
Thanks to social distancing most Amazon sellers have little to no contact with the public or anyone else connected to their business, so there's no need for insurance there.
Except that's not true, is it?
Even if you pack and ship everything from home, you're still likely to have couriers come to your door (and often in a rush). And though you might not be meeting face-to-face with suppliers now, there's every chance that you will in the future.
Public liability insurance covers your liability if a member of the public gets injured as a result of coming into contact with your business.
So if the postie trips over a loose paving stone in your driveway and breaks a hip, or your Christmas market stall topples over and takes someone down with it, you're not left shouldering the bill yourself. Because public liability covers occasional selling at events and markets too.
Good buy or goodbye?
Lastly, it's worth thinking about one of your most important assets: your stock. Without it, you can't sell. And if you can't sell, you don't have a business.
If, like most sellers, you store, sell, pack and ship most of your products from home, you might assume your home insurance policy would compensate you if any of it gets lost, damaged or stolen.
Except there's every chance it won't. Home insurance is typically designed to cover domestic property and so insurers generally won't cover your business losses.
Stock and property insurance, on the other hand, takes care of any stock or equipment connected with your business.
It pays to repair or replace your stock if light fingers or a burst pipe mean you don't have any to sell. And it also covers the things you need to sell in the first place i.e. your PC, printer, desk etc.
One last thing to wrap up
Before you decide what insurance you need, it's worth checking up on Amazon's requirements, as set out in their sellers' agreement (or Europe Business Solutions Agreement, if you want to look it up).
According to that, if your sales typically tip over £4,000 a month, then you should be insured for 'products liability and bodily injury', and be able to offer a certificate of proof if Amazon asks.
In other words, public liability and possibly also products liability, up to a minimum of £400,000 per claim.
You also need to add Amazon as an 'additional insured' to your policy, which covers their back as well as yours.
Most public liability policies come with cover for up to £1 million as standard, but it's worth having a conversation with your insurer or broker if you're unsure of anything.
For help on Amazon seller's insurance, call us on 0345 222 5391. Or click here to find out more.
Image used under license from Shutterstock.
managing risk
online retailers