Online retailers' insurance
Add to basket
Choose the cover you need, get the policy you want. Here are some ideas to start you off:
 
Product liability: £100k
Public liability: £1m
Include £25k of
business interruption
Unfortunately, selling online doesn't mean 'out of sight, out of mind'. Your responsibilities (and problems) as a retailer don't change just because you're not on the high street.
You're still liable for the things you sell. Fire or theft could still wipe out your stock. Winter weather can still break your supply chain.
Online retailers' insurance helps protect you and your business if there's a claim against you, covering your defence costs and any compensation you're liable for. It keeps you up and running when events conspire against you, too.
So you get support and security when you need it most. Two for the price of one, you might say.
Who is this insurance for?
UK-based business, selling physical goods online to customers anywhere in the world. Occasional selling in real life at, say, an exhibition, trade fair or in a pop-up shop is covered too.
What does online retailers' insurance cover?
Running an online retail business means keeping track of a thousand things at once. This insurance helps by looking after the things you might miss. It does this by splitting the risky bits into manageable chunks.
So, you're covered for:
Property damage and injuries caused by the products you sell.
Property damage and injuries caused by your business.
Employees who get injured or ill as a result of working for you.
Your financial losses if an unexpected event stops you trading.
Loss of, and accidental damage to, your stock and business equipment.
The costs of keeping your business going if you have an accident.
What insurance do online retailers need?

Product liability covers damage caused by the products you sell. Damage could be to a person or to property.
Claim examples:
You bake and sell cupcakes; someone alleges their order contained unwanted foreign objects that made them ill (and we're not talking chocolate chips).
You make clothes. A customer claims a garment's buttons came off in their washing machine, blocking the drain pipe and flooding their kitchen.

Public liability covers third-party property damage and injury, caused by you or your business. It's useful if you go out and about to meetings or if people come and see you.
Claim examples:
You're visiting a potential supplier and accidently spill tea over their new MacBook Pro. They hand you the bill to replace it.
A courier picks up a delivery from your house and trips on your loose step, injuring themselves. They subscribe to 'where there's blame there's a claim' and you're asked for compensation.

Employers' liability is a legal requirement if you have staff. It covers you if an employee gets injured or ill as a result of working for you, and sues you. 'Employees' include temps, summer staff, volunteers and work experience students, as well as full-time permanent people. Subcontractors and freelancers might also be included – if you provide their working environment and equipment.
Claim examples:
A helper in your kitchen slips on your wet floor and breaks a wrist. They allege an unsafe working environment and claim compensation.
One of your warehouse guys puts his back out lifting a heavy box. He alleges a lack of proper training and sues you for damages.

Business interruption helps keep your business going if an unexpected event makes it difficult to trade. It does this by covering profit you lose during the time you're out of action.
Claim examples:
Your stock is damaged in a flood. Your property damage insurance covers its replacement, but it's a good three weeks before you've got something to sell. Your profits nose dive as a result.
Clumsy workmen accidently cut a power cable in your street. You're offline for several days while they sort it out, leading to lost sales.

Property damage covers your stock and business equipment against loss, theft and accidental damage. If you work from home, it's unlikely your home insurance covers business stuff. Make sure you check.
Claim examples:
The storage place you use burns down, destroying your stock and the various promotional bits and pieces you use for events.
You go to an event and sell lots of stuff. Great! Except your takings are stolen from your stand when your back's turned.

Personal accident protects your business if you or an employee are killed or injured in an accident. The insurance pays a lump sum to help keep your business going, as well as covering, for example, recruitment costs if you need new people. It also covers associated medical expenses.
Claim examples:
You're putting up a shelf at home and fall off a stepladder, breaking your arm in several places. Owing to complications in hospital, your arm has to be amputated. Your job involves a lot of typing so you have to pay for a virtual assistant to help out.
A car crash means a long hospital stay. Unfortunately, after 12 months of recovery and rehabilitation, there's no prospect of improvement. In that time, you need someone else to run your business, racking up training costs, additional day-to-day expenses and a sizeable medical bill.
Why should I buy my insurance from you?
Glad you asked.
The simple answer is: we know what we're doing. Professional insurance is all we do so we know what you need, even if you don't.
We also know that buying insurance can be, well, a bit of a pain. So we make sure getting yours is quick and hassle-free.
We do all that while treating you like a human being, too. You won't find a call centre here. Or a phone menu. And we've banned nonsense insurance jargon.
Anything else? Well, there's the great stuff you get, such as 20% off everything at MOO.
Also, we'll give you money each time you recommend us.
Plus, every insurance-related question you can think of is answered in our School of Risk, and you'll get our quarterly risk advice email – 'The Waggle' – to help you avoid problems in the first place.
If you're after a second opinion, have a look at our customers' feedback. They're the ones you should really listen to.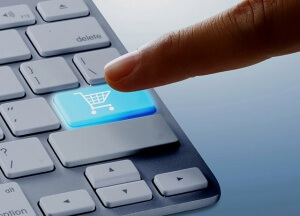 Hello, good buy
The obvious advantage to selling online is the fact you don't need a shop. Well, not a bricks and mortar one anyway.
Your shop might be virtual, but that doesn't mean your risks are. Here's all you need to know about online retailers' insurance.