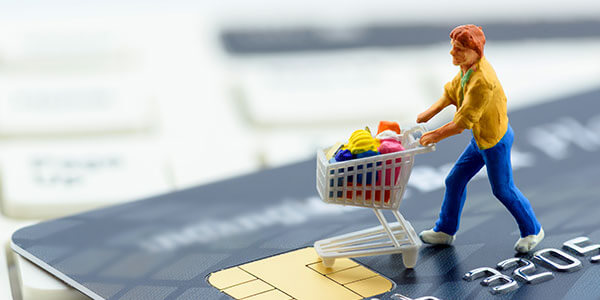 Call it what you like, e-commerce insurance, online retail insurance or something else entirely. At the end of the day it's the same thing and we've been at the sharp end of it for quite a while now.
As the e-commerce sector has grown, so has the number of questions people ask us about insuring their online business. Some have been easy to answer, some not so much. But along the way, we've spotted some recurring themes.
And here they are: the most-asked questions we've had about e-commerce insurance. Handily, we've included the answers too.
5 top questions about e-commerce insurance
1. I have a website but from time-to-time, I also sell at markets. Is that OK?
Yes, as long as selling online is still the major part of your business.
Taking your business out and about is a little riskier though – and not just for you. Lugging around a heavy stand or pop-up shop has the potential to damage something or somebody, and that can spell expensive trouble.
Online retailers' public liability insurance covers claims against you if someone (not just a customer) reckons you or your business has injured them or damaged something they own, and wants you to pay for it.
The good thing is it also covers you if you stay put at your usual workplace and people (suppliers, couriers, clients) visit you.
2. I keep my stock at home. Does e-commerce insurance cover it there, or do I need to move it?
Keep it in your spare room, in your garage, a lock-up, shed, warehouse, storage facility, or wherever you like. As far as we're concerned, if it's safe from prying eyes and light fingers (and you have certain security measures in place), it's covered.
If you do keep stock at home, and decide to do without specific online retailers' stock and property insurance, you need to be aware that your home insurance probably won't cover it. Home insurance policies are designed to cover domestic property and most insurers won't pay for commercial losses.
This can often be the case for the things you use to run your business, like a PC, printer, desk etc too. Home insurers are likely to steer clear of covering business equipment, so make sure you check your policy carefully. It goes without saying we can cover those bits and pieces.
3. Is what I sell online covered while it's being delivered?
No, sorry. You'll need to check your courier's insurance for that. Or take your chances with Royal Mail.
Also, while we're on it, this insurance doesn't cover unfortunate problems like late or non-delivery and returns.
However, if you want to deliver what you sell, e-commerce insurance covers it while it's in transit. Just remember to keep your vehicle locked and whatever you're transporting out of sight (that's an insurance requirement as well as being common sense).
4. If I want to import and resell things from outside the EU, is that covered?
Probably, yes. Depends what it is.
If it's on the list of things we can cover, it usually makes no difference where it comes from.
The exceptions to this are cosmetics and electrical goods. In short, if they're from somewhere other than the EU, it's a no-go. This is because the EU has strict standards and guidelines that potentially harmful or dangerous items have to pass before they go on sale here.
Not every country is quite so discerning, however, and insurers don't like the thought of covering things that might, literally, blow up in their face.
5. Does e-commerce insurance cover me for faulty goods?
Your costs to fix or replace something you've supplied or made, which breaks, fails or doesn't do the job it's intended for, aren't covered.
But it's a different case if what you've supplied or made breaks, fails or doesn't do the job it's intended for, and that failure damages a customer's property or injures them in some way. Then the costs to make good and/or compensate your customer are covered.
For example, let's say you make chairs. If one of them breaks when a customer sits on it, and you have to deal with the return, making a new chair etc, you'll have to cover those costs.
If, however, one breaks when a customer sits on it, they land heavily and break their pelvis, and you get a letter from their solicitor asking for compensation, your product liability insurance steps in.
This might sound a bit odd but, in short, just faulty isn't enough. It has to be faulty and 'damaging'.
If you've got a question about selling online, and you haven't found the answer yet, give us a shout. It's likely we've already answered it for someone else. And if we haven't, we'll do our best to find out.
But if you know everything you need to know and you're ready to go, get an e-commerce insurance quote or give us a call on 0345 222 5391.
Image used under license from Shutterstock.
insurance explained
managing risk
online retailers
running a business