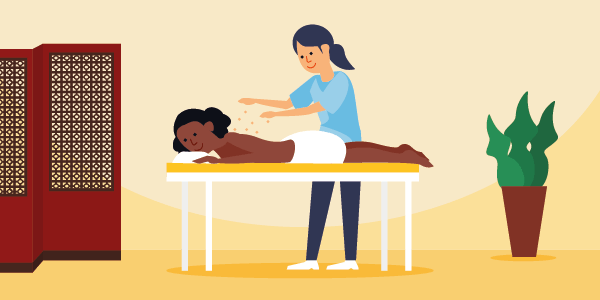 "Just for today: do not anger, do not worry, be grateful, work with diligence, and be kind to others." These are the five principles of reiki Mikao Usui (founder of the Usui Reiki healing system) created.
The principles are a good foundation for your reiki business. But how can they, alongside reiki insurance, qualifications and relevant experience, help your business and get the right energy flowing?
From top to toe
Taking a look at the principles one at a time, you should always be kind to others.
Being kind doesn't just mean offering solutions or a hopeful cure but giving your clients the best care you can.
Reiki practitioners' ability to have virtual sessions ensured its popularity has continued to grow over recent years. And, although it's possible to practice without any formal qualifications, following a professional set of standards and practices can give your patients peace of mind that you're a pro.
Clients need to know they're in safe hands. A professional-level 2 CPD accredited reiki qualification, relevant experience and reiki insurance shows clients you have the right skills. They can assure those in your care you know what you're doing, putting your client at ease.
Let's be crystal clear
When help and advice are available, we should always be grateful. A recognised organisation will support you as a practitioner.
The Professional Standards Authority directs those looking for a reiki practitioner to either The Complementary and Natural Healthcare Council or the Federation of Holistic Therapists. Both organisations require you to have professional indemnity insurance and a minimum level of training to be a member.
For your clients, having the reassurance of a qualification, insurance and membership to an organisation gives you credibility. That's something to be grateful for.
What can go wrong?
Reiki's a relatively low-risk therapy. But even low-risk isn't risk-free, and there's potential for mishaps. Insurance for reiki practitioners shows your clients you're working with diligence. And it can take away the stress if you find yourself more yin than yang.
Reiki can cause side effects such as:
discomfort because of an unfamiliar situation
awkwardness, leading to anxiety or panic attacks
existing symptoms worsening, or
tiredness, headaches or weakness.
And what about those who claim they feel nothing at all?
These aren't life-threatening scenarios, but they could leave you with an unhappy client. Reiki insurance can put you back in balance if a client sues you by paying the legal fees to fight your corner. And it'll pay compensation if awarded, leaving you free from worry to carry on practising your art.
Attune to reiki insurance
Being "in tune" with your client's energy is at the centre of what you do. But, if something doesn't go to plan, that's the time you need to be able to not worry.
If a treatment goes wrong, your client could claim against you for physical or mental suffering. If they do, treatment and professional liability insurance (sometimes referred to as malpractice insurance) will step in to help. It'll pay legal costs and any compensation due if you're found to be at fault.
It's the same for public liability insurance for reiki practitioners. That covers legal costs and pays compensation if, for example, your client trips over your massage table or you scratch their new wooden floor accidentally.
However you practise reiki, you probably use some equipment. If you work with your client in person, you may have lighting or a music player to set the right mood. You could use crystals or chakra stones in your treatments or use a massage table. If you're working remotely, you'll need some tech for virtual sessions.
Equipment insurance can help if something gets broken or damaged. It pays to repair or replace those vital bits of kit you rely on wherever you're working.
If you have staff, you'll also need employers' liability insurance (EL). It's a legal requirement, and you could be fined if you don't have it. EL pays legal costs and compensation if an employee injures themselves whilst at work and you're at fault.
What else can I do to reduce risk?
Do not anger is easier said than done. But by having a chat with your client before you start any treatment, you can reduce the chance of things not turning out as you both expect.
It's a good idea to discuss what could happen in a session with any new clients. Setting expectations can give reassurance throughout the treatment - especially if they're feeling anxious. They may also not feel anything, so it's good to pre-warn them this could happen.
And be sure to ask about general health and medical history, and take notes. It could help you understand what they're aiming to get out of the sessions with you.
So, "do not anger, do not worry, be grateful, work with diligence, and be kind to others". It's a good mantra for your everyday life. And it's a good mantra for your work life too.
For more information on reiki insurance or to get an online quote, click here. Or call the team on 0345 222 5391.
Image used under license from Shutterstock.
complementary therapists
insurance explained
managing risk
running a business
treatment & professional liability