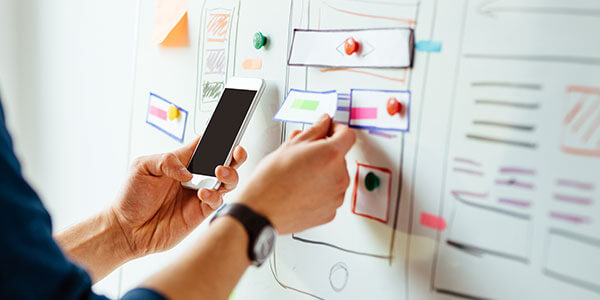 The way we use the internet is defined by websites: how they look, how they feel, how they work and what they contain.
And if the internet is defined by websites, then websites are defined by you, the designers.
With all that emphasis on getting functionality, appearance and content right comes responsibility. And with that responsibility comes the potential for messing up....which is where web designer insurance comes into play.
Design for life
There's no doubt that being at the sharp end of new technologies and making your mark in the design world carries kudos. But it also carries risk.
The thing is, your web wizardry is, definitively, in the public domain and out there for all to see. And that's great if it's, well, great.
But there's no hiding place if it's not. People can be very quick to criticise, especially when they're angry users experiencing glitchy customer journeys or slow-loading pages. And they have a habit of making the kind of noise that gets back to clients quickly.
Being out there under the bright lights also opens you up to the scrutiny of other designers. And if someone thinks you've nicked their idea (even if you haven't), there's a good chance they'll come after you for intellectual property theft.
So, universal accessibility is both your friend and your enemy. And since you're essentially opening up your work to the great unknown, it means it's worth investing in some protection. The kind of protection that web designer insurance offers
What does web designer insurance cover?
First let's take a look at professional indemnity (PI) insurance, which covers your work.
Let's say a client's unhappy because a site you put together hasn't generated anywhere near the anticipated number of site visits or sales. They point the finger of blame in your direction, insisting your poor design is the root cause.
Or they suffer a major data breach and dozens of customers file claims against your client for losing their personal data. In return, the client comes after you, claiming it was your coding errors that let the hackers in.
Whether either is true or not doesn't matter if the result is a stiffly worded letter from your client's solicitor, demanding redress for their financial loss. You'll have to deal with it anyway - all while trying to keep other projects to deadline.
How PI insurance helps is to provide an expert legal brain to represent you, all while picking up costs and any compensation due. So what could have been a confusing, expensive and time-consuming episode is instead handled professionally on your behalf - leaving you free to run your business.
What other insurance do web designers need?
Other types of cover you might need include public liability if you go out and about visiting clients, or they visit you. It picks up costs and compensation if you accidentally cause damage to someone or something - maybe a client trips over your computer lead and sues you for their injuries, or you drop their laptop.
Also on your radar should be office contents insurance - to cover your tech equipment in particular. After all, it's the lifeblood of your business. And if all your computer kit is stolen at once, or damaged by an overnight water leak perhaps, how can you continue working?
Portable equipment cover is also a must, to take care of essential items like laptops and mobiles. Hopefully, you're clued-up enough to back all your work up. But at least your portables policy will take care of the financial hit of replacing kit if you leave something on a train or it's lifted from your bag.
Chicken and egg
Of course, it's best all-round if you can avoid having to call on your insurance in the first place. And there are certain things you can do reduce your chances of ending up in a legal wrangle. Here are some things to consider when taking on a contract:
Who's the website for? What sort of business is my client in? How big a 'player' is my client (how likely are they to sue)?
Am I using content from third parties on the website (like images, music, video)? If I am, do I have to buy appropriate licences from the media owners?
Am I designing an e-commerce process as part of the site? Can I use a secure third-party payment module (like PayPal)?
If I'm using a subcontractor to help me, do they have professional indemnity insurance too? Should there be a written agreement between us? Do I need them to sign my terms and conditions?
What client sign-off procedure, if any, is in place?
Just having a think about your risk is all that's needed. Although this isn't a foolproof (or exhaustive) list, considering points like these will help you deal with the most common complaints.
One final word, if you already have professional indemnity insurance, make sure it covers claims against you for things like copyright infringement and unintentional breach of contract. In our experience, these are two of the most common kinds of claims against web designers.
If things do go wrong, clients tend to sue first and ask questions later. At least this way you'll be prepared.
If you'd like a quick quote for web designer insurance, click here. Or you can call the team on 0345 222 5391 and they'll be happy to help.
Image used under license from Shutterstock.
IT and technology
managing risk
running a business
subcontractors
web designers