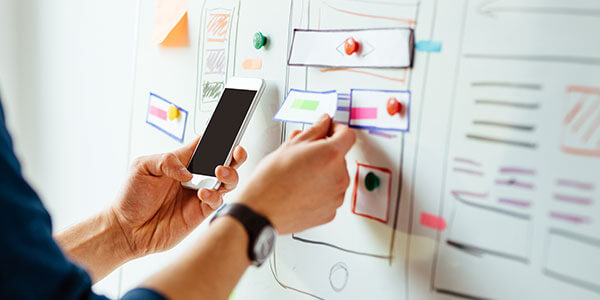 The internet is a wonderful thing. Discuss.
Well it's big, certainly. Beautiful too? That depends on your point of view.
What's not in doubt is that it's the first, and in many cases, only port of call for people looking for information and/or entertainment. (Absolutely not 'infotainment' though, thanks very much.)
The way we use the internet is defined by websites: how they look, how they feel, how they work and what they contain.
And if the internet is defined by websites, the websites are defined by you, the designers.
Risky business
Here's the rub: being at the sharp end of new technologies and making your mark in design carries kudos, but it's risky and can be a double-edged sword.
Your web wizardry is, definitively, in the public domain and out there for all to see – that's great if it's, well, great but there's no hiding place if it's not. Your clients know this too and they only want the best material representing their business.
So, universal accessibility is both your friend and your enemy. If you're opening up your work to the great unknown, it's worth carrying out some basic risk assessment with every contract. If that sounds a bit of a bind, don't worry it needn't be.
Shields up
The rule of thumb is: if I do something wrong, what's the worst-case scenario for my client? That's a pretty good place to start.
If you follow that with: And what can I do about it? you're on the right lines.
Breaking down the contract and thinking about specifics will help too. Try these for starters:
Who's the website for? What sort of business is my client in? How big a 'player' is my client?
Am I using content from third parties in the website (like images, music, video)? If I am, do I have to buy appropriate licences from the media owners?
Am I designing an e-commerce process as part of the site? Can I use a third party payment module (like PayPal)?
If I'm using a subcontractor to help me, do they have professional indemnity insurance too? Should there be a written agreement between us? Do I need them to sign my terms and conditions?
What client sign off procedure, if any, is in place?
Just having a think about your risk is all that's needed. Although this isn't a foolproof (or exhaustive) list, considering points like these will help you deal with the most common complaints.
And if you already have professional indemnity insurance, make sure it covers claims against you for things like copyright infringement and unintentional breach of contract. In our experience, these are two of the most common kinds of claims against web designers.
If things do go wrong, clients tend to sue first and ask questions later. At least this way you'll be prepared.
IT and technology
managing risk
running a business
subcontractors
web designers