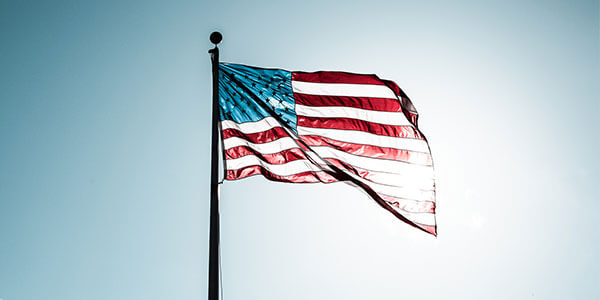 One of the greatest things about digital technology is that it gets rid of geographical limits. The possibilities are endless.
Luckily, insurance has evolved to keep up with this international style of business. Many professional indemnity insurance policies cover work done all over the world.
All over the world except the USA and Canada, that is.
Land of the free expensive
Doing business with US companies does slightly increase your chances of facing a lawsuit.
According to Forbes, US courts handle 5,800 lawsuits for every 100,000 citizens each year, compared to 1,500 in Australia, and 23 in Japan.
It's unsurprising then that this increased risk of a claim means many insurance companies don't include US cover as standard.
However, if you have US clients, don't fret: you can get cover for the USA and Canada – albeit at a higher cost.
This isn't just because there's a higher risk involved. The logistics of appointing and monitoring legal people thousands of miles away is a pain and an additional cost for insurers. They have to charge you more to recoup that cost.
But, if you don't want to pay extra, or you just want to be extra cautious, there are ways to minimise potential lawsuits.
Lowering your risk
First, some general business advice. Although a verbal contract is legally binding, we recommend that you always put your business agreements in writing. Otherwise, you have no real proof that the final product or service does what it's meant to (or doesn't, as the case may be).
When working with international clients, having a written contract becomes even more important so things don't get lost in translation, both literally and figuratively. If possible, try to get your US or Canadian clients to sign your contract, rather than you sign theirs.
That way, you're creating a UK-based contract, with UK terms and conditions. It may not sound much, but this can make a huge difference should a lawsuit pop up. If your American or Canadian associates were to take legal action against you, they would have to do so through UK courts. This is good – think 'home team advantage'.
Professional indemnity insurance US style
If you have no choice but to sign your client's contract, you'll have to update your professional indemnity policy to include working under US and Canadian law. If you're sued when you're working on a US or Canadian contract, legal action will be subject to the laws and statutes of that country.
Look for the phrase 'Jurisdictional Limits' or 'Applicable Courts' on your policy schedule. If it says 'Worldwide' you're covered. If it says 'Worldwide, excluding USA and Canada' you're not.
Insurance policies covering the US and Canada are more expensive than their UK-jurisdiction equivalent, but getting one is still going to be cheaper than paying for your own solicitor to defend you.
Remember this
Your two biggest assets when working with US and Canadian clients are UK contracts, and a comprehensive professional indemnity policy. You may not be invincible, but you will be better prepared.
If you've got any questions on professional indemnity insurance and its geographical restrictions, feel free to give us a bell on 0345 222 5391. Or you can drop a line to contactus@policybee.co.uk.
Photo by Justin Cron on Unsplash
claims
insurance explained
managing risk
running a business