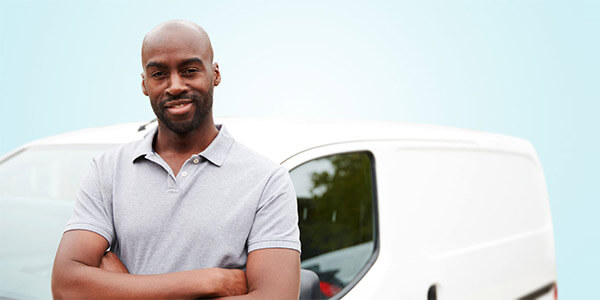 In November 2021, the Office of National Statistics said just under 4.3 million people in the UK classed themselves as self-employed. The biggest sector? Construction workers at just over a third (34%) of the total.
And although overall the number of self-employed people has been decreasing in recent years, the number of plumbers, plasterers, joiners, painters, amongst other trades, is going up.
Working from home, and being at home more, has meant more home improvements. And that's meant DIY bodges that need fixing and extra general wear and tear that requires attention.
As a result, tradesmen are more in demand than ever. And insurance for self-employed tradesmen can be a minefield. Or a tangle of weeds, depending on your occupation.
So, here are the nuts and bolts of what you might need to know insurance-wise if you're a self-employed tradesman…
Who and what does insurance for self-employed tradesmen cover?
If you're self-employed, that means you work for yourself. You pay your own wages, and you own the company. You may even pay the wages of other people. Whatever the number of people in your workforce, you're in charge, and you're responsible.
Being self-employed means you could be a sole trader or partner in an LLP (limited liability partnership). You won't own a limited company because the way they're structured means the company technically pays your wages. You can read more about self-employed vs sole traders here.
As for what job you do, there's a very long list of professions that self-employed tradesmen insurance covers, from an alarm installer to a gardener and an electrician to a tiler.
Whatever job you do and tasks you undertake, there'll be risks. And those risks, and therefore the insurance you need, can differ depending on your niche.
What insurance does a self-employed tradesman need?
Working as a trade professional, you can be in and out of clients' homes and workplaces all day, every day. No one ever means for an accident to happen, but they do.
Public liability (PL) insurance is there if someone other than a work colleague is injured, and it's your fault. Or if you damage something of theirs and they want compensation from you.
You could be a joiner. A client asks you to fit a new kitchen, and one of the wall units falls, breaking the entire contents of expensive crockery. Your client will probably want a payout to cover the cost of replacing their possessions.
Or you might be a car valeter vacuuming the inside of your client's vehicle when they come out with a cuppa for you. They trip over the cable, smash the cup and badly cut their hand in the fall. Ouch - painful.
Public liability pays the legal fees to defend you (even if you're not at fault) and any compensation you owe.
But then your job could also be a specialist service. You might even give advice or share ideas. Professional indemnity insurance (PI) protects your business if someone claims that you've been negligent in your work.
For example, as a heating engineer, you might be asked to design a system for a new office block. You don't get the maths right, meaning the installed radiators don't heat the area well enough. The system has to be taken out, redesigned and replaced, costing your client thousands.
PI pays for a specialist solicitor to defend you and pays any compensation or damages awarded.
Anything else?
Depending on your business, you might want to consider some add-ons to your insurance.
If you're self-employed and have an accident (either at work or in your own time), recovery time costs you money. Personal accident insurance can help to keep you afloat until you're back on your feet.
And the tools of your trade are vital for your work. Without them, you'd be pretty stuck. Insurance for self-employed tradesmen can cover accidental damage or theft of your kit (including from your van during the day). Just as long as it's all listed on your schedule.
Does insurance for self-employed tradesmen cover subcontractors?
If you're super busy, a great solution can be subcontractors to share the load.
But, there are two kinds of subcontractors - one is covered by your insurance. One isn't.
You can employ a subcontractor where you dictate their hours, supervise their work and let them use your tools. Essentially you treat them as an employee. They're a 'labour-only' subcontractor in this setup, and your insurance covers them. But you'll also need employers' liability (EL) insurance for them. EL is a legal requirement if you employ anyone, even temporarily.
If you go down the route of employing a contractor who invoices you for their time, uses their own tools, and works their own hours, they should have their own insurance (you might want to check it). Your cover won't need to include them as these are 'bona fide' subcontractors. You also don't need any additional insurance (like EL) for them to work with you.
You can read more about employers' liability here.
Knowing what insurance you need is half the battle. It means you can nail the delivery of any work with the confidence that if anything goes wrong, you have a backup.
Click here to learn more about insurance for self-employed tradesmen or get a quote. Or call us on 0345 222 5391 to speak to the team.
Image used under license from Shutterstock.
insurance explained
managing risk
running a business