The inventor of the telephone, Alexander Graham Bell, said, "before anything else, preparation is key to success".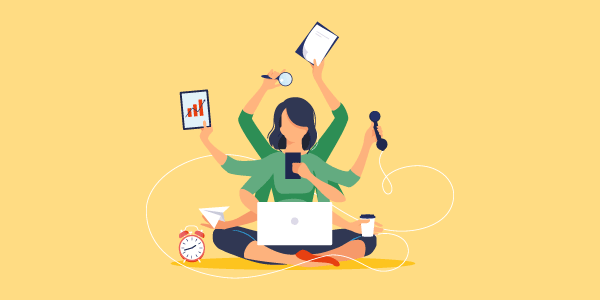 As a sole trader, preparation is part of your everyday. Whether it's planning what you're doing that day or what kit you're going to need. Or creating your marketing strategy, deciding what insurance for sole traders you need, or looking at your five-year business plan.
Working as a sole trader means if something goes wrong, the buck stops with you. Getting prepared and having the right insurance is your way of making sure you have a backup team if and when you need it.
So… where do you start?
What's the difference between sole trader, self-employed and freelance?
At the beginning of 2021, there were 5.5 million small businesses in the UK. That number includes sole traders, freelancers and self-employed. But how you define yourself is essentially about your business structure.
As the name suggests, self-employed means you're not employed by anyone else. It's an umbrella term for anyone who pays their own wages (however that may be). You might employ people or work by yourself. You could be a limited company, freelancer or sole trader.
Freelancers typically work on short-term projects, sometimes for multiple companies. They're usually associated with being creative, so copywriters, designers, musicians and photographers, although IT specialists can freelance as well.
If you're a sole trader, there's no legal distinction between you and your business. That means you benefit from the profits, and you suffer the losses.
That differs if you're set up as a limited company, as technically you employ yourself through your business. So the company becomes liable, rather than you as the individual.
You can read more about the differences between sole traders, self-employed and freelance here.
However you structure your company, what sole trader insurance you need will depend on what you do, how and where you do it, and the industry you're in.
Why is insurance essential for sole traders?
As a sole trader, you are your business. You can't predict the future. You don't know if an accident or other incident could put your business in jeopardy.
Insurance for sole traders can be a safety net. It can catch you before you go under because someone sues you, or help if your business can't operate as usual. There are other benefits too.
Whatever industry you're in, you rely on customers or clients. But they need to know you can do what you claim to be able to. Qualifications and certificates help, but insurance for sole traders gives you a professional edge that works to attract both customers and contracts.
Contracts you take on could specify you have to be insured. Local authorities and some bigger corporations usually expect those who work for them as sole traders to have public liability insurance and professional indemnity as standard.
Why else do I need insurance for sole traders?
If you provide a specialist service, professional indemnity insurance will help protect you, your business and your reputation. You could give advice, do skilled work, share ideas, create designs, or work with numbers, words or education.
You might be a financial advisor who has offered some bad advice. Or a plumber whose work fused the electricity in an entire block of flats.
Your client can sue and, if you're at fault, you'll have to pay up. Professional indemnity insurance pays for a specialist solicitor to defend you. And it picks up the tab for any compensation or damages awarded.
Public liability insurance covers you if you meet people other than work colleagues and cause something or someone damage. Or if you go to places other than your own premises and do the same.
Visit a client's home and break a valuable vase, or leave your work bag out and someone trips over and breaks their wrist, and you might need some help if they sue. Public liability pays legal fees to defend you (even if you're not at fault) and any compensation you owe.
What other insurance could I need?
Some contracts or companies may want you to have insurance if you work with their sensitive data or intellectual property.
If your company is online, you're at risk of a cyber-attack. Or, if you accidentally send sensitive information to the wrong person, there could be repercussions.
Cyber insurance brings in the experts to stop an attack and fix your systems. It gets you up and running again asap. It also provides legal expertise and financial backup to deal with the consequences of a data breach.
Being a sole trader doesn't have to mean working by yourself. If you employ anyone, it's a legal requirement to have employers' liability insurance (EL) – you can be fined if you don't have it.
If an employee is injured or becomes ill because of work, they could sue the company (i.e. you). EL pays your legal fees and any compensation awarded and protects your company finances if you're at fault.
Anything else?
Well, that depends on what you need equipment-wise. The chances are you use something - laptop, camera, or specialist woodworking tools. And you can't work if something happens to them.
Equipment insurance covers accidental loss, accidental damage, malicious damage and theft. It means losing your kit won't lose you your business.
So, as Alexander Graham Bell said, "preparation is key to success". Having insurance for sole traders as part of your business preparation means if something goes wrong you aren't alone. You have a team of specialists around you to support you.
Click here to find out more about insurance for sole traders, or get a quote. Or call us on 0345 222 5391 to speak to the team.
Image used under license from Shutterstock.
insurance explained
managing risk
running a business