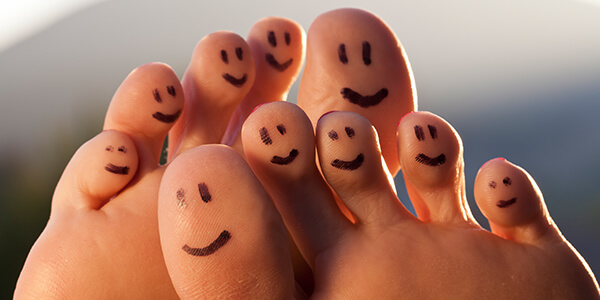 Balance is essential in so many aspects of life. And that includes your business. The appropriate training, membership to a professional organisation and having the right reflexology insurance will keep your business balanced and help its qi (energy) flow.
Don't start on the wrong foot
The Association of Reflexologists says, "​​Well-trained reflexologists do not claim to cure, diagnose or prescribe." And it's essential to ensure that your clients are under no illusion that you can offer a miracle solution to their problems.
Before you begin working with a client, have a chat with them about their medical records. You'll need to know if they have certain conditions and are advised to avoid reflexology. They may need to speak to their doctor before starting therapy, depending on their illness.
Knowing which conditions or complaints don't mix well with reflexology will be part of your training. However, Cancer Research UK has a shortened list on their website for their patients.
You can also ask your client to sign a consent form to confirm they're fit for treatment. A consent form puts the ball back in their court should there be a problem later.
They might have a particular condition they don't tell you about. Suppose they have a reaction or a flare-up of old symptoms and claim your treatment of them caused it. In that case, your insurer can use the consent form to defend the claim.
What can go wrong?
Reflexology is considered a 'safe' complementary medicine as there are few potential side effects.
However, even for the best-trained therapists, mishaps and accidents can happen, and treatments sometimes don't go to plan.
If you apply too much pressure in the wrong place, you can cause bruising, pain, or broken bones. Or your client could feel light-headed or tired after a treatment. Clients could also have tender feet after treatment.
If you don't have much experience, you might also find that your client doesn't feel the full effect of the treatment. Most of these aren't major issues, but they can lead to unhappy customers. And that, in turn, is not good for your business. Ultimately, it could even lead to a claim against you for poor or damaging treatment.
Put your best foot forward
Having the proper training and completing continuous professional development (CPD) is essential. Especially when it comes to keeping your client safe.
As a minimum, reflexology insurance requires a professionally accredited qualification and relevant experience. You can give your client peace of mind knowing you've had the proper training and are professionally insured.
You can also join a recognised association. They'll have a code of practice and ethics that you'll need to follow. The Complementary and Natural Healthcare Council (CNHC) has a voluntary registration for reflexology practitioners, accredited by the Professional Standards Authority for Health and Social Care.
And just in case something does go wrong, you should keep client records for a set time. The CNHC asks its members to keep records for eight years from their last appointment. This is in line with NHS hospital records. It's essential to be GDPR compliant with your record-keeping too.
Good record keeping is necessary as it helps your reflexology insurance to defend you if a client makes a claim.
What insurance do you need?
The right reflexology insurance is essential. The Association of Reflexology and the Complementary and Natural Healthcare Council require you to have malpractice insurance and public liability in their code of conduct for members.
Medical malpractice (also known as treatment and professional liability) covers you if you cause physical or mental harm to a client. It pays for a specialist lawyer to defend you and any compensation awarded. Even if it's not your fault, you'll still need someone to fight your corner, and that can be expensive.
Wherever you meet clients, accidents can happen. You might go to their house and spill your coffee over their laptop. Or they could come to you, trip over a trailing cable, fall and break their wrist.
Public liability covers you for slips, trips and butterfingers if your client makes a claim. It pays any legal costs and any compensation awarded.
Anything else?
You might have a studio space and some specialist equipment. If you do, studio insurance and portable equipment insurance will pick up the bill if you need to repair or replace anything that's accidentally damaged, lost or stolen.
And if you employ anyone, even only part-time, you'll need employers' liability (EL). It's a legal requirement, and you can face a fine for each day you don't have it.
EL protects your staff if they become ill or are injured because of work. It covers any legal fees you incur and pays any compensation if a staff member makes a claim.
If you email clients, have a website, or hold personal data, your business is at risk of a cyber-attack or data breach. Imagine if you accidentally emailed confidential information to the wrong person. Would you know who to inform and what to do? Cyber insurance will help you sort out any issues, tell the right people and get things back on track.
When you're setting up your reflexology business, there are lots of things to think about. So, put one foot in front of the other and take a step at a time. Click on the link for more information about reflexology insurance or to get an online quote. Or call the team on 0345 222 5391.
Image used under license from Shutterstock.
complementary therapists
insurance explained
managing risk
running a business
treatment & professional liability