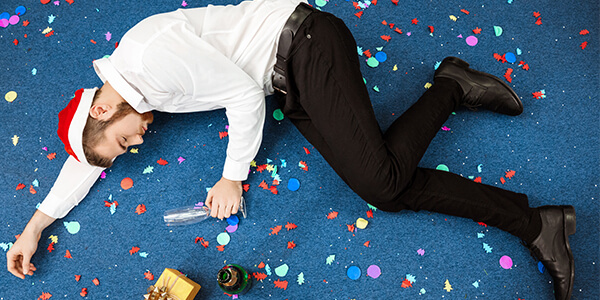 To Britain's office staff, the annual work Christmas party is a chance to eat, drink, be merry...and, in certain cases, behave inappropriately.
And who's to say otherwise? It's OK for your guys to let their hair down for a bit. It's heartening to see people relaxing and bonding over a mince pie.
Well yes, it is.
But – and we don't want to dampen the Christmas spirit too much here – mixing alcohol, a party atmosphere and a generous splash of inhibition doesn't always make for an evening of measured fun.
If things do get out of hand, our old friends 'gross misconduct' and 'disciplinary action' can make two pretty unwelcome party guests.
Work Christmas party dos and don'ts
So, when it comes to company knees-ups, do you know your responsibilities as an employer? What's acceptable and what's not? Who's culpable if someone gets roaring drunk and insults the MD's wife? (Assuming it's not the MD of course.)
The first thing to know is office parties, even those held outside office hours and not on your premises, are still considered 'work'.
Parties are deemed part of office life and employees are expected to attend. As such, the employer's responsibilities to its staff don't change. For example, in sexual harassment cases and complaints about employee behaviour at parties, courts still hold the employer liable.
So you need to keep an eye on what's going on. If you're hosting the work Christmas party in your own office, and you're providing alcohol, you're responsible for your guests' consumption and what they do during and after the event.
Err on the side of caution and make sure there's plenty of non-alcoholic drink available. It's a good idea to provide some food too – it'll help soak up the excess.
Sobering thoughts
Putting your employees' health and safety at risk doesn't sit well with either the law or your employers' liability insurer.
That's why, with the potential for something to go wrong and cause problems, there's a growing trend for companies to shy away from holding office parties. The risk of damage to premises, people, reputations and relations just doesn't seem worth it. They cost a fair bit too.
That's a real shame. And with a bit of preparation, there's no reason why the annual tie-loosener shouldn't be remembered for anything more offensive than the MD's karaoke effort.
Tips for seasonal success
To make sure your work Christmas party goes with the right sort of bang, your best bet is to cover all bases:
Remind everyone of your policies – send a note round on the day of the party just so people know the company rules apply outside the office too.
Have a dress code – it helps to keep things professional (probably best to avoid a 'saucy Santa' theme though).
Hand out drinks tokens – it might help regulate consumption. Your employees can use these at an open bar; once they've run out they can buy their own drinks.
Arrange taxis or a minibus – or if funds don't allow, at least make sure everyone can get home afterwards. Finishing before the last train leaves helps, too.
Make sure your employers' liability insurance (to cover your staff's welfare) and your directors' and officers' insurance (to cover your managers' liability) are up to date.
But most of all, enjoy yourself and don't forget to wish everyone a very merry Christmas. That's what really matters after all.
Image used under license from Shutterstock.
directors' and officers' insurance
managing risk
rules and regulations
running a business