Consultants' professional indemnity insurance
Predictable protection
Pick a consultants' professional indemnity insurance package (if your turnover's under £75,000) or build your own.
Essential
Professional indemnity: £100k
Public liability: £1m
Portable equipment: £1k
Classic
Professional indemnity: £500k
Public liability: £1m
Portable equipment: £2k
£27.80
10 monthly payments
Pro
Professional indemnity: £500k
Public & employers' liability
Portable equipment: £2.5k
£32.46
10 monthly payments
Professional indemnity: £100k
Public liability: £1m
Portable equipment: £1k
No admin charges




For anything, ever

Buy online in minutes




No forms, no fuss

Speedy service




Less admin, more business

Interest-free Direct Debit




Your budget, your way
Certainty where there isn't any
Helping your clients plan for the future isn't easy. If things don't go according to plan your recommendations will be under scrutiny, making you vulnerable to damaging negligence allegations.
So throw away your crystal ball and get something more reliable instead: consultants' business insurance. If things do go wrong, it pays your legal costs and compensates your client. You know you're protected, whatever happens.
Why do consultants need professional indemnity insurance?
Now's a good time to remember an old adage. The one about 'best laid plans'.
No matter how solid your advice, how innovative your strategies, or how detailed your plans, the thing you can rely on most is that something is bound to go wrong.
Unexpected changes might not always spell disaster, of course – you're flexible and every plan A has a plan B. But if your clients' businesses rely on constants, variables are going to cause problems for both of you.
If things don't go according to (your) plan, it won't be long before fingers are pointed, accusations are made, solicitors are involved and clients look for payback.
Even if you're sure you're right, a claim won't go away if you ignore it. And there are no shortcuts. Something has to be done.
That's where consultants' professional indemnity insurance comes in. You need it because you have a business to run, because you have limited funds, because you're not legally trained, and because your reputation matters.
What else is there?
How much professional indemnity insurance do I need?
Neither the Institute of Consulting nor the Management Consultancies Association specify a particular or minimum level of cover. So it's up to you. Problem is, where do you start?
The thing to bear in mind is that, despite apparent similarities, every consultant is different and does different things. What's right for some isn't right for all and you need to think about what you do, as well as who you do it for and how much it's worth. In your worst-case scenario, what could go wrong? What's the most expensive mistake you could make?
If budget allows, you can never have too much cover. Defending you can cost tens of thousands of pounds – and that's before you add the compensation bill from your client too. Your consultants' professional indemnity insurance should be enough to cover all this.
It's a tricky one to get right. Have a read of this guide or call us if you need more help.
What does professional indemnity insurance cover?
Put simply, negligence claims and allegations made against you by clients and third parties. These will usually be because of mistakes you've made or things you've failed to do.
Specifically (but depending on the policy wording):
Defamation
Intellectual property infringement
Loss of documents or data
Negligent misrepresentation or misstatement
Employee dishonesty
Virus transmission
Breach of confidentiality
But that's not all. Some professional indemnity policies can fix a mistake before your client is even aware of it, thereby preventing a claim in the first place.
Clever stuff.
If you have any employees, employers' liability insurance is a legal requirement. If an employee suffers an injury or illness as a result of working for your company, they can sue it for damages. Your insurance can cover their compensation, plus any legal fees.
If you visit clients, or they visit you, consider getting some public liability insurance. This covers you if someone is injured, or their property is damaged, and you're to blame.
Office and property insurance covers the things in your office (furniture, plants, fixed IT equipment etc) and portable insurance covers gadgets and technical equipment away from the office (laptops, tablets, projectors etc). If you're not sure it's worth insuring, add it all up – it's probably worth more than you think.
Business interruption insurance means you can still work when your office is out of action. Be it flood, fire or flea infestation, you're covered for the costs of setting up elsewhere and for any lost revenue in that time.
If you're a company boss, you can protect yourself with directors' and officers' insurance. Anyone can accuse you of not running your business with due care, and in the UK, company directors are personally liable for their actions. The good thing is this insurance covers your defence costs and any compensation you have to pay. So you can put away your chequebook.
Why should I buy my insurance from you?
Glad you asked.
The simple answer is: we know what we're doing. Professional insurance is all we do so we know what you need, even if you don't.
We also know that buying insurance can be, well, a bit of a pain. So we make sure getting yours is quick and hassle-free.
We do all that while treating you like a human being, too. You won't find a call centre here. Or a phone menu. And we've banned nonsense insurance jargon.
Anything else? Well, there's the great stuff you get, such as 20% off everything at MOO. We have an 'I'm insured!' badge for your website too – perfect for the professional professional.
Also, we'll give you money each time you recommend us.
Plus, every insurance-related question you can think of is answered in our School of Risk, and you'll get our quarterly risk advice email – 'The Waggle' – to help you avoid problems in the first place.
If you're after a second opinion, have a look at our customers' feedback. They're the ones you should really listen to.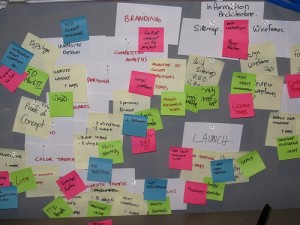 Bursting the babble
OK, so let's play catch up for a minute. Make sure we're all singing from the same hymn sheet shall we? We don't have to reinvent the wheel here; we just need to touch base and make sure we have synergy going forward.